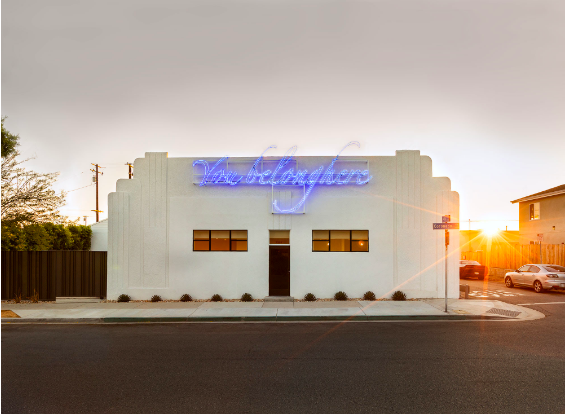 Tavares Strachan, You Belong Here (Blue #1), 2019. Compound Commission. Photo Credit: Laure Joilet
This September, Compound, a new cultural non-profit dedicated to the intersection of contemporary art, wellness, and community, will open in Long Beach, California. Free and open to the public, the 15,000-square-foot complex—the first of its kind in Southern California—consists of two main buildings linked by a large outdoor courtyard and sculpture garden: The Laboratory, a building dedicated to ambitious new commissions by leading contemporary artists; and The Warehouse, a large multipurpose space for exhibitions, public programming, meditation, and its restaurant, Ellie's.
"Our mission is to create a place that is affirming, inclusive, and open. At Compound, our hope is that all visitors will find community, healing, and a great sense of belonging. We believe that culture shifts consciousness, and all are welcome to join us in experiencing art and wellness,"
said Founder and Executive Director Megan Tagliaferri, who designed the complex to promote empathy, social equity, and both spiritual and physical well-being.
WELLNESS & PUBLIC PROGRAMMING
Ahead of its physical opening this Fall, since April Compound has partnered with the national emergency grant organization Artist Relief to provide free digital wellness resources commissioned by artists with artists impacted by COVID-19 in mind. Each Monday, this weekly series is shared on Compound and Artist Relief's social media channels as part of both organization's mission to support the physical, mental, and emotional well-being of their communities. Participating artists include Daniel Alexander Jones, Fariha Róisín, Jackie Sumell, Miguel Gutierrez, Nicolás Dumit Estévez Raful Espejo, Sharon Bridgforth, and Mario Ybarra Jr. – co-founder of Slanguage, Compound's educational partner.
"It is important for us to be there for our community, to help them heal, learn and have access to the arts – even before we open,"
said Tagliafferi. In September, Compound will begin to host robust public programming to unite and inspire the community, including yoga, healing workshops, youth art classes, bilingual Spanish/English poetry readings, performances by local musicians, film screenings, hands-on gardening, and more. Guests will have the opportunity to dine at a farm-to-table Italian restaurant and bar headed by local Chef Jason Witzl of Ellie's, or browse the concept shop's curated selection of ceramics, jewelry, and limited editions from local artists.
*Artist Relief is an emergency initiative offering financial and informational resources to U.S. artists impacted by COVID-19 founded by a coalition of national arts grantmakers, including Academy of American Poets, Artadia, Creative Capital, Foundation for Contemporary Arts, MAP Fund, National YoungArts Foundation, and United States Artists.
Categories
Tags