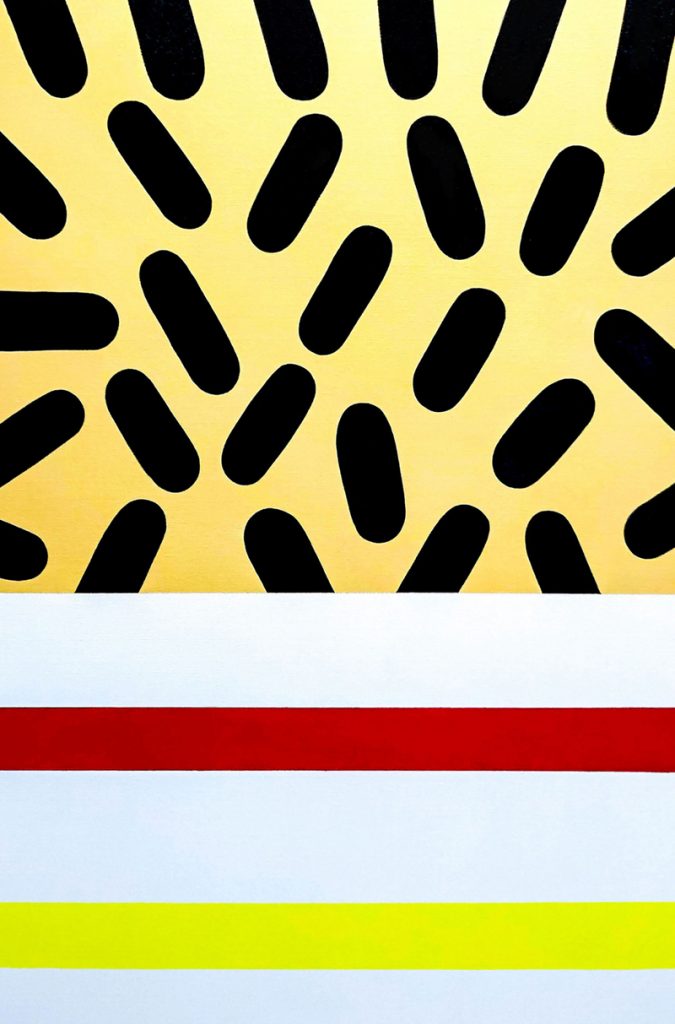 Nadia Fediv – Tubesock
Just four months after celebrating their 5th anniversary, PLASTIC MURS have announced what will be their last exhibition under the PLASTIC MURS project , they continue to look to the talent of the future with their final exhibition SYSTEM FAILURE featuring the artists; Philip Gerald, Katelyn Ong, Max Rumbol, Marta Galindo, Evgen Copy, Tarmac y Nadia Fediv all part of a new generation of young artists with a fresh take on contemporary painting. Influenced by the digital age and the ever-expanding approaches to painting, these artists are portraying new forms of expression and the ways in which pop culture, the internet and social relationships are depicted not only aesthetically but conceptually in contemporary painting.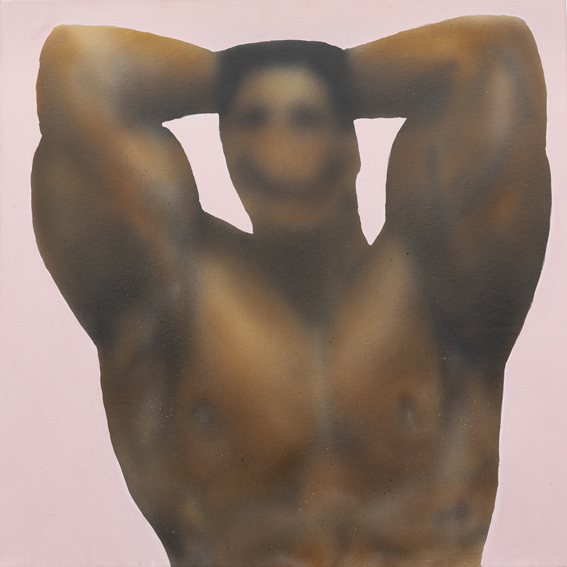 Evgen Copi – Lou Ferrigno
Evgen Copi (Koper, Slovenia 1994), His most recent projects are a social critique of the contemporary consumerism society. Euvgen finds his inspiration in urban life and it ?s absurd everyday situations, which he tends to deform by using diverse techniques and lively colours.

Katelyn Ong – Some Views Aren't Yours
Katelyn Ong (Los Angeles, USA 1994) work hosts feminine characters and their non-cathartic feelings. They display nervousness for identity, class, glamour and gender. In some works a folding fan hides anger, in another tired eyes analyze a book titled Ugly Feelings ; while in a recent painting colors swirl making fleshy but awkwardly shaped hands- delicately grasping binoculars that don't quite meet our own gaze. These images are cartoon inspired but deliberately mute humor in order to expose what humor conceals- using acrylic and gouache to render and surrender to such affects.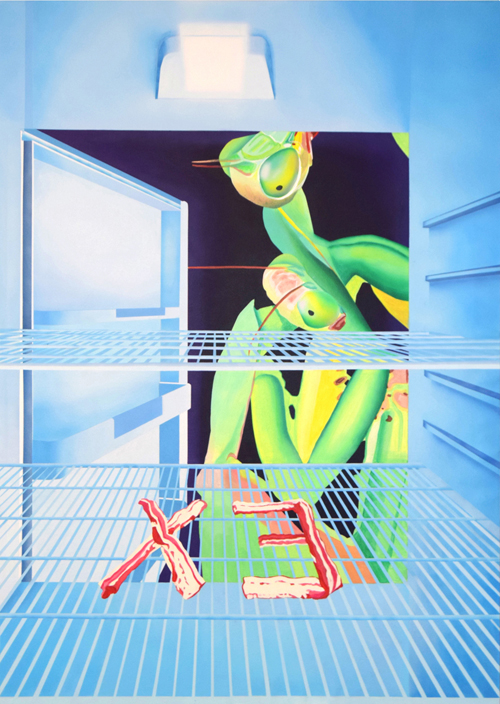 Marta Galindo – Ex-painting
The practice of Marta Galindo Garci?a (Puerto de Santa Mari?a, Spain 1993) investigates the supersaturation of digital images, the cybernetic trash aesthetic and the prosumer profile. She uses humor and irony as a strategy against contemporary problems and the anarchic juxtaposition of information from the digital medium. Marta is interested in the proliferation of the aestheti-
cized image in the capitalist system and the relocation and resignification of the digital surplus in new artistic contexts.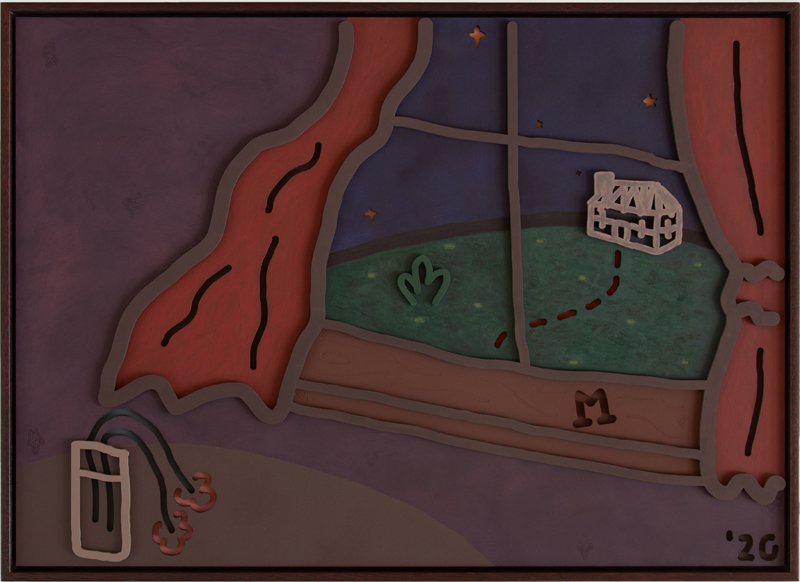 Max Rumbol – No 58 (The window)
With an interest primarily in the British landscape and British tradition, Max Rumbol (Buckinghamshire, United Kingdom 1997) combines elements from both the natural world and tropes of British culture to create striking digital compositions which are then reinvented as paintings or sculptures. These works are usually constructed using a mix of painting and laser cut relief elements, to create objects which sit somewhere in-between sculptures and paintings. This notion of creating a sculpture which looks to masquerade as a painting is inspired by the mass reproductions of artworks that look to imitate paintings.
Nadia Fediv (Chicago, USA 1997), the hairy legs and arms she paints are characters that represent her past in life. She constantly feels awkward shy introverted and isolated from the world. She focuses a lot on colour combinations perspective and shapes. A lot of the pieces she paints tell a story from her past that then stem off from one other. But some of the work is meant to be colorful, childlike, and playful. The process usually begins on photoshop in bed sketching while listening to music, away from the outside world and then paints. Most of the pieces she sketches/paints are from the subconscious, producing work that she's never seen before.

Philip Gerald -Another Piss Pot
Philip Gerald (Dublin, Ireland 1992) works comprise provocative thematic presentation with nai?ve painting, in which he picks up art historical works with modern means by using Microsoft Paint. He examines and thus questions recurrent themes such as sexuality, consumer society and self – staging nowadays. The subtly – painted images depict figures and scenarios embedded in images of humour and anxiety.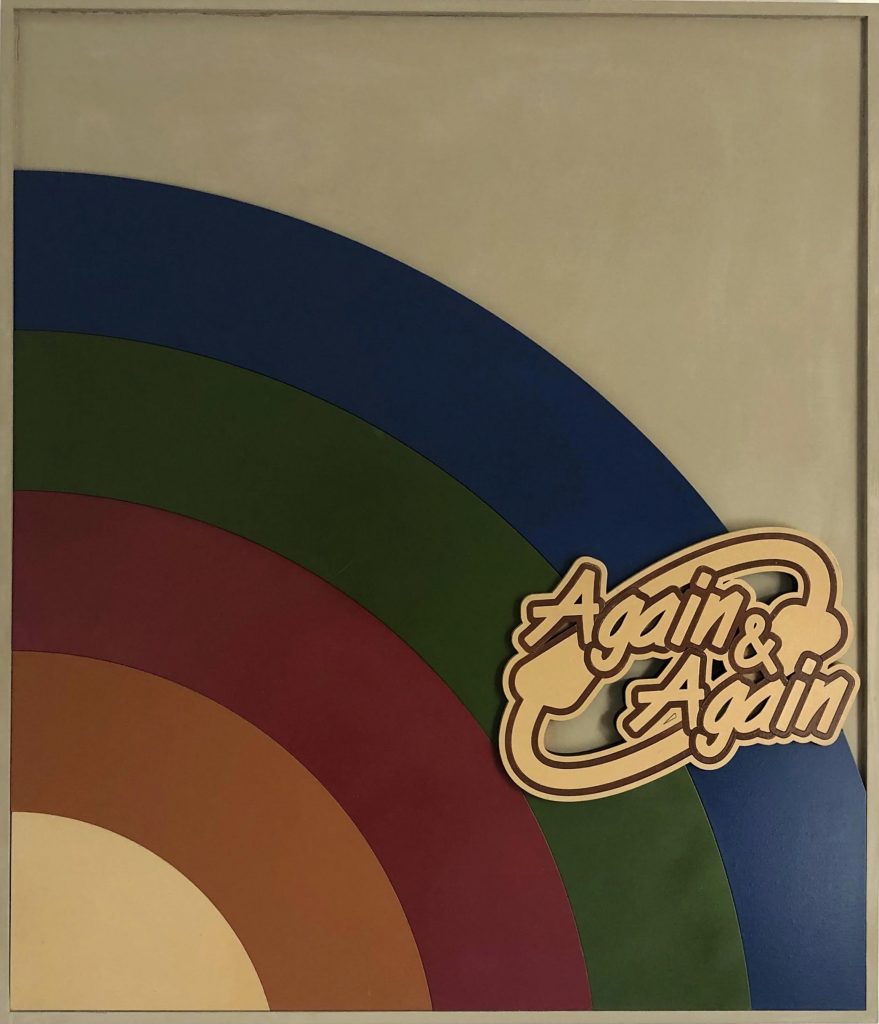 Tarmac / Niccolo Binda
Tarmac / Niccolo Binda (Milan, Italy 1996) work explores notions of nostalgia, branding, consumerism and how we form connections with and begin to covet or fetishize cultural artefacts. The pieces question how a symbol or a logo can at- tain a cult status and how people relate to branding. By using vaguely recognisable symbols and industrial manufacturing processes, the works achieve a similar kind of resonance to that of a popular brand or iconic children's toy. Taking inspiration from high fashion, streetwear, design and the urban environment Tarmac explores ideas of desire in a consumerist system.
SYSTEM FAILURE Evgen Copi, Katelyn Ong, Marta Galindo GarcIa, Max Rumbol, Nadia Fediv, Philip Gerald and Tarmac. 2 – 31 JULY 2020 Tuesday – Friday 17:00 / 20:30h PLASTIC MURS plasticmurs.com
Categories
Tags