The unorthodox reverie on display at the Grosvenor Gallery is a reminder of a void in London's white cubes.'Form&Figure: Bodies of Art', curated by Dr Zehra Jumabhoy, foregrounds a series of South Asian figures—mostly masculine—steeped in the aesthetics of Baroque, Rococo, Pop, and the Bengal school. Candy colours, lavish brushwork, and hot hues come together in works by Faiza Butt, Salman Toor, and Ali Kazim. These artists assert their presence with panache and compelling originality.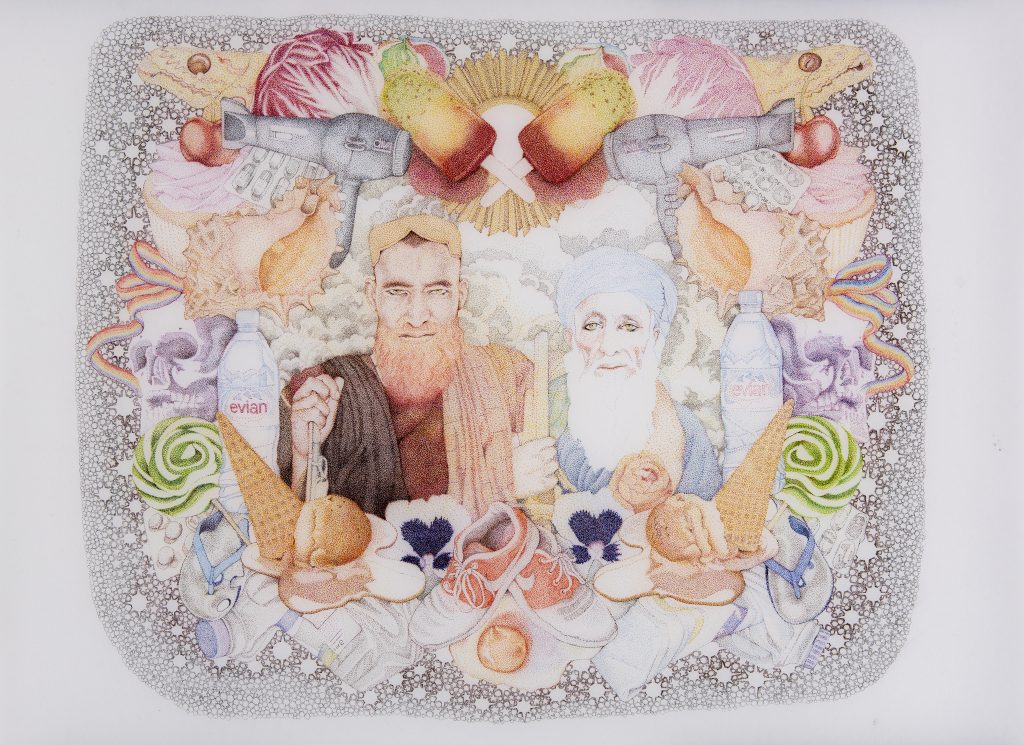 Faiza Butt, Get out of my dreams-5. 2020 Ink on polyester Image courtesy of Grosvenor Gallery, London & Canvas Gallery, Karachi. Copyright the artist.
Faiza Butt deploys a dot brushwork technique, reminiscent of the Mughal purdakht method which used fine squirrel-hair brushes, to tenderly build her portraits of 'Muslim males'. Surrounded by fecund backdrops, they declare their continuity with the best of Baroque still-lives. A work such as Get Out of My Dreams – 5 (2020) utilises her haul of collected media images of these men to create a scene which wouldn't be amiss in a luxe advertising campaign. With tinted pink beards and luminescent flat skin, the men merge with the gaudy merchandise that encircles them. Nike trainers, blobs of melting ice-cream, hairdryers and Evian bottled water are entangled with tabs of pills and a human skull. The quintessential memento mori in amongst these products suggests that even mortality—and in particular death associated with religious extremism and militancy—has become a commodity in this branded pop world.

Salman Toor, Take Out, 2020 Oil on Canvas Image courtesy of Grosvenor Gallery, London & Canvas Gallery, Karachi. Copyright the artist.
Salman Toor's gangly marionette-esq bodies hang closeby. Toor's deliciously thick and goopy paint shows his paintbrushes' tracks. In Takeout (2020) the movement along the walls makes this a trippy intrusion on an intimate domestic scene. Two men with oddly long ruddy noses sink into a sofa, balancing Chinese take-away on their knees. Around them objects point to their cosmopolitan, progressive world; an apparition of a pair of court shoes lay on the floor, a BBC period drama plays on a wall-mounted flat screen. Neither man cares for much other than his food. In this hipster condo with houseplant, Skandi furniture and symbols of learning – books and a Buddha head- it's not ultimately clear who's pointing to whose hypocrisy. Is the viewer as much a part of theses choreographed cultural gestures as the couple caught within these four walls? Or perhaps what might be read as a curated lifestyle isn't tokenistic at all?
Ali Kazim, Untitled 2 (Man of Faith series), 2020 Watercolour on pigment Image courtesy of Grosvenor Gallery, London &  Canvas Gallery, Karachi. Copyright the artist.
In contrast to the accoutrements of identity Toor lays out, Ali Kazim strips his figures of any context. Three stark portraits from his Man of Faith and Woman of Faith series are rendered with minuscule detail, capturing every blemish, pock and pigmentation of the skin, set against a garish block colour backdrop. Cropped to bust-like proportions, these figures are caught in profile at angles associated with opulent Mughal miniature portraiture. These two men and a woman recoil from meeting the viewer's eye. Their faith is obscure, held close and kept private.
Kazim, Butt, and Toor both dodge and humour preconceptions about the South Asian male body. Their pool of aesthetic references and striking painting radiate a deep consciousness of the prejudices held by representational regimes. And use a prism of beauty to push us to think otherwise. In doing so, they lift 'Figure&Form' into a potential progenitor for the recalibrated art world in the wake of calls to scrutinize its (many) imbalances.
Categories
Tags