Stine Deja & Marie Munk Synthetic Seduction, 2018 Video still Courtesy: the artists
Emotions are at the core of human experience. Love them or hate them, they influence every aspect of our lives and shape our social behaviour. In the 21st century, technology has begun engaging with emotions like it has never done before. Works by 20 artists are presented in the show, ranging from artificial intelligence, interactive installations, robotics and biometrics to gaming, video installations, virtual reality and photography.
They explore how technologies are collating, assessing or triggering our emotions in multiple ways and directions. These technologies are even creating new feelings, some of which we haven't yet found the words to describe them with. Several works will be newly produced in the context of the exhibition and can be seen for the first time.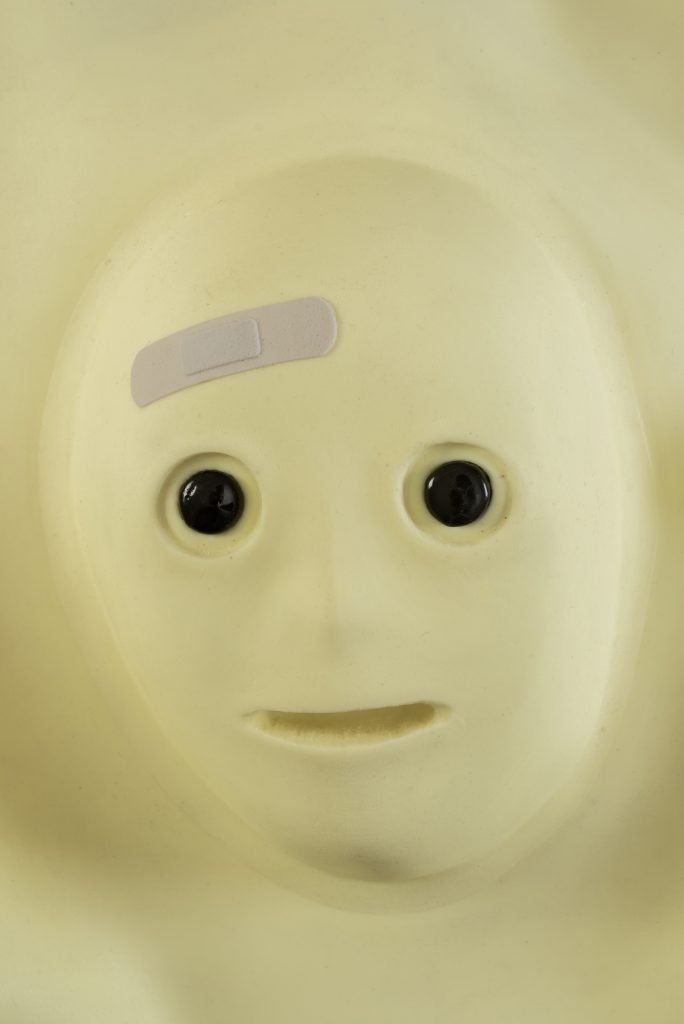 Antoine Catala I am here for you (Plastic Bag, yellow), 2018 Installation Detail Courtesy : the artist Photo: Deniz Guzel
In the 21st century, emotions have increasingly come into focus – how they can be manipulated and controlled by technology, because they influence our society and our lives. Today major technology companies try to manipulate the way we behave by triggering our emotions everyday through smart phones, laptops and personal devices Researchers at the MIT media lab have developed a machine learning system that 'reads' facial expressions to determine human emotions. At the same time, young children are being trained to recognise emotions in other human beings – because their ability to do so is failing in the digital age. The barriers between human and machine, emotion and technology seem to be breaking down. Our heartbeat, perspiration, speech, or body language are checked by smart watches or fitness trackers, webcams and facial- and body-recognition systems. In the 21st century we are seeing the rise of investigations into emotional technology, which stands for measuring biometric data in order to detect and respond to our emotions, which is then used as data input for various digital applications. Advances in machine learning have enabled emotion recognition with AI. Our world is flooded with digital technology and these devices have literally become extensions of ourselves: humanlike robots are used in healthcare, sex robots are compensating the shortcomings of human relationships, smart devices are listening to our conversations and are taking care of our needs – we are communicating more with our technology than with other humans.

LOREM Adversarial Feelings, 2019 Video still Courtesy: the artist
As the emotional intelligence gap between of humans and machines grows narrower – do we actually know how we really feel? Who is in control of our emotions now? Is technology beginning to influence how we feel? These difficult questions and more are raised in the course of the exhibition as visitors encounter diverse works which challenge, provoke, and explore how technology is representing, influencing and changing our emotions.

Coralie Vogelaar A Random String of Emotions, 2018 Installation view, ZKM | Zentrum fu?r Kunst und Medien Courtesy: the artist
Artists:
Antoine Catala, Stine Deja & Marie Munk, Heather Dewey-Hagborg, Justine Emard, Cécile B. Evans, Ed Fornieles, Maria Guta & Adrian Ganea, Esther Hunziker, Seokyung Kim, Clément Lambelet, Lorem, Lauren Lee McCarthy & Kyle McDonald, Simone C. Niquille, Dani Ploeger, Lucy McRae, Shinseungback Kimyonghun, Maija Tammi, Troika, Coralie Vogelaar, Liam Young.
Curators:
Sabine Himmelsbach, Ariane Koek und Angelique Spaninks

Ed Fornieles Test Studies, 2017 Video still Courtesy: the artist
REAL FEELINGS Emotion and Technology – An International Group Show
House of Electronic Arts Basel (HeK) | Freilager-Platz 9 | 4142 Münchenstein/Basel
August 27th – November 15th 2020 Opening | Wednesday, August 26th, 2020, from 7 pm hek.ch
Maija Tammi One of Them Is a Human, 2017 Four pigment print photographs, framed. Courtesy: the artist
About HeK (House of Electronic Arts Basel)
HeK (House of Electronic Arts Basel) is Switzerland's national competence centre, that deals with contemporary art exploring and configuring new technologies and media and reflect on them. With its interdisciplinary alignment HeK allows insights into art productions of different genres in the examination of art, media and technology for a broad audience. In a varied programme of exhibitions, smaller and larger events, festival formats, performances and concerts, HeK dedicates itself to current social topics and questions as well as technological-aesthetic developments. In addition to the event and exhibition activities, HeK is engaged with the collection methodology and the preservation of digital art.
Heather Dewey-Hagborg T3511, 2019 Film Still Courtesy: the artist
Categories
Tags