Jean-Michel Basquiat – 'Boy and Dog in a Johnnypump' (1982) | © Estate of Jean-Michel Basquiat. Licensed by Artestar, New York available on the Meural curated art library
Meural Canvas II powered by NETGEAR is a sophisticated WiFi connected digital canvas that is designed to bring the world of art into your home or office. With the signature anti-glare matte display, the Meural Canvas showcases every brushstroke, so that each piece is displayed like the original as seen in a gallery or museum. Additionally, Meural smart canvases serve as an exceptional way to showcase personal
photography collections.
There are four ways to interactively navigate the library of art via the smart canvas:
*Gesture control: Simply wave your hand in front of one of the Canvas'
two embedded sensors to change the art or access settings.
* Voice control (currently with an Amazon Alexa device)
* Desktop (my.meural.com dashboard)
* The Meural app (iOS and Android)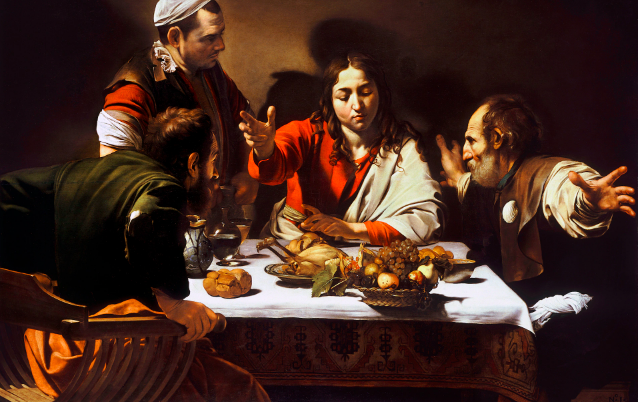 Caravaggio's Supper at Emmaus available the Meural curated art library
But the real joy of the Meural Canvas II is when you subscribe and get access to over $3 billion of art in one (digital) frame. You gain access to a dynamic library of art with over 30,000 works curated from leading museums, artists, foundations and art galleries. From Keith Haring and Jean-Michel Basquiat to Caravaggio Meural's art library extends both the enjoyment and education of art for all members. Additionally, the art marketplace enables members to purchase select works from the library to own and add to their personal collection.
Through a combination of Meural's proprietary hardware product, the Meural Canvas, and a library of 30,000+ licensed artworks, Meural acts as a new media distribution platform for the visual arts. The Meural Canvas is differentiated by Meural's patented TrueArt technology, a combination of hardware and software that combine to deliver a realistic art viewing experience, including a signature matte, anti-glare display. Controllable via gesture, voice (Amazon Alexa), desktop, or mobile app, the Meural
Canvas empowers users to interact with art every day.
Meural Canvas II powered by NETGEAR is now available worldwide
Annual membership subscription to the Meural curated art library for under $70 a year
meural.netgear.com
View this post on Instagram
Categories
Tags