This week I interview Daina Taimina, a Latvian mathematician, math historian, and artist. Born in Riga, Taimina is currently an Associate Professor at Cornell University in the US, where she uses crocheted models to teach hyperbolic geometry. Taimina is an artist in the 2nd edition of Riga International Biennial of Contemporary Art (RIBOCA2), and suddenly it all blossoms. She there launched an open call for a crocheting campaign to create the largest collaborative artwork made in Latvia to date. This will be compiled from countless crocheted hyperbolic planes, sent from participants from all over. The first hyperbolic plane was crocheted by Taimina in 1997 to use in non-Euclidian geometry lessons. The artist appeared in the 2013 Guinness Book of Records – she created the world's largest hyperbolic plane. Seven kilometers of pink yarn was used for this purpose, and it took several years to complete the piece.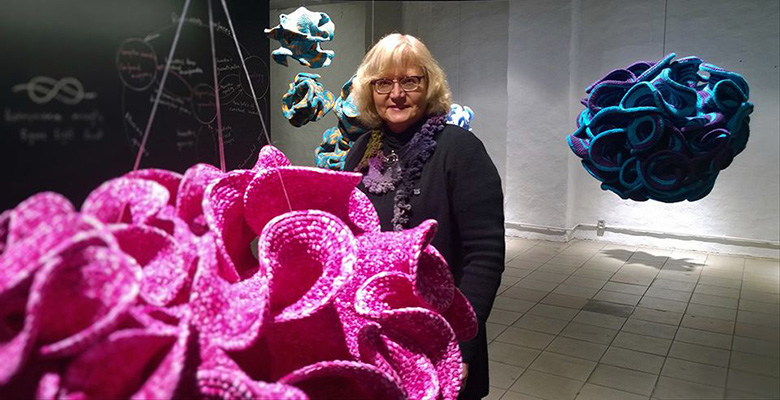 Daina Taimina, 'Hyperbolic Crochet'
1.Art organisations and individuals are launching many online initiatives to stay creative. Yet, a proper economical support has yet to be provided. What does it mean to be included in a project, such as RIBOCA's one?
Since I am working on a project that involves numerous participants in various locations, I am happy that the RIBOCA team is taking care of collecting and organizing participants in Latvia while I am in US.
2. Can you share a sneak peek into what you will be doing / have done for the project?
My project is called Dreams and Memories. Originally I wrote about it like this: "Crocheting makes our fingers to move but our thoughts can travel from memories to dreams. Those thoughts are invisible, but they follow the thread we are using creating something that grows and that is why the form which grows – crocheted hyperbolic plane. For me this project is very personal – crocheted hyperbolic plane was created at the workshop led by my late husband and it will always remind me our time together. Crocheted hyperbolic plane has connected me with many people around the world and that has been unforgettable experience. Dreams? There are dreams which now are memories and there are dreams which may happen." Well, this pandemic has turned many dreams into memories, and we do hope that there will be dreams which will happen. I have received very enthusiastic responses and many submissions for the installation. A sneak peek is in the photo.

Daina Taimina, Dreams and Memories
3. Do you think this crisis will change us, and the art world permanently? Or will we go back to our hectic lives as soon as we will be allowed to?
Every crisis leaves footprints in us, so will this. I am not a fortune teller to say how it will change the art world, but there will be a strong impact for sure. Time will show.
4. Are you working on something else at the moment? How are you reacting to these particular circumstances? What have you learnt from it?
I am always working on one thing or another. ? I am working with a group of mathematical artists or mathematicians who create art in projects which hopefully show how playful mathematics is through visual representations of it. I used this time to finish a book which is now online, Experiencing Geometry: Euclidean and Non-Euclidean with History, which is a revised edition of the book we wrote with David Henderson. Now it is his memorial edition.
5. How has the current situation impacted how you work – both in the method and ideologically?
In some ways this situation has been beneficial for me – I can work uninterrupted, I do not need to come with excuses to decline invitations I am not interested in, I don't have to go anywhere except if I need groceries or decide to go for a walk. And spring this year is so slow in Ithaca that staying home is easy.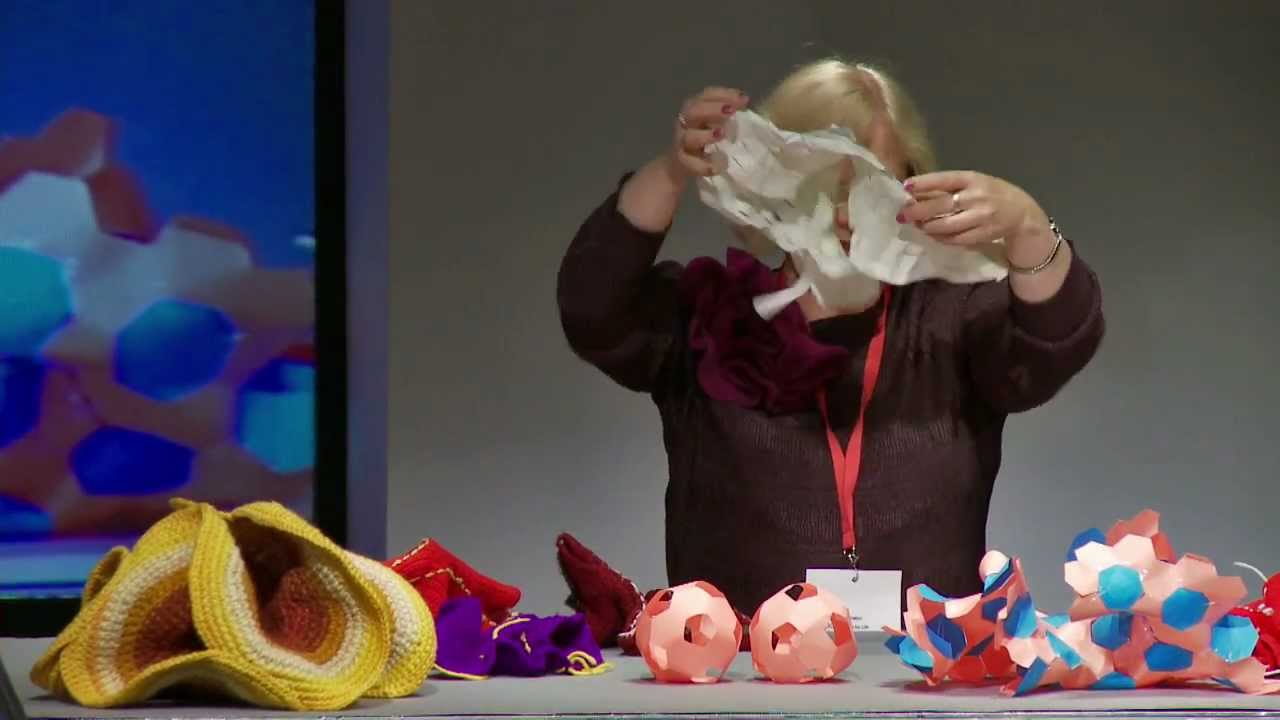 Crocheting Hyperbolic Planes: Daina Taimi?a at TEDxRiga
6.Do you see any silver linings?
Yes. This time gives more space for creativity – you can see how people start doing things they never did before or did not have enough time for. For some people it is to take paintbrushes in hand again, for others bread baking or digging up their backyards for gardening. It is so great to be able to see all those incredible performances being streamed. However, I wish there is some silver linings for those losing their jobs. They must figure out how to get through. That is very tough situation.
7. Did you have any show / project planned that has been disrupted by the covid?
The Riga Biennale (RIBOCA2) is disrupted and had to re-think the format. I hope those new ideas will be realized and at the end something surprising will come out of it.

Daina Taimina, Dreams and Memories
8. What's on your reading list and what book made the greatest impact on you?
These days many are reading Camus "Plague". I am reading his "Notebooks". The book which is timely to read again now when it is 75 years since the end of WWII is Memoir by Anonymous "A Woman in Berlin". Another shocking book is "Burned Alive" by Souad. Both are written by women whose names we will never know but they are about survival. I suggest reading those books to anybody who complains how hard current circumstances are.
9. Any new hobby or recipes to share?
I am experienced baker but now I have discovered a pleasure of making no-knead bread in Dutch oven: https://www.jocooks.com/recipes/no-knead-bread/

Daina Taimina, Dreams and Memories
10.Favourite quarantine live / podcast / account?
I am trying not to let social media take over my time. I am on Facebook and Twitter but limit looking at those to no more than twice a day. The older you get the faster time runs, so I have to use it frugally.
Categories
Tags