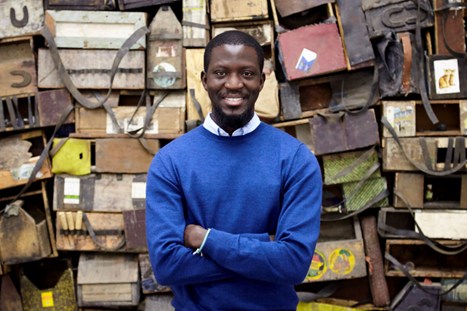 Ibrahim Mahama © White Cube Photo: George Darrell
Ibrahim Mahama, one of the most exciting artists to emerge from Ghana in recent years, reflects on the notion of Parliament and what form it can take in the 21st century in his new film HOW TO BUILD A PARLIAMENT WITH A LITERAL POOL OF IDEAS. The film will be premiered in the latest edition of Coronet Theatre Inside Out, a weekly online space for creative projects developed especially for the Coronet Theatre by leading international artists on Wednesday 27th May at 12 noon online on www.thecoronettheatre.com.
Mahama opened the Savannah Centre for Contemporary Art in his hometown of Tamale in Ghana in 2019, comprising an artist-run project and exhibition space, research hub and cultural repository.
In addition to the Savannah Centre for Contemporary Art, Mahama is currently finalising the construction of Red Clay, also located in Tamale. Named after Youssou N'Dour's song, Red Clay, and the burnt-umber earth of northern Ghana, this vast studio complex will become an additional site for learning, discourse and artist residencies.
At the very heart of Red Clay, lies the Parliament of Ghosts, an imposing structure which takes the form of a parliamentary chamber. Originally presented at the Whitworth Art Gallery, as part of Manchester International Festival (2019), Mahama has recreated the artwork as a permanent structure at Red Clay, which will become a site for dialogue and debate, taking historical failures as a starting point for the creation of new ideals, value systems and economic change. The film documents in the space of 20 minutes the meticulous process of construction of the parliament structure on site at the new studio.
After receiving an MFA in Painting from the Kwame Nkrumah University of Science and Technology, Kumasi, in 2013, Mahama quickly achieved international acclaim for his large-scale installations. Often made in collaboration with others, these installations use materials salvaged from urban environments, such as remnants of wood, or jute sacks that are stitched together and draped over architectural structures. Mahama's interest in material, process, and audience first led him to focus on jute sacks that are synonymous with the trade markets of Ghana where he lives and works. Fabricated in South East Asia, the sacks are imported by the Ghana Cocoa Boards to transport cocoa beans and eventually end up as multi-functional objects, used for the transportation of food, charcoal and other commodities. Mahama's work has been presented in numerous international exhibitions, including Documenta 14, Athens and Kassel (2017); An Age of Our Own Making, Kunsthal Charlottenborg, Copenhagen and Holbæk (2016); Fracture, Tel Aviv Art Museum, Israel (2016); All the World's Futures, 56th Venice Biennale, Venice (2015); Artist's Rooms, K21, Dusseldorf (2015); and Material Effects, The Broad Art Museum, Michigan (2015). Most recently Mahama has had presentations at the 58th Venice Biennale (2019) as one of the artists in the acclaimed Ghana Pavilion and the 22nd Sydney Biennale (2020).
Introducing the project, Ibrahim Mahama wrote:
"How do we resurrect ghosts within a time of crisis? What do ghosts and crisis have in common? Can failed revolutions lead us to think of crisis as a form of material to create new forms within the 21st century? What does the gift economy and crisis have in common? Is it possible to imagine a future using death and decay as a starting point? What constitutes a parliament or a place of gathering? Are ghosts implied within historical places of gathering? What is a constitution of labour and its ideological implications?
The Parliament of Ghosts is a place of many gatherings using the failures of history as a starting point of artistic production. The process of building a place starts with an assembly of various labour forms and techniques, it is the constitution of labour that defines any given form. These labour forms have produced many ghosts across time and it is important to allow them to shape the ideas and embodiment of place. The haunting of place and the constitution of labour might lead us to rethink the role of capital and its paradoxes.
The constitution of labour is at the centre of the universe and it has no limits, for it is important to pay attention to the gift economy during these uncertain and difficult times so the generations which emerge from the crisis can create new values and systems not just based on circulation of capital but through an act of will. The introduction of play into the place of gatherings might yet be the next revolution with this century?"
Coronet Theatre Inside Out Ibrahim Mahama: How To Build a Parliament with a Literal Pool of Ideas
From Wednesday 27th May 12.00 www.thecoronettheatre.com
Categories
Tags