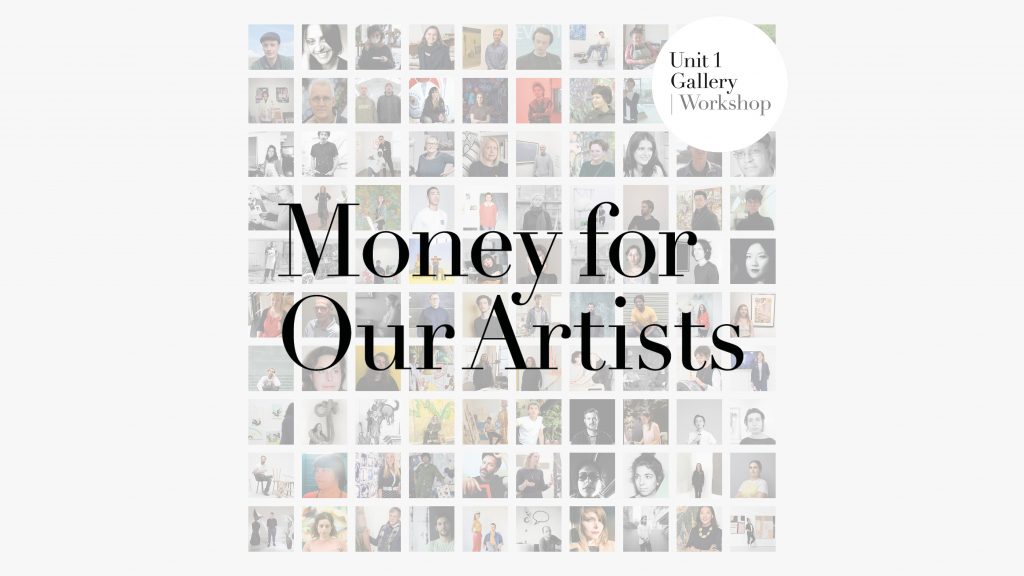 You may not have had a chance to visit Unit 1 Gallery | Workshop at its West London location before the world went into lockdown, but perhaps you tuned in to one of the daily Instagram Lives its founder Stacie McCormick has hosted since the beginning of April.
The initial run of 50 Days 50 Conversations with artists, industry professionals and friends of the gallery has ended with an announcement that Unit 1 has launched an ambitious campaign to raise funds to support the growing family of artists that have been involved in the gallery's exhibition and gallery programmes. Artists are amongst the hardest hit by the uncertainties caused by COVID-19, with exhibitions and opportunities cancelled or postponed, and with artist studios in lockdown many are unable to support their practices. Access to emergency funds is limited and while initiatives like the #artistsupportpledge have been a great success, more help is needed.
Donations of any size are invited via GoFundMe. The goal is to raise £150,000 in order to support each artist with a substantial grant. Those who can afford to give £200 or more are offered the choice of a limited edition print by one of the over 120 artist who have been involved in the gallery's exhibition and residency programme to date.
Alternatively, you can buy works directly from the Workshop Foundation Editions.
Set up to support the extensive residency programme, proceeds are usually channelled back into the foundation in full, to sustain this social enterprise. In order to maximise direct help during the pandemic, half of the proceeds will go directly to the participating artists.
An artist herself, Stacie McCormick set up Workshop Foundation with the aim to help artists and to connect them to the public. She does this by providing free studio space, exposure unburdended by commercial constraints and, most importantly, mentoring support well beyond the physical residency.
I for one share her optimism and the belief that you can create the world you want to live in – I can't imagine mine without art, and can't wait for Unit 1 to open its doors again.
 

 

View this post on Instagram

 
@unit1galleryworkshop | #MoneyForOurArtists | Stacie McCormick
Categories
Tags