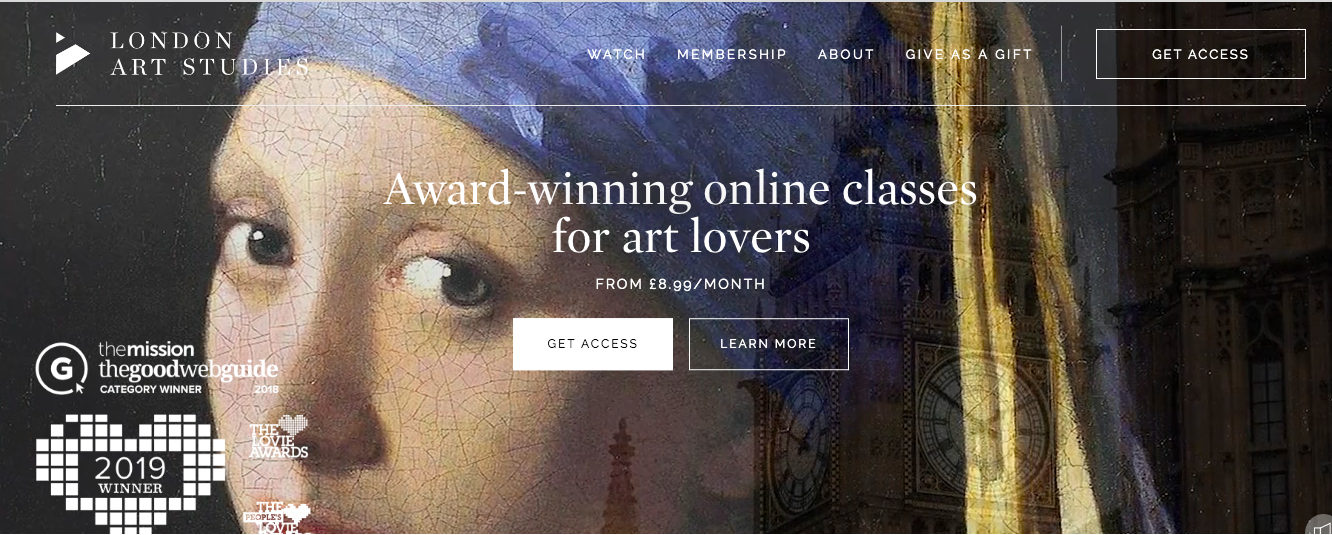 London Art Studies, the world's first online arts education subscription website has been awarded the Webby People's Voice Award for best in online Arts, Culture or Events initiative 2020. With nearly 13,000 entries from all 50 US states and 70+ countries—and 2.5 million votes cast by 600,000 people in the Webby People's Voice Awards—the 24th Annual Webby Awards is one of the biggest in their history.
London Art Studies is an industry-leading enterprise built and run by a small, dedicated team; it's been
called the "Netflix of the art world". Offering compelling short videos in 12 different series, it's a way to stay culturally curious, even in these strange times living life behind closed doors. Lecturers are selected from leading institutions – from the Tate to the National Gallery, and offer jargon-free and
accessible information about artworks, themes and artists.
Hailed as 'the Internet's highest honour' by The New York Times, The Webby Awards, presented by the International Academy of Digital Arts and Sciences (IADAS), is the leading international awards organisation honouring excellence on the Internet. IADAS, which nominates and selects The Webby Award Winners, is comprised of Internet industry experts. The Webby Awards announced their winners including Tom Hanks, Greta Thunberg, Dolly Parton, Nike, Houseparty, Google Classroom, The New York Times, UNICEF, Malala Yousafzai and NPR – just some of those announced by the International Academy of Digital Arts and Sciences in their first of its kind internet celebration of 'The Webbys From Home', live streaming on the Webbys website on the 19th May hosted by Patton Oswalt.
London Art Studies offers members access to over 200 short, entertaining lectures on art history,
design and culture from around the world introduced by world-class specialists. The site is easy to
navigate and acts as an accessible introduction to art history, proving how relevant and powerful art
can be to our everyday life.
Kate Gordon, Founding Director of London Art Studies said:
"This is a huge honour for us, and we're delighted to see the hard work of our small team result in achieving such a milestone for London Art Studies. We're incredibly grateful to both The Webby'sfor recognising our work, and to our subscribers for making London Art Studies possible. We are proud to have built an amazing community united by their love of art and the ability to learn something new at any stage in life, and we're so very pleased that people enjoy what we do."
40000 hours of film
12 series
234 short films
5 centuries of art londonartstudies.com
Categories
Tags