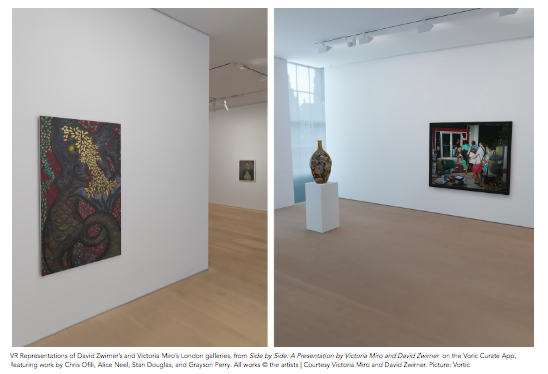 Victoria Miro and David Zwirner come together to launch an extended reality (XR) presentation of significant works by Njideka Akunyili Crosby, Stan Douglas, Alice Neel, Chris Ofili, Grayson Perry, and Franz West. The two galleries have a long-standing relationship and co-represent a number of artists, many of whom are featured in this project. The multidimensional presence of these works can be experienced via 3-D rendering technology on parallel platforms—online and via the Vortic app, which presents these works in high-resolution virtual reality versions of Victoria Miro's and David Zwirner's London galleries. This presentation will be the first one presented on Vortic and available through the Vortic Collect app on smartphone and tablet devices. This online-only exhibition will also be available via David Zwirner's and Victoria Miro's websites.
The works featured include portraits by Alice Neel, recent works by Chris Ofili and Njideka Akunyili Crosby, photographs by Stan Douglas, and sculptures by Franz West and Grayson Perry.
David Zwirner and Victoria Miro have worked closely with Vortic to have their physical gallery spaces captured photogrammetrically using the latest high-resolution 3-D scanning technology. Using Vortic's groundbreaking software and rendering techniques, which have never before been used in the industry, this XR exhibition will include three-dimensional works such as sculpture and ceramics, as well as paintings and photographic works.
For this special presentation, David Zwirner and Victoria Miro have united their Mayfair galleries in London to create a seamless hybrid space on the Vortic platform. This XR/VR technology has been developed for the art world, and the platform provides a sustainable and engaging way for galleries to reach collectors anywhere in the world by offering customisable virtual gallery spaces, supported by two seamlessly integrated virtual and augmented reality apps.
This online presentation will be on view from May 15th – June 20, 2020.
The Vortic Collect app will be available to download from the App Store.
Categories
Tags