If you are a real fan of skincare procedures, creams, face masks, and everything related to the beauty industry, you might have heard of one popular component called CBD (short for Cannabidiol). This useful ingredient added to many beauty products has now evolved into a skincare trend, encouraging many brands to formulate new CBD infused products. Is CBD worth your attention, and what makes this ingredient so special? If you have missed out on this big hype, get ready to learn about CBD benefits for skin and delve into the world of various CBD beauty products in this article.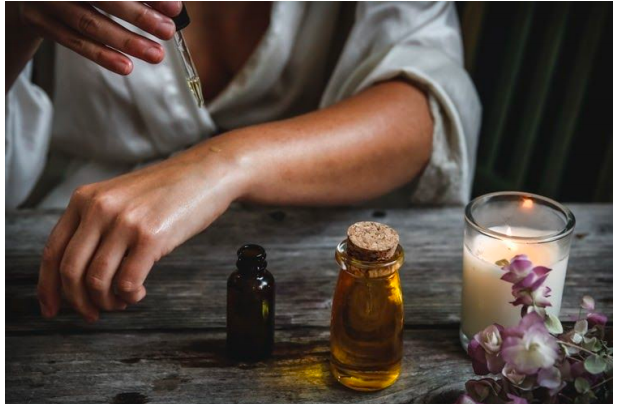 Nowadays, CBD is commonly used in the beauty sphere due to its soothing, healing, and antioxidant properties, making it both a natural and effective alternative for modern products. Whether you have sensitive skin, subjected to lines and wrinkles, or you are trying to protect skin from the effects of pollution, CBD products can be suitable for all customers. Nevertheless, before plunging into its specifics, it's important to start with the basics. 
Cannabidiol or CBD is known as a potent compound that is naturally occurring and delivered from Cannabis sativa plants. CBD belongs to a big family of over 100 similar components named cannabinoids. CBD is also a non-addictive and non-psychotropic chemical with a high safety profile. This means CBD use won't cause a 'high' effect, change the user's state of mind or lead to intoxication, unlike another prominent cannabinoid Tetrahydrocannabinol (THC). 
CBD has flooded the CBD market with a vast amount of products that come in different concentrations, forms, types, and potential uses. While the personal care CBD products are one of the lesser-known and market is still considered a niche, many brands have joined the beauty boom and have launched special skincare and beauty lines with CBD addition. So, why should you try CBD infused products? 
Better Quality Sleep 
Sleep is the basic function that our body needs to regenerate itself. Restless sleep or sleep deprivation prevents the organism from reviving, impacts productivity and energy. In severe cases, lack of sleep can lead to serious health conditions such as stress, declined immunity, high blood pressure, diabetes, heart disease, brain damage, and other mental and psychological imbalances. 
As for physical appearance, poor sleep quality might cause dark circles under the eyes, reduced metabolism, worsening in skin health and appearance. 
After intake, CBD interferes with the endocannabinoid system (ECS) in an organism that plays a crucial role in regulating the state of balance in the body. By promoting homeostasis, CBD helps to stabilise various sleeping disorders such as insomnia, hypersomnia, and abnormal awakenings. Also, CBD is known to alleviate the root of sleeping issues caused by daily stress, anxiety, and pain, which can improve sleep quality. 
Stress Relief 
Prolonged stress can be harmful for the body and cause loss of hair, high blood pressure, acne, accelerated effects of ageing, skin inflammation, and different skin conditions. 
CBD can decrease erratic stress signals and increase the ability to cope with stress by interacting with receptors in the body's ECS. CBD also interferes with the areas of the brain responsible for managing stress response, which can help to spare most conditions caused by stress. 
Anti-Ageing Benefits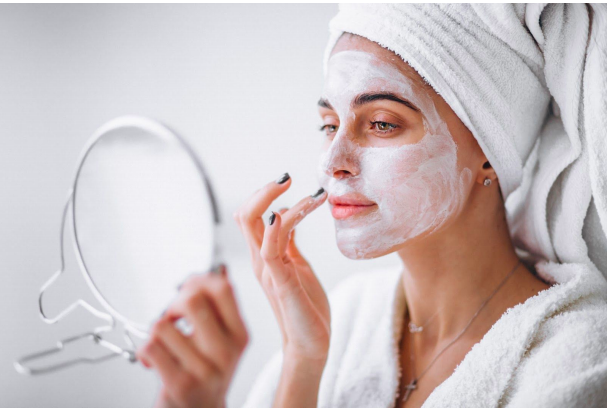 Ageing is an inevitable part of life that occurs due to changes in the body. CBD has the potential to inhibit the ageing process by improving the production of collagen. Also, CBD can act as a protective agent to save the organism against damage from inflammation and free radicals. 
Furthermore, CBD contains rich fatty acids and various nutrients that are beneficial for skin and can help to maintain moisture and prolong skin youth. 
Skin Condition Improvement And Reduction of Inflammation 
CBD is an effective type of treatment for reducing pain, anxiety, and depression. However, CBD is getting more interest in dermatology by 
showing beneficial effects for various skin conditions. CBD can help to prevent excessive production of skin's sebum to treat pimples, spots, blackheads, and acne, while not clogging pores. Furthermore, it might also be helpful for itch and other skin conditions such as pruritus and psoriasis due to its anti-inflammatory properties. 
If you are subjected to any of the problems mentioned above, CBD can be worth considering. However, before shopping for any CBD product, it's advised to discover each format of the product and its offer of unique therapeutic benefits. 
Types of CBD Beauty Products 
Whether you like to cover your skin in creams or have face mask sessions, when it comes to the CBD compound, this ingredient has found its way into almost every section of beauty regimens. Now, let's draw attention to the most widely used CBD beauty and skincare products.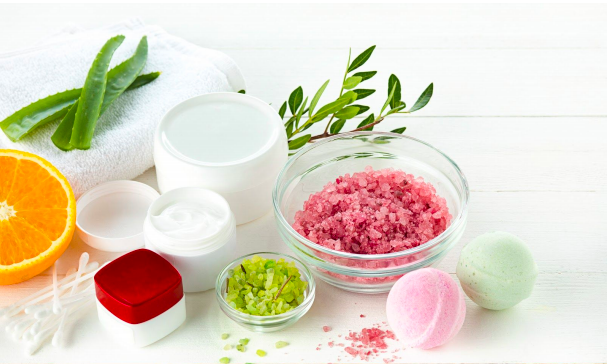 CBD Supplements

. CBD comes in a vast amount of supplements such as capsules, oils, and tinctures packed with nutrients and antioxidants. CBD infused capsules and oils interact with the

endocannabinoid system of an organism to promote balance and regulate sleep, mood, and concern feeling;
CBD Topicals

. CBD can be added to different topical products such as lotions, creams, salves, and rubs to relieve inflamed body parts, benefit the skin and reverse signs of ageing. Topicals with CBD can help reduce inflammation, chronic pain as well as prevent psoriasis, acne, eczema, and other dermatologic issues; 

CBD Face Masks

. CBD masks usually contain a blend of moisturising components that work together to help hydrate and soothe the skin while providing a refreshing and tonic effect; 

CBD Bath Bombs/Salts

. CBD bath bombs and salts are full of various essential oils together with CBD. Such products are a simple and fun way to experience CBD advantages. CBD bath bomb fills the bathtub with useful ingredients that help to soothe muscle soreness, cramps, and other muscle-related aches; 

CBD Shampoos And Conditioners

. CBD can also be the main ingredient in hair care products. CBD works together with a mix of herbs and beneficial components to hydrate dry hair, soften strands or add more volume. The moisturising and anti-microbial qualities help control dandruff and diminish scalp scratching instigated by seborrheic dermatitis. 
Conclusion 
From mood-boosting benefits, reduced anxiety to better sleep, and skin condition – CBD is the most well-known compound with various beneficial effects. Today, CBD is being added as an essential ingredient in different beauty and skincare products. While studies are still limited, CBD products can be given a try due to the ability to reduce extreme inflammation, muscle spasms, and chronic aches, treat acne, and most skin issues, such as dry skin, psoriasis, and eczema. 
CBD advantages, healing properties, and a variety of offered CBD infused goods make CBD a popular method and effective skincare solution. Also, a broad range of CBD products can fulfil the needs and preferences of any consumer while providing safe treatment. 
Keep in mind that the industry is new and rapidly expanding, which sometimes may bring you to dishonest CBD companies and sellers. Such manufacturers might make false claims about their products and add harmful components. Always do a little research on whether chosen 
CBD products are legal and safe, as well as ask your seller to provide a certificate of analysis before purchasing. 
Categories
Tags