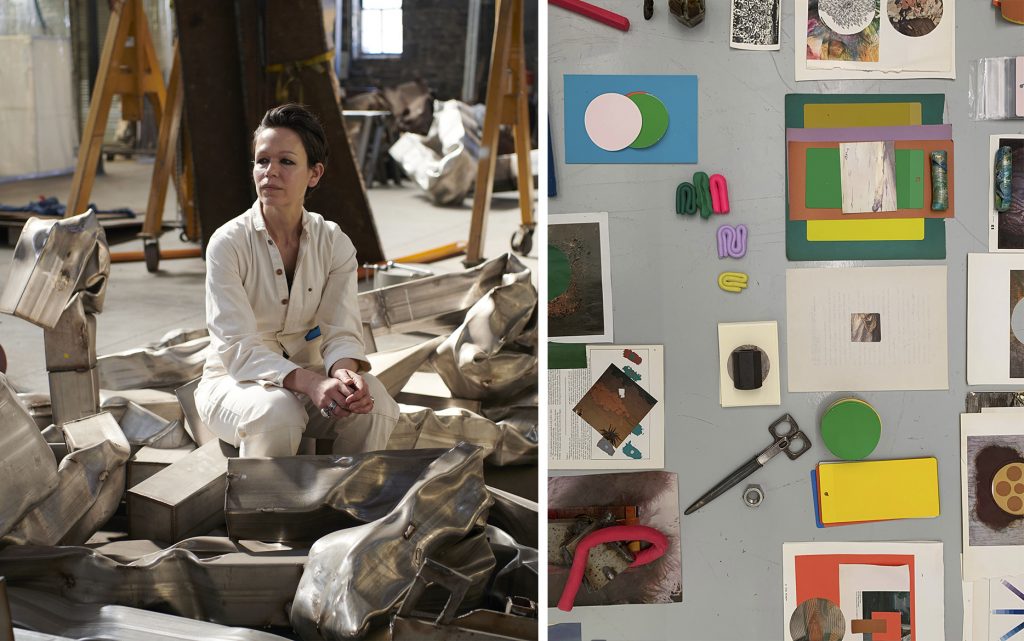 Left: Carol Bove, 2019. Photo: Jason Schmidt. Right: Photo from Carol Bove's studio, 2020. © Carol Bove
David Zwirner Online is to debut its Studio series with a presentation by Carol Bove, launching today Thursday April 30th . Studio is a series of solo projects that will be presented weekly online. This series aims to highlight recent works by artists the gallery represents in the context of their current artistic practices––whether in the studio or elsewhere. Through personal snapshots, films, audio recordings, and reference imagery, this series reflects on how they have adapted their studio practices in these transient months.
 Upcoming in the series are presentations by Liu Ye, Lisa Yuskavage, and Raymond Pettibon. 
David Zwirner Online currently has on view Platform: New York, Platform: London, Marcel Dzama: Pink Moon, and Harold Ancart: Pools. Launching on May 1 is Platform: Los Angeles, and on May 5, to coincide with the reopening of David Zwirner's Hong Kong gallery, a bilingual online viewing room titled Lìxià will launch. 
In addition to David Zwirner Online's programming, the gallery's website is also home to the podcast Dialogues, currently in season three. Last week a conversation between the artists Diana Thater and Rachel Rose debuted and next week's episode will feature a conversation with the writer and poet Cynthia Zarin. David Zwirner Books will be publishing a forthcoming ekphrasis title by Zarin, Two Cities, which is a deeply personal meditation on Venice and Rome.
Categories
Tags