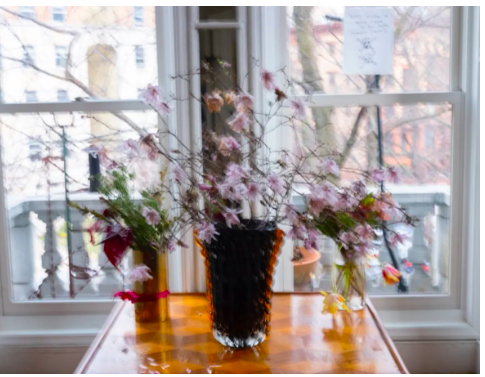 Marian Goodman Gallery is pleased to present a specially editioned photograph by Nan Goldin. 1st days in quarantine, Brooklyn, NY, 2020 was photographed in Goldin's New York apartment, to which she has been confined for more than a month due to the global pandemic. The flowers depicted are the last that Goldin was able to purchase to fill her home. Outside is the world that has changed so dramatically so quickly, and is no longer accessible to her. The image is part of a series of works in which Goldin has photographed her isolation companion Thora Siemson. The series of eight photographs depicts a singular day in Goldin's apartment, transiting from morning till night.
100% of the profits* from the sales of this edition will go to an organisation close to the artist's heart, Urban Survivors Union (USU). Founded in 2010, USU is a national organisation whose headquarters are located in North Carolina. They are owned and operated by people directly impacted by America's Drug War. They provide harm reduction services to people who use drugs in direct response to the health hazards generated by drug policy. The work USU is doing is of particular importance now as many opioid users are at increased risk of COVID-19 infection due to having compromised immune systems.
Urban Survivors Union has said:
"Funds from this sale allow USU to purchase a Mass Spectrometer, which is a drug testing machine to help consumers of 'street drugs' better navigate an increasingly dangerous synthetic drug supply and stay alive. Drug Checking is innovative and currently the only primary prevention tool for reducing overdose death. This machine is of particular importance during the COVID-19 pandemic due to market instability caused by the crisis, leading to an increasingly lethal drug supply. Because we provide services to directly impacted people, your purchase will immediately save lives."
About the edition
The print will be available to purchase HERE, which will go live at 10am EDT on Friday 24 April.
Nan Goldin 1st days in quarantine, Brooklyn, NY 2020 6 x 8 in (15.24 x 20.32 cm) Inkjet print
Edition of 150 $250 plus tax and shipping
The 150 prints of this special charity edition will be allocated in sequence of sales. Each print will be signed and numbered. The edition will be available until 1 June 2020, unless sold out before this date. Production and shipping will commence once non-essential businesses reopen in New York.
About the artist
Nan Goldin was born in Washington, D.C. in 1953 and lives and works in New York and Paris. Her work has been the subject of two major touring retrospectives: one organized in 1996 by the Whitney Museum of American Art and another, in 2001, by the Centre Pompidou, Paris, and Whitechapel Art Gallery, London. A new commission for the Palace of Versailles exhibition Visible/Invisible is on view in Versailles, France until 20 October 2019. Recent solo exhibitions include The Ballad of Sexual Dependency, Tate Modern, London, UK, 2019; Fata Morgana, Château d'Hardelot, Condette, France, 2018; Weekend Plans, Irish Museum of Modern Art, Dublin, Republic of Ireland, 2017; Nan Goldin, Portland Museum of Art, Portland, ME, USA, 2017; The Ballad of Sexual Dependency, Museum of Modern Art, New York, USA, 2016. Nan Goldin has been the recipient of numerous awards including most recently the Ruth Baumgarte Award, Sprengel Museum, Hannover, 2019 and The Centenary Medal, London, 2018. Goldin was received into the French Legion of Honour in 2006 and awarded the Hasselblad Foundation International Award in 2007.
?*defined as retail price less printing cost (approximately $35 per photograph).
Categories
Tags