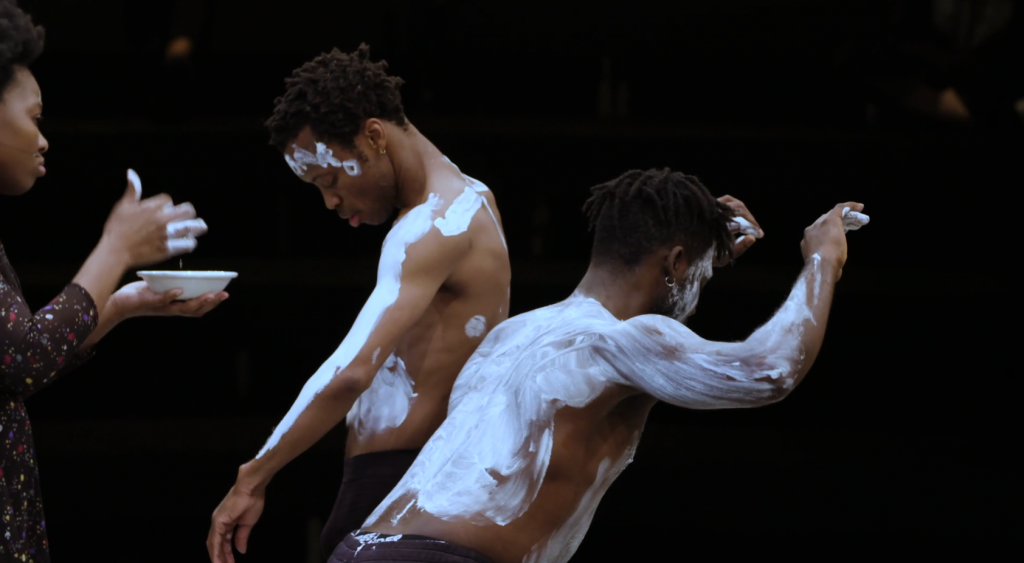 Tate have released an exclusive online-only performance by Faustin Linyekula, one of many ways people can still access art through Tate's digital channels.
The Congolese choreographer and dance artist was due to perform in the Tanks at Tate Modern from 20th to 29th March 2020. His work was among those programmed for this year's BMW Tate Live Exhibition: Our Bodies, Our Archives, alongside other performances by Okwui Okpokwasili and Tanya Lukin Linklater. These were cancelled when Tate's four sites closed due to the coronavirus, but Linyekula and those of his collaborators who could make it to London in the circumstances worked with Tate to stage a one-off, site-specific work, performed to camera in the empty Tanks. Now available to watch on tate.org.uk for free, My Body, My Archive is a performance re-invented for the particular situation of this exhibition and its closure to the public. The performance combines carefully selected segments of his works Sur les traces de Dinozord 2006, Statue of Loss 2014, Batanaba 2017 and Congo 2019.
In this autobiographical performance, Linyekula questions ancient knowledge stored in the body against the relatively short written history found in books. Companions – a number of his fellow dancers, actors and musicians – accompany him in this journey, helping him to tell stories and reactivate collective and personal memories. Linyekula imagines his own artistic journey in terms of the circle and asserts that archives of the body cannot be experienced alone. In the current climate, his work, which explores themes of connection, community and fragility of the body, has added poignancy and resonance.
While Tate galleries remain closed, visitors can still experience great art on Tate's website and social media. A booklet, including newly commissioned interviews with Linyekula, Okwokpasili and Lukin Linklater, can be downloaded from the BMW Tate Live Exhibition web page. Other content on tate.org.uk includes artist interviews, in which viewers can step inside the studios of artists such as David Hockney and Billie Zanegwa and hear what inspires them, detailed looks at artworks in the Tate collection, and podcasts introducing listeners to art and artists through themes such as protest, hip-hop and love.
About The Artist
Faustin Linyekula is an artist with a 'live-wire intensity' (The New York Times). His riveting work often addresses themes of memory, forgetting, and dreams. With his country's history as a catalyst, he considers the impact that decades of war, trauma, and economic uncertainty have on people's lives.
PRODUCTION CREDITS
Faustin Linkyekula
My Body, My Archive
Performance and Installation
South Tank and Transformers
Created, written and performed by Faustin Linyekula
Performers
Franck Moka, Ornella Mamba, Heru Shabaka-RA, Michel Kiyombo
Sound and video installation
Franck Moka
Music
Franck Moka
Heru Shabaka-ra
Production Coordinator
Virginie Dupray
Categories
Tags