As a response to its temporary gallery closures, Marc Glimcher has announced that Pace Gallery have expanded their online viewing room tool to the public, and are publishing a series of thematic and solo artist exhibitions during the period of closures caused by COVID-19 and beyond.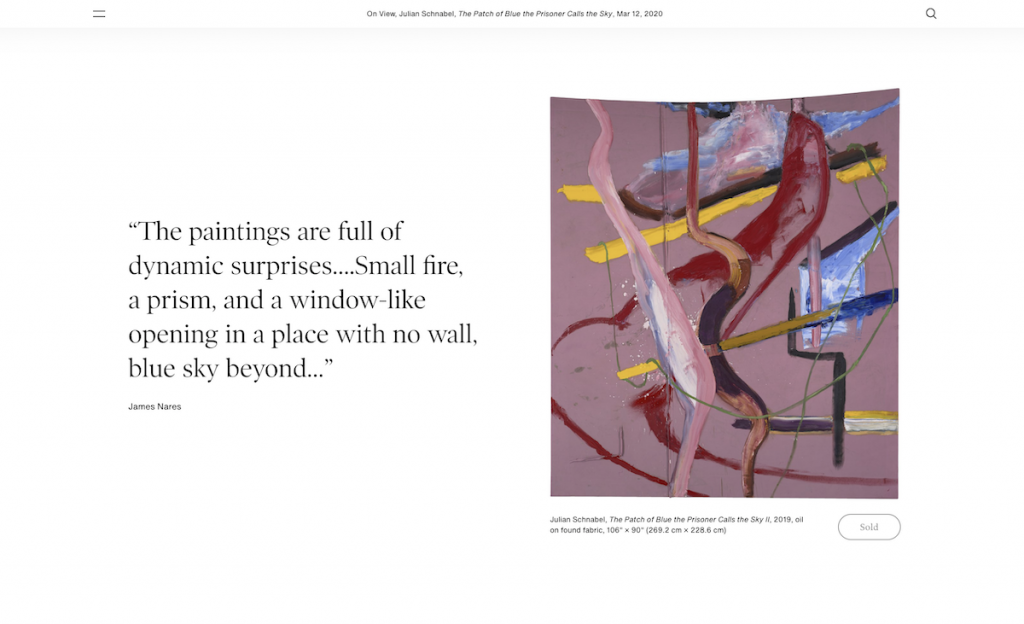 Presented over the course of the coming weeks, these digital exhibitions have been organized by Pace's dealers and curators. They include a group exhibition dedicated to ceramics, an exhibition of works inspired by nature, and a focus on photography on the topic of America's cultural history. Many of the exhibitions directly engage with human experience in this unprecedented climate, including a solo artist exhibition devoted to works on the theme of domesticity by American artist and cartoonist Saul Steinberg (launched Monday, March 23), and a meditative group presentation on "stillness," titled A Swiftly Tilting Planet (launching today Thursday, March 26).

Saul Steinberg, Looking Down, 1988, marker, crayon, colored pencil and conté crayon with collage on paper20″ x 14″ (50.8 cm x 35.6 cm). Drawing for "The New Yorker" cover, February 28, 1994 © 2020 The Saul Steinberg Foundation / Artists Rights Society (ARS), New York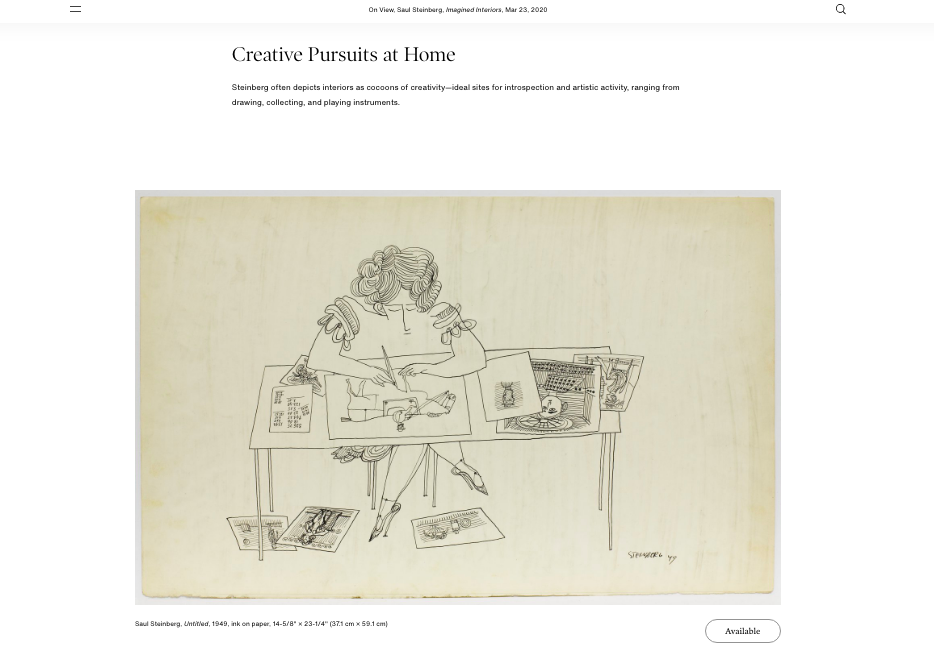 Untitled Saul Steinberg, Untitled, 1949, ink on paper, 14-5/8″ × 23-1/4″ (37.1 cm × 59.1 cm)
Each online exhibition is supported by thoughtful interpretative materials—both scholarly and playful—created by Pace's curatorial team, including texts, audio, and comparative visual materials culled from the gallery's vast digital archives and further afield.
Pace's Senior Director and Lead Curator, Andria Hickey, comments:
"Through our online exhibition space we hope to offer a rich contextual lens through which to engage with our artists' work. This is a time when people are seeking solace, and we believe art has the power to bring comfort and help us parse this difficult situation together."
Opening this tool to the public enables widespread access to the gallery's expansive roster of artists and the stories that shape their practices during a time that necessitates creative inspiration, engagement, and perspective.
Exhibitions will be published at regular intervals and will be available online for a period of two weeks at pacegallery.com
A Swiftly Tilting Planet Launching Thursday, March 26 Curated by Adam Sheffer and Oliver Shultz
A Swiftly Tilting Planet brings together a selection of works by seminal artists that express the potential energy of a teeming stillness and the promise of a future world. The works in the exhibition capture slowness, inwardness, and reflection as techniques of insuppressible vitality, anointing every ending as a new beginning and celebrating art's enduring power by pointing to its salutary presence in our topsy-turvy lives. Featuring works by Lynda Benglis, William Eggleston, Eric Fischl, Alex Katz, Sherrie Levine, Sol LeWitt, Brice Marden, Duane Michaels, Elizabeth Murray, Lucas Samaras, and Arlene Shechet.
Material Matters Coming Soon Curated by Joe Baptista, Danielle Forest, and Andria Hickey
Material Matters highlights the nature of experimentation and intuitive response in the sculptural work of five artists. These clay, porcelain, and cast works reveal an intimate relationship between artist and material; the hand is often present in the push and pull of clay, and each step in the process—from molding to machining, firing to glazing—requires an openness to alchemical processes that set the stage for improvisation, problem solving, and happy surprises. Material Matters showcases Lynda Benglis's recent works in ceramic, new multimedia sculptures by Arlene Shechet, Lee Ufan's tabletop terracotta sculptures, Yin Xiuzhen's Ceremonial Instruments, and Oldenburg and Von Bruggen's iconic cast studies.
Diamonds on the Soles of Her Shoes Coming Soon Curated by Lauren Panzo and Andria Hickey
Resilience, empathy, and unity have defined American culture in its most challenging and triumphant moments. This exhibition brings together works by some of the most iconic photographers of our time, revealing these fundamental truths in the camera's lens. Depicting intimate relationships, the vast and commanding power of the American landscape, iconic faces, and poignant and profound scenes from everyday life, the exhibition includes works by Vito Acconci, Richard Avedon, Harry Callahan, William Christenberry, William Eggelston, Robert Frank, Jim Goldberg, JR, Emmet Gowin, Paul Graham, Peter Hujar, Richard Learoyd, Richard Misrach, Irving Penn, Robert Rauschenberg, Kiki Smith, and Saul Steinberg.
All Creatures Great and Small Coming Soon Curated by Samanthe Rubell, Susan Dunne, and Michaela Mohrmann
All Creatures Great and Small presents approximately 30 intimately scaled works that capture the resilience and fantastical nature of our world's flora and fauna. The exhibition celebrates the act of creation as well as the inherent worth of all life forms, no matter how humble, diminutive, or common. The works on view explore how nature and art have acted as twin channels for transcendence, regeneration, and even spiritual awakening. Artists featured include: Yto Barrada, Alexander Calder, Harry Callahan, Nigel Cooke, Jean Dubuffet, Emmet Gowin, Alex Katz, Richard Misrach, Thomas Nozkowski, Michal Rovner, Lucas Samaras, Raqib Shaw, Arlene Shechet, James Siena, Kiki Smith, Qiu Xiaofei, Richard Tuttle, Fred Wilson, and Zhang Huan.
Categories
Tags