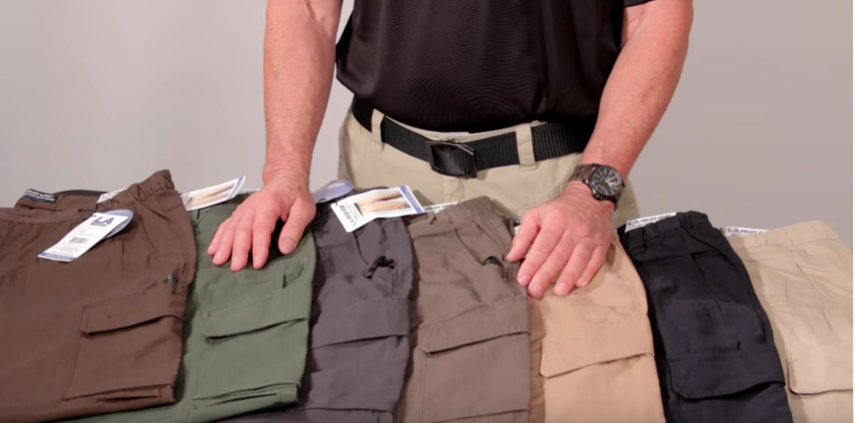 Remember the cargo pants? The ones with the bad reputation. Well, they are back for good! And we can help you find the right ones for you.
Firstly, you need not worry; as they're not the same as they were before. These cargo pants are not those cargo pants that you are imagining. Wearing modern cargo pants won't make you look like a walking bean-bag chair. 
The new cargo pants are not just slimmed down but also are being produced from ripstop or corduroy fabrics. They're being finished with higher, more streamlined pockets and jacked up with extra-loud colors. The designers have come with types of Cargo that are cut well and exude confidence on the wearer. 
So, go ahead Cargo it up! But before that, read on to learn more about cargo pants. 
When it comes to styling, cargo trousers are one complicated piece of clothing. Although they have been in fashion for several seasons now, it's a fact that it works for some but not for others. If you can get it right, you can nail it with a part-military and part-streetwear look. But if you get it wrong, you can look like off-duty Putin. 
Finding your fit 
When it comes down to a trouser, fitting is everything. But it need not be a tailored fit; as a tailored fit on these trousers can make it look worse. However, you can easily pull on a fresh pair of cargo trousers as they're slim, well tapered, and are produced with beautiful fabric. You can also find the slightly bulkier version of cargo pants that can claim the OG (original gangster) status. 
If you're finding cargo trousers for yourself, make sure you're careful with the length of the roll. If it goes too far, you might end up with a Capri pant.
Furthermore, when selecting a cargo trouser, another fundamental thing to check is the pocket size and its positioning. As per fashion experts, how big a cargo trouser's pockets are and where they are placed can play a big part in deciding whether they're fabricated for military purposes or casual events.
Cargo or tactical pants tend to make the legs of the wearer look bulky due to the pocket detail, so the pant must compliment your body shape. 
What's the difference between Cargo Pants and Tactical Pants? 
First things first, let's throw some light over the much-debated topic of the differences between a tactical pant and a cargo pant. 
Tactical pants are more solid in color, which easily distinguishes them from the cargo ones. These types of pants are mostly made with lightweight materials, and the belt loops are made thick and sturdy enough to support a large belt to carry the weight of numerous equipment, sidearms, or handcuffs. 
Guide to wearing Cargo Pants the right way
Well, you obviously would be aware that there are a few specific ways to style your cargo pants. Just like other military-turned civilian menswear pieces, it's all deployment while styling out cargo trousers. 
As per fashion experts, if the trousers you're wearing are more of a tailored silhouette, you can opt for a slim-fit smart shirt along with a chunky Derby shoe. But in case you are going to wear a heavy cargo trouser with more volume, you can amplify the relaxed feel with an oversized sweatshirt or a jumper. In fact, you can also layer up with a neoprene hoodie for a funky and casual look. 
There exists an absolute recommendation regarding the styling of these pants as well. It would be best if you do not try to pair them with a smart shirt. That's because most people fail to style cargo pants in a formal outfit aptly. Stylish button-down shirts are quite tricky to style with Cargo or tactical pants. 
Experts also recommend sticking with traditional colors when choosing a cargo pant. The go-to colors can be black, navy, or olive. However, the color choice is fairly your take. 
In the end, all we can hope for is that you can find the right cargo fit for yourself and you style it in the best possible way. 🙂
About Mark Westall