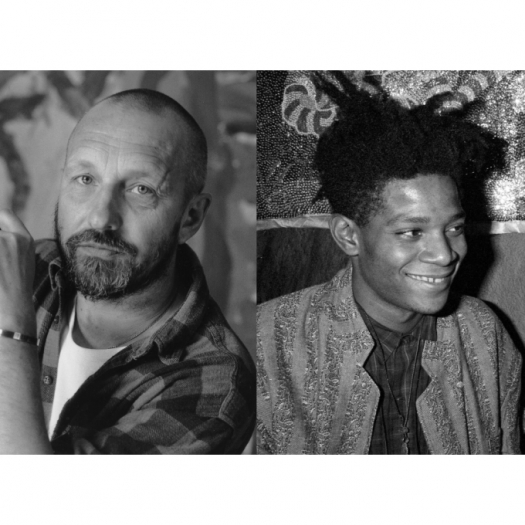 This exhibition brings together the eminent works of Jean-Michel Basquiat (b. 1960) and Georg Baselitz (b. 1939) from 1981-1982, emphasising a period which has become pivotal not only for the oeuvre of each artist, but for international contemporary art in general. Indeed, these works of uncommon visceral expression and striking contemporaneity attained concurrent international prominence in the early 1980s, effectively determining the artistic rhetoric of the time.
The paintings presented in Baselitz / Basquiat: 1981-1982 appeared in some of the most important exhibitions of the 1980s. In 1982, both artists featured in the landmark Documenta 7, a large-scale exhibition of contemporary art in Kassel, where Basquiat was the youngest exhibiting artist. Arroz con Pollo (1981) presented in this exhibition was one of his three canvases at Documenta. Basquiat's inaugural New York show took place in the same year in Annina Nosei Gallery, following his first ever solo exhibition at Galleria d'Arte Emilio Mazzoli in Modena, Italy in 1981. Marking a highly prolific period for the artist, 1981-82 saw the emergence of Basquiat's most celebrated paintings. As the artist recalled of 1982, 'I had some money. I made the best paintings ever. I was completely reclusive, worked a lot, took a lot of drugs…'
Baselitz's exposure to the international art scene accelerated with the participation in the seminal exhibitions A New Spirit in Painting (1981) and Zeitgeist (1982), both co-curated by Norman Rosenthal and Christos Joachimedes, as well as his first solo show in New York at Xavier Fourcade Gallery (1981). Presenting Baselitz's trademark inversion of the figure in vigorous brush strokes, his works from the period strongly reverberated within the critical discourse at the time. As art critic Donald Kuspit notes in his 1982 review of the exhibition featuring the acclaimed Orange Eaters and Drinkers present here, 'Baselitz's paintings are not only upside-down, they are inside-out: the figures have a flayed, raw look that goes with spiritual nakedness.'
The compelling singularity of the paintings by Baselitz and Basquiat from 1981-82 is inseparable from the intensity of their historical moment. Having entered the international discourse to tremendous acclaim, both artists constructed an inimitable artistic language, which maintains a nuanced relationship with their respective cultural modes and resolutely speaks to a contemporary audience.
BASELITZ / BASQUIAT: 1981-1982 – April 4, 2020 Skarstedt
Categories
Tags