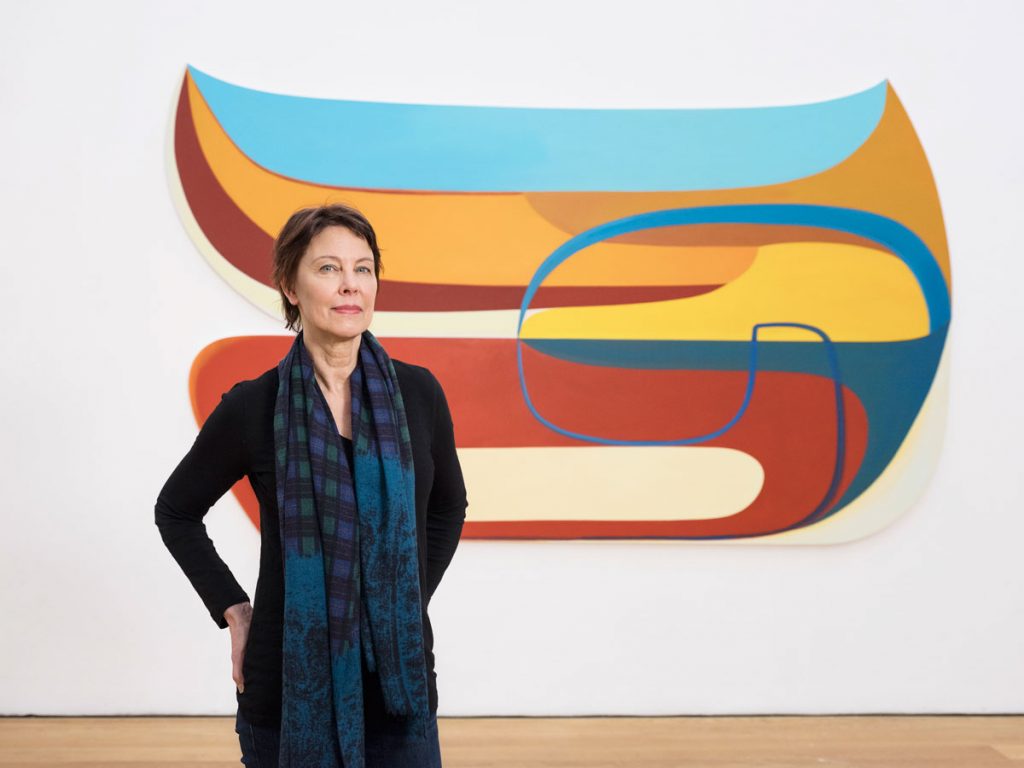 Lisson Gallery present an exhibition of recent paintings and works on paper by New York based abstract painter Joanna Pousette-Dart. This will be the gallery's first solo presentation with Pousette-Dart, following the recent announcement of representation. Born in New York to abstract expressionist painter and founding member of the New York School of painting, Richard Pousette-Dart, and having studied painting at Bennington College in Vermont amongst the likes of Greenbergian Formalists Kenneth Noland and Jules Olitski, Joanna Pousette-Dart's experience as a painter rises from rich tradition.
However, despite this traditional modernist background, her paintings remain anything but conventional. Pousette-Dart's shaped paintings are unique in their melding of formal and poetic concerns, and take their inspiration from many sources: Islamic, Mozarabic and Catalonian art, Chinese landscape paintings and calligraphy, Mayan and American Indian art, as well as the landscape itself, to name a few.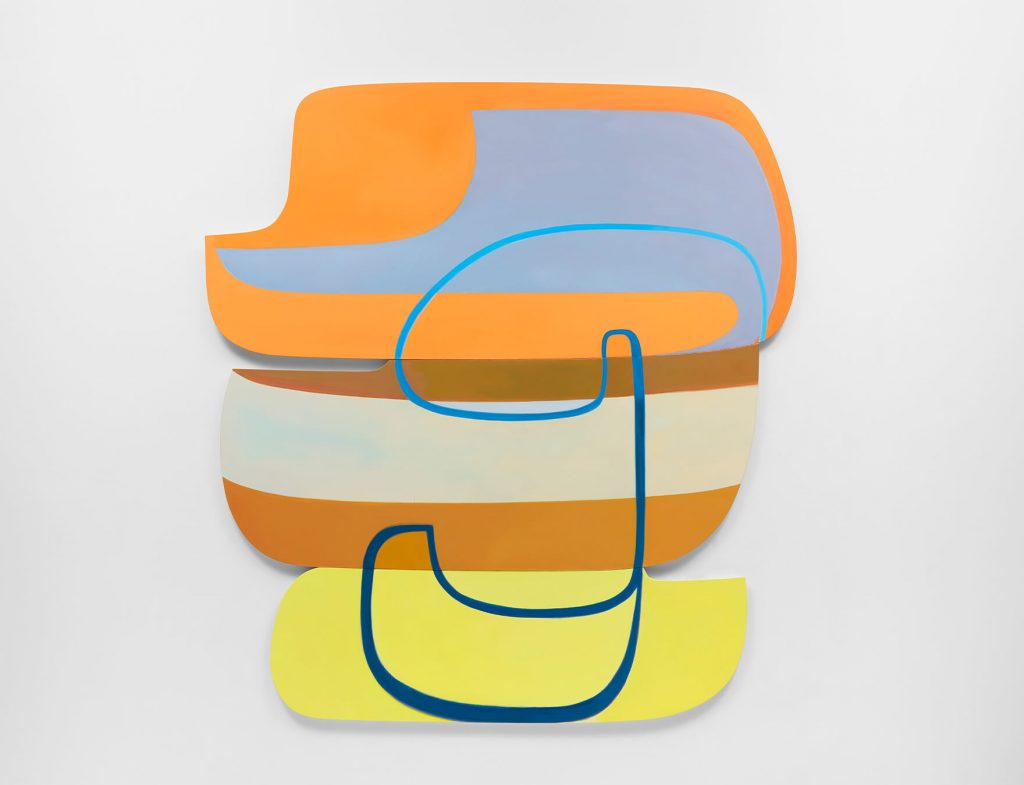 The presentation at Lisson Gallery's Tenth Avenue space features four large-scale multi-panel paintings, each composed of curved canvases, a format Pousette-Dart has explored since 1990 while working in Galisteo, New Mexico. The dynamic configurations of these works evoke the constantly shifting light and form, the vastness of the spaces, and the sense of the earth's curvature that she experienced there.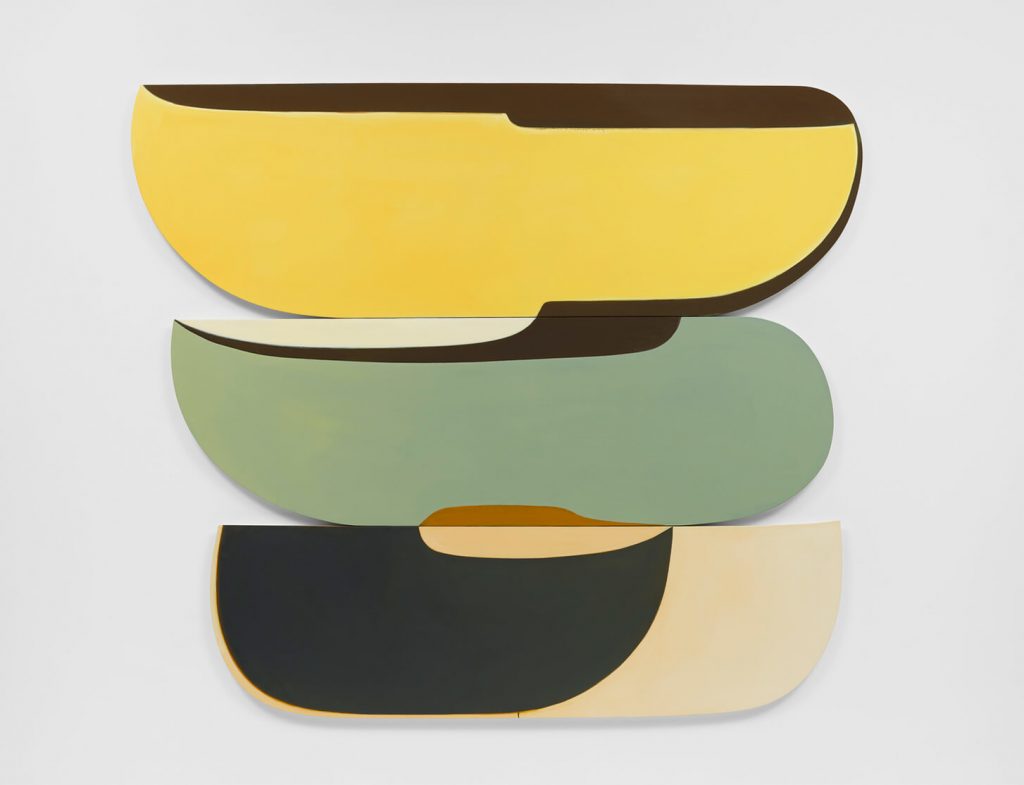 Works in the exhibition such as Plateau (2019), measuring more than 11 feet across, and 2 Part Variation #3 (After Pierrot) (2015) evoke the earth's curvature, as well as the characteristically dramatic light experienced in the Southwest. The shape of Pousette-Dart's canvases are loosely based on parts of hemispheres, and created as an exploration of scale. Early studies into the landscape in New Mexico began by taking photographs and stitching them into 360-degree compositions, exploring the continuous flattened terrain and the dramatic changes in light. Pousette-Dart noted, "In taking photographs I could see the light changing the interrelationship of all the elements from frame to frame as I was shooting. I began making drawings with the photos in mind, cutting shapes and putting them together and these drawings ultimately led to the shaped panels." Joanna Pousette-Dart's paintings take many forms, each with their own dynamic sense of expansion and compression, buoyancy and gravity. The painted contours of the interior shapes create an added complexity, sometimes echoing the contours of the canvas, and at other times challenging them. While the paintings are considered whole within themselves, the rhythm and light of the painting is intended to reverberate beyond its curved edges
Joanna Pousette-Dart 29 February – 18 April 2020 @Lisson
About the artist
Joanna Pousette-Dart was born in New York, NY in 1947, where she still lives and works. She has a BA from Bennington College, Vermont (1968). Her work has been the subject of solo exhibitions at Wiesbaden Museum, Wiesbaden, Germany; Moti Hasson Gallery, New York, NY, USA; Texas Gallery, Houston, TX, USA; Charles Cowles Gallery, New York, NY, USA; and Susan Caldwell Gallery, New York, NY, USA, as well as a three-person exhibition at MoMA PS1 in New York. Locks Gallery in Philadelphia will open a solo exhibition in April 2020 of new work. Pousette-Dart has been featured in group exhibitions at the University of Connecticut, Storrs, CT, USA; School of Visual Arts, New York, NY, USA; Museum of Fine Arts, Boston, MA, USA; Museum of Modern Art, New York, NY, USA; Indianapolis Museum of Art, Indianapolis, IN, USA; Neuberger Museum, Purchase, NY, USA; Whitney Museum of American Art, New York, NY, USA; and the Santa Barbara Museum of Art, Santa Barbara, CA, USA, among others. Her work is included is held in public collections around the world including Albright Knox, Buffalo, NY, USA; Museum of Fine Arts, Boston, MA, USA; Brooklyn Museum of Art, Brooklyn, NY, USA; Solomon R. Guggenheim Museum, New York, NY, USA; Museum of Modern Art, New York, NY, USA; Indianapolis Museum of Art, Indianapolis, IN, USA; Parrish Art Museum, Southampton, NY, USA; Portland Art Museum, Portland, OR, USA; Solomon R. Guggenheim Museum, New York, NY, USA.
Categories
Tags