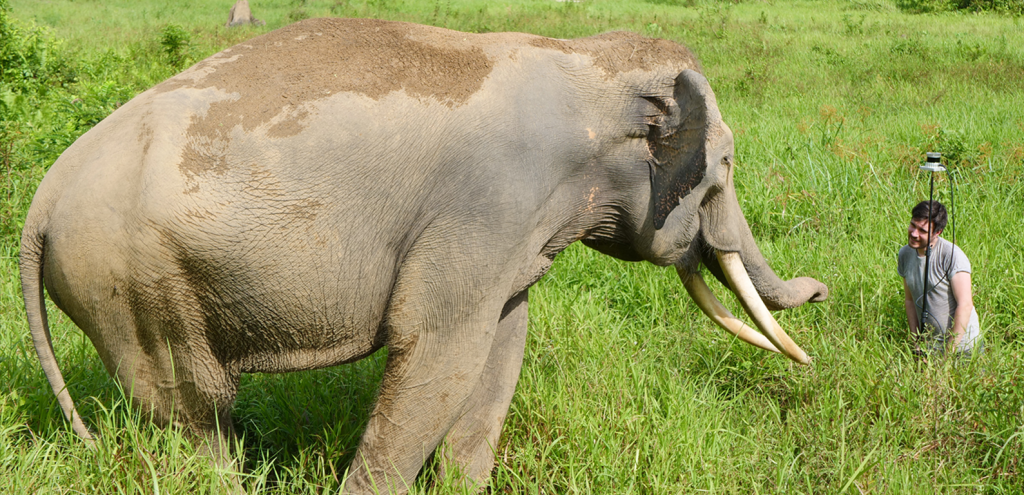 Ben Eaton – Elephant Hero
The Yorkshire-based interactive arts studio, Invisible Flock have announced their move to new studios at Longside, Yorkshire Sculpture Park. This new type of studio functions as a fabrication space for large scale digital art installations, whilst facilitating environmental, socially engaged work and research-driven practice, working with the live ecosystems present throughout 500-acres of historic parkland. This significant development for the collective is necessitated by the increasing scale, scope and ambition of the installations, for which they are receiving commissions and funding awards.
The Founding Director of Yorkshire Sculpture Park, Peter Murray CBE, states
We are pleased to welcome Invisible Flock as tenants to the historic Bretton Estate where we anticipate our shared concerns for art, ecology and society will be mutually supportive and lead to extraordinary projects and experiences with real impact in the world.
As headline artists at Brighton Festival this May, Invisible Flock will premier an immersive three dimensional, audiovisual recreation of a Sumatran rainforest, developed through intensive research living in the jungle with a single family of Siamang Gibbons. The Sleeping Tree emphasises the urgency of the threat to the Leuser Ecosystem, one of the most biodiverse environments on the planet, exploring this subject through the prism of a family at the centre of this crisis.
AURORA from Invisible Flock on Vimeo.
Bringing UK audiences closer to the deforestation emergency in this distant and seemingly intangible ecosystem, The Sleeping Tree conveys a powerful sense of this endangered environment, flooding the senses with heat, humidity and intense sounds of the jungle. This biological orchestra is led by the Siamang Gibbons, whose hypnotic multi-tonal calls activate 3D scanned animations of the trees in which they sleep, projected onto fine veils of mist, throughout the exhibition space.
Capturing over 5000 hours of audio recordings of this rare species in its diminishing natural habitat, Invisible Flock have collected scientifically valuable data on sound frequencies as well as the temperature and humidity within the jungle, which indicate the rapid changes taking place in this fragile ecosystem, as result of palm oil production.
Ecology and conservation issues are today the sole focus of all Invisible Flock artworks. Growing to prominence over the last decade through participatory projects that were socially conscious in a broad sense, the artists have now made a conscious decision to focus their full attention on environmental issues, stating;
Our practice has moved into the conservation and environmental space gradually over the last couple of years. This underpins all other issues in our society and there seems little point making work about anything else.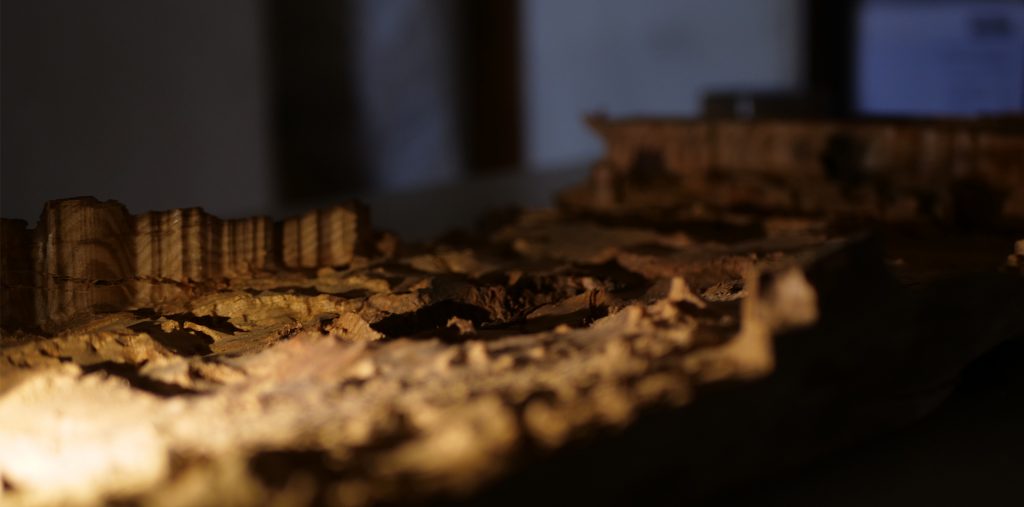 Invisible Flock The Sleeping Tree Brighton Festival Sat 2–Sun 24 May 2020
@invisibleflock @brightonfestival
About Invisible Flock
Invisible Flock's work goes far beyond simply raising awareness. The essential criteria and defining outcome of an Invisible Flock project is that the work must have an actual, real-world transformative impact; dovetailing their process with academic research, for example, is one way they hope to achieve this. In creating The Sleeping Tree they have collaborated with Leuser Conservation Forum (FKL), The Sumatran Orangutang Conservation Programme (SOCP) and the Landscape Ecology and Primatology (LEAP) department of Bournemouth University. Working at the intersections between art, science, technology and environmental activism, they have custom-designed bio-acoustic recording equipment, software and other technology that offers new opportunities for practitioners in other contexts and disciplines. This digitally driven practice centres on finding unique ways of employing technology to bear in a variety of contexts, such as education, design, the developing world, urban planning and healthcare. Previous examples of this approach include Earth Tones, a global mapping project, capturing environmental data from a variety of landscapes at the forefront of climate change, whilst reimagining the information in multi-sensory art installations.
Invisible Flock's interest centres on our emotional relationships to the natural world, and this extends from the Polar Regions to closer to home. As their practice has developed further into environmental contexts, long form studies of natural landscapes and ecologies, working in the city began to feel like a conflict of interest. Their move from central Leeds to their new   location brings them in closer proximity to a range of natural environments on which to focus their work, as well as allowing greater ability to work at scale.
As much as it is a practical space for fabrication it is also a laboratory for dialogue and dissemination of new ideas. This research studio has new capabilities for opening up process and developing research driven work in real time within the local ecosystems. West Yorkshire is developing an increasingly global reputation for large-scale sculpture and installation, with the launch of Yorkshire Sculpture International last year representing a consolidation of how much this region has to offer in terms of visual arts.
Invisible Flock is an award winning interactive arts studio based in Yorkshire Sculpture Park, UK, operating at the intersection of art and technology. The collective makes innovative participatory artworks that are experienced by hundreds of thousands around the world.
These highly sensory installations and environments encourage participants to re-negotiate
their emotional relationships to the natural world. Drawing directly from the world around them Invisible Flock aims to foster art practices that have relevance and long lasting transformative effect.
We believe that art today must have a positive impact on society and the world we live in and as artists we have a responsibility to open up collective thinking and to build space for critical inquiry.
Invisible Flock is a charity, supported by Arts Council England as a National Portfolio Organisation, working with multiple partners and commissioners. The studio's collaborative, researched based approach delivers data and new technology that can be used in multiple contexts and adjacent sectors. As artists they bring creative thinking and unique ways of employing technology to bear in contexts such as conservation, climate science, education, design, urban planning and healthcare.
Selected examples include: GPS powered A.R art games, transformed discarded beach plastic transformed into 3D printed artworks, large ambisonic sound installations as well as pioneering digital/physical installations that exist at sea. Most recently Invisible Flock created Aurora, a multi sensory installation about climate change that re-flooded the disused Toxteth reservoir in Liverpool.
In the past 2 years they have presented work in Kazakhstan, Kenya, Nigeria, Indonesia, Qatar, India and in galleries, museums and public spaces throughout the UK, proving their truly global ambition to create art that matters. Invisible Flock's core artistic team is: Victoria Pratt, Ben Eaton, Catherine Baxendale, Klavs Kurpnieks and Amy Balderston.
Skills include: Programming, app development, Touch Designer, Blender, databases, fabrication, graphic design, projection mapping, tracking, face detection, AR, 3D scanning – 3D recycling and printing, 3D modelling and animation, coded sound design, locative programming, web development, JavaScript and interactive web based programming, data visualization and processing, creative coding using processing, hardware development, locative experiences using a variety of mobile based development techniques, computer vision and tracking using Kinect cameras and general cameras using Open CV, creating large
interactive experiences, installations and software set ups , rapid prototyping hardware, rapid prototyping software, interactive networked objects, IoT art, sound design.
Categories
Tags