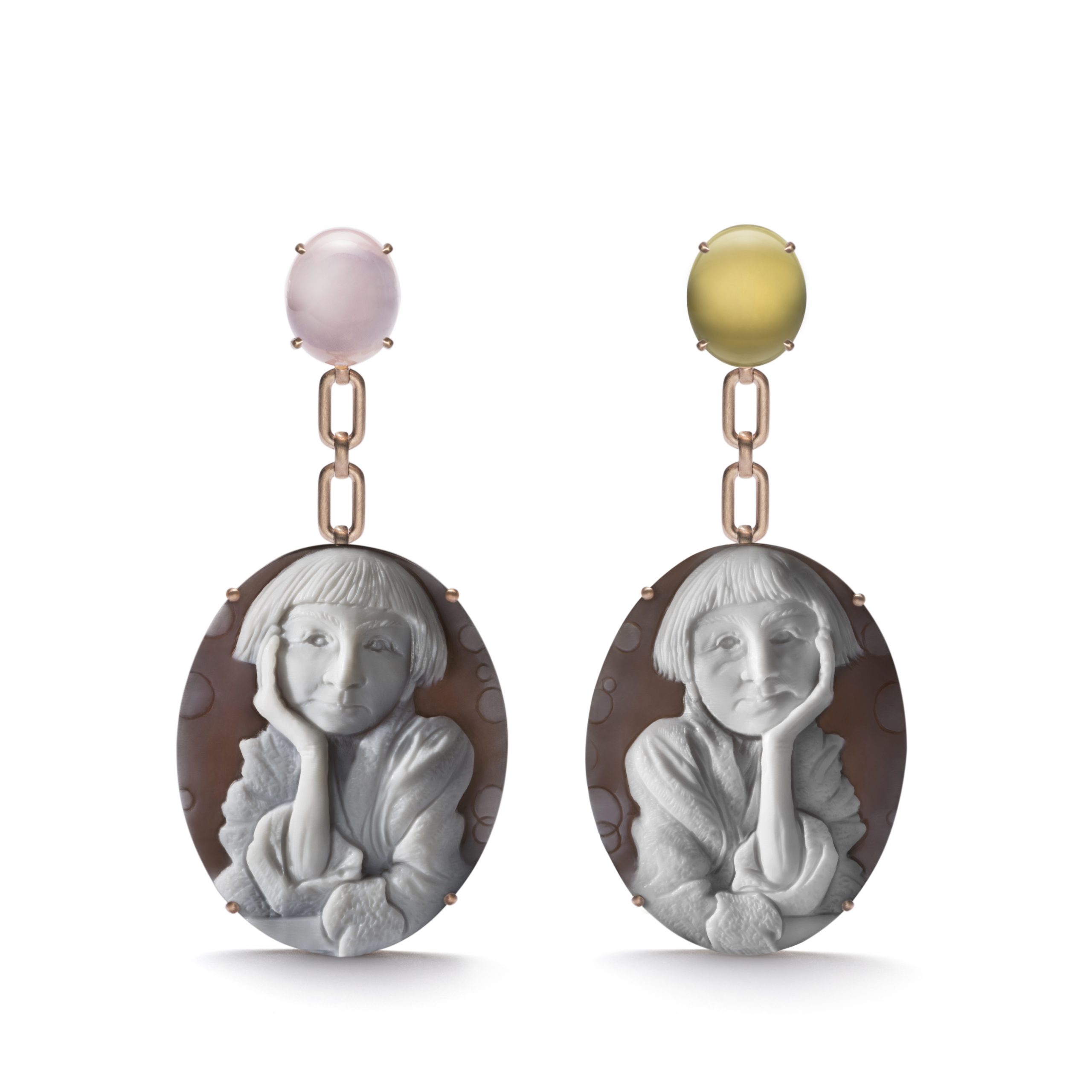 Cindy Sherman earrings, Courtesy of LizWorks
YEAR OF THE CAMEO
2019 saw a returned interest in the ancient art of cameo jewellery. Wartski's held a exhibition of cameo's by Europe's greatest gem engravers and Liz Swig, founder of LizWorks, unveiled of a breathtakingly modern interpretation of the ancient medium by artists Catherine Opie and Cindy Sherman at the Venice Biennale. The revival seems set to continue into the mainstream in 2020 with Rihanna launching a collection created with Fenty.
CLOSER LOOK: The evolution of the cameo
The carving of hard stones such as Sardonyx, Agate and Cornelian has been a skilled craft practiced for centuries. Examples have been found in 'Ur', one of the oldest sites of human civilisation. By the 2nd century BC cameos were a well established ornament and Pliny records cameos as a stable of Imperial dress. In the 18th century, shells were widely used for lower budget keepsakes.
Carved in high relief, a cameo is mainly decorative. In contrast, their sibling intaglios are carved in low relief and have been used as seals to authenticate authority for centuries. Within their decorative nature, cameos make the perfect medium for memorial portraiture. Traditionally the cameo panel edge is rounded into an oval and inserted into a metal mount for rings or brooches. A face of a beloved relative could thereby remain ever present and touchable.
Wartski's 'Multum In Parvo' (1-7th October 2019)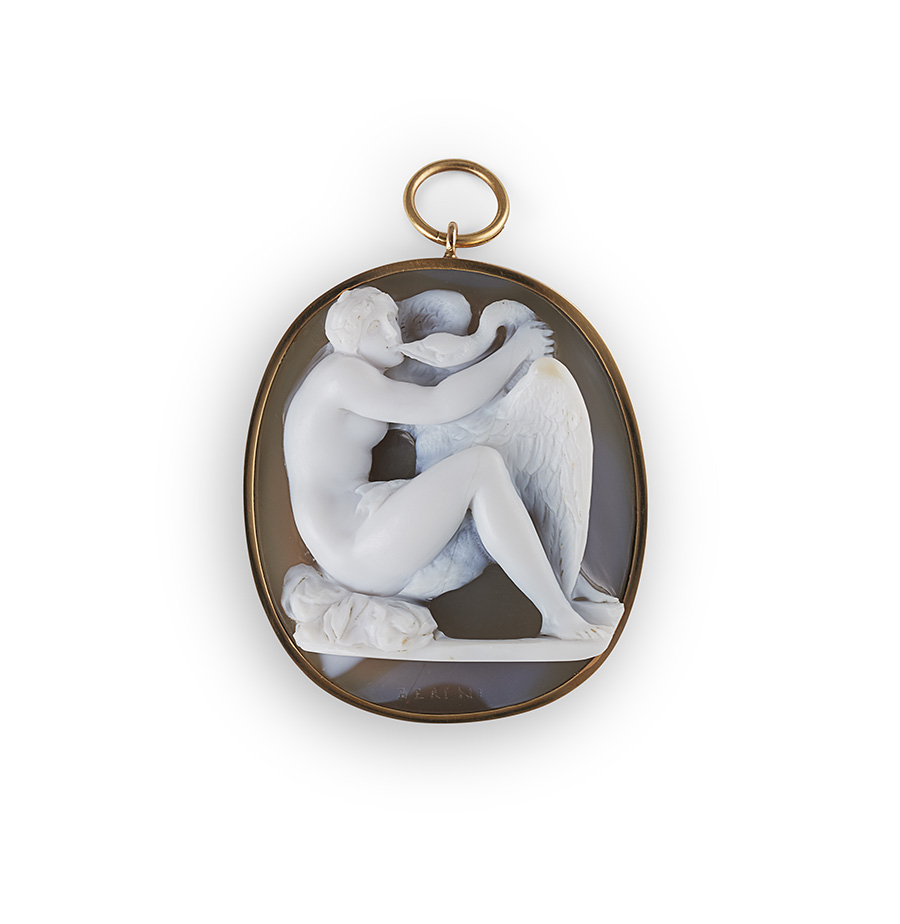 Leda and the Swan, courtesy of Wartski's
The exhibition of engraved gems took the Latin motto 'Multum in Parvo', which translates: 'Much in Little'. The motto encapsulates the often under appreciated art of cameo carving, for although they might be little in scale, a cameo contains much fine detail.
The show was meticulously catalogued by Wartski's director, Thomas Holman. It included works from Wartski's collection for sale. Some examples from Wartski's heritage collection are still on display in the firm's new shop, located at 60 St James's Street, London.
The breathtaking collection include pieces dating from as early as 1st Century CE and later examples with impressive provenances or mounted by famous jewellers such as Castellani and Falize. Expertly carved, these are miniature works of art.
Early examples of cameos typically depict mythological figures, such as Medusa, or Leda and the Swan (see Wartski's). The variegated colours within the veining of hard stones, such as agate, provide interesting artistic possibilities. This is clearly visible in a 17th century agate mounted in a 19th century brooch of an owl driving a chariot. The chariot is pulled by two cockerels with mottled brown and white feathers from the agate veining. Similarly, a tie-pin by Benedetto Pistrucci depicts s a Cherub in chains rubbing tears from his eyes. The cherub is worked in white on a brown background. The polychrome quality is cleverly utilised in these pieces to enhance the figures in the cameo, and creates depth and realistic textures.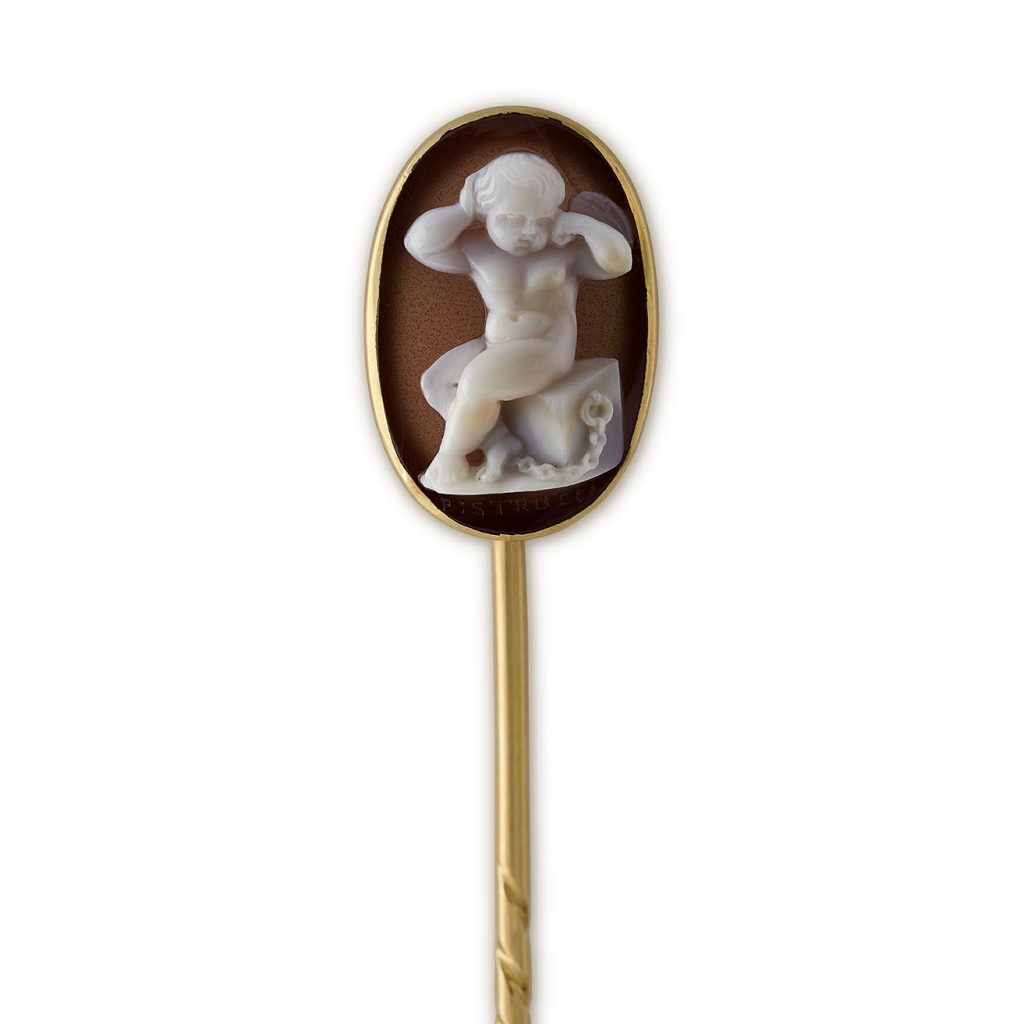 Pistrucci Cherub, Courtesy of Wartski's
21st Century Revival by LIZWORKS:
The ancient form of portraiture has been expertly modernised in LizWorks latest project. Founded by Liz Swig, the collaborative project between Italian craftsmen and contemporary women artists, Catherine Opie and Cindy Sherman, has caused a sensation in both the fashion and art world.
"Working with artists is my absolute favourite thing to do", says Swig, "I get to be part of their process, but at the same time I'm providing them with a medium in which to play and to stretch themselves creatively."
Liz has had an impressive career history as patron, collector and fundraiser; working with cultural institutes, such as the Whitney Museum of American Art, The Film Society of Lincoln Centre, Creative Time and the American Friends of the Israel Museum.
In LIZWORKS, Liz has united the contemporary Art World and world of Ancient Crafts in this project, to create striking works of wearable art. Liz worked closely with Cindy Sherman and Catherine Opie to transform and reimagine their images into one of the oldest forms of r
Interview with Liz Swig, Founder & CEO of LizWorks: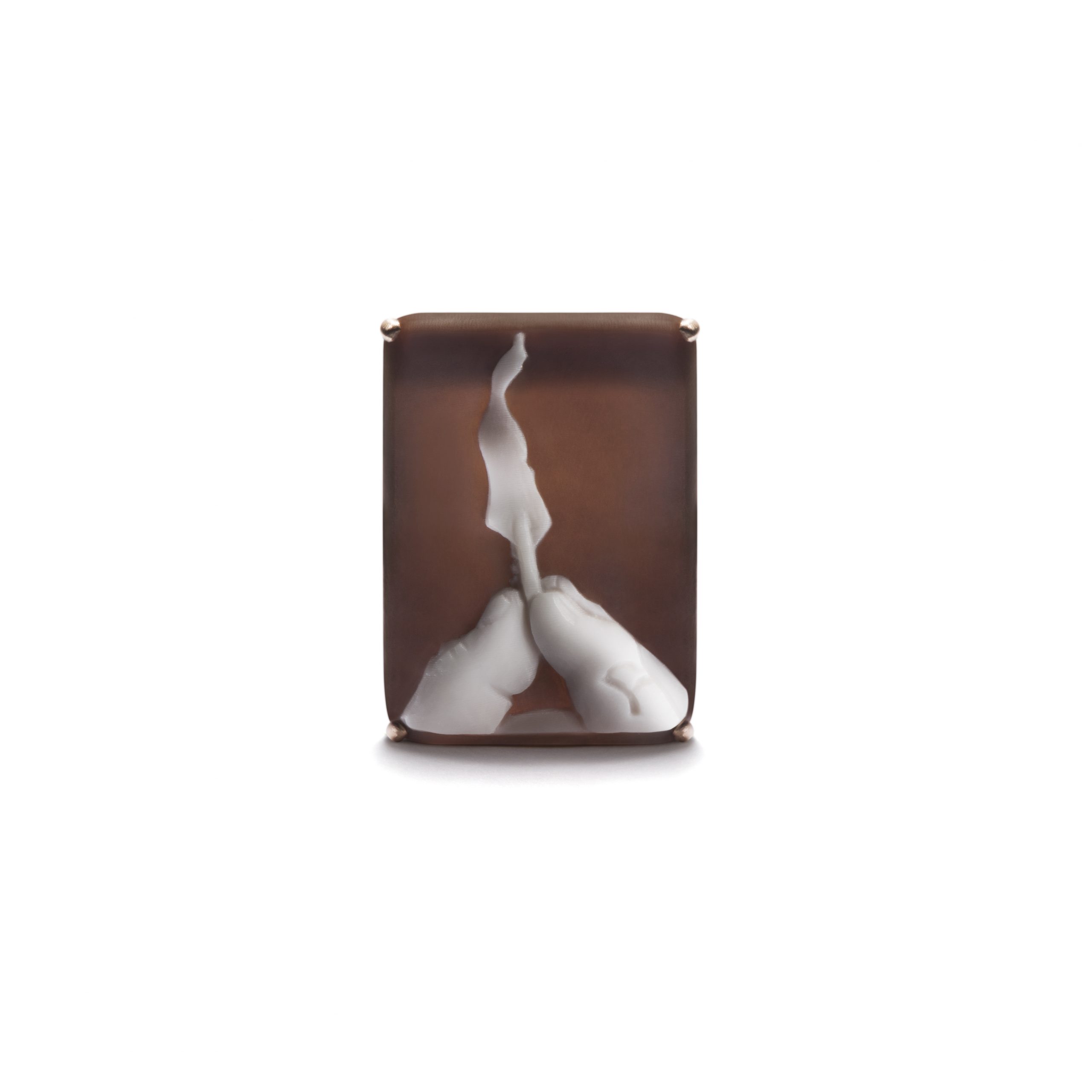 Catherine Opie, MATCH STRIKE Ring. Sardonyx in 18k pink gold. Edition of 50, 2019, Courtesy of LizWorks.
– Where did the inspiration for the CAMEO project come from?
I was in London around Frieze, and went to a Catherine Opie show (at Thomas Danes). I was struck by the oval frames of her photographs: they looked just like cameos. And I was like, "lets revive it!"
I approached Opie with the idea; she was immediately on board. Catherine and I both wanted to create a new vision and new dialogue within portraiture. I think it is a powerful comment on the 'Selfie Era'.
 I also mentioned the project to my friend Cindy (Sherman), who I had worked with for the CHARMED, 2016. We all loved the idea of marrying a modern phenomenon with an ancient craft.
– Why cameos and why those artists?
I have long been fascinated with the art form of cameo. They capture an interesting dichotomy: of past and present, contemporary and ancient culture. Opposites unite within the cameo form.
– How important was/Is it that both are women?
Not at all. It just happened that they are both women. First and foremost, it was their work that spoke to me as perfect for the project. For example, Cindy's satirical Instagram series of selfies contain an unexpected logic. She is simultaneously elevating and mocking self-portraits of cartoonish compositions.
I wanted to bring their work into a sculptural, 3D medium. Through the raised relief of cameo carving their images are transformed.
 – What was the creative process like? Where do you source the sardonyx/carnelian for the cameos?
We all agreed we must find a master cameo carver to get the integrity and soul of the images. Finally we found the amazing Gino de Luca: An Italian craftsman whose family own a traditional company in Torre del Greco, near Naples. The workshop has shelves and shelves of stones to choose from so each one is completely unique. Gino has been trained with skills that have been past down for generations.
Appropriately, for the long history the country has had with cameo carving, everything about the project was Italian: from the designers, carvers to photographers and even the pouches. I love Italy, and am lucky enough to be based between Milan and New York. I also travel a lot but am always drawn back to Italy. It is just all good! There is no bad, just a question of which area is better.  
– How did the artists adapt to the medium?
They were really enthusiastic. Choosing the images and translating them to Gino, was interesting conversation: it took a lot of trust.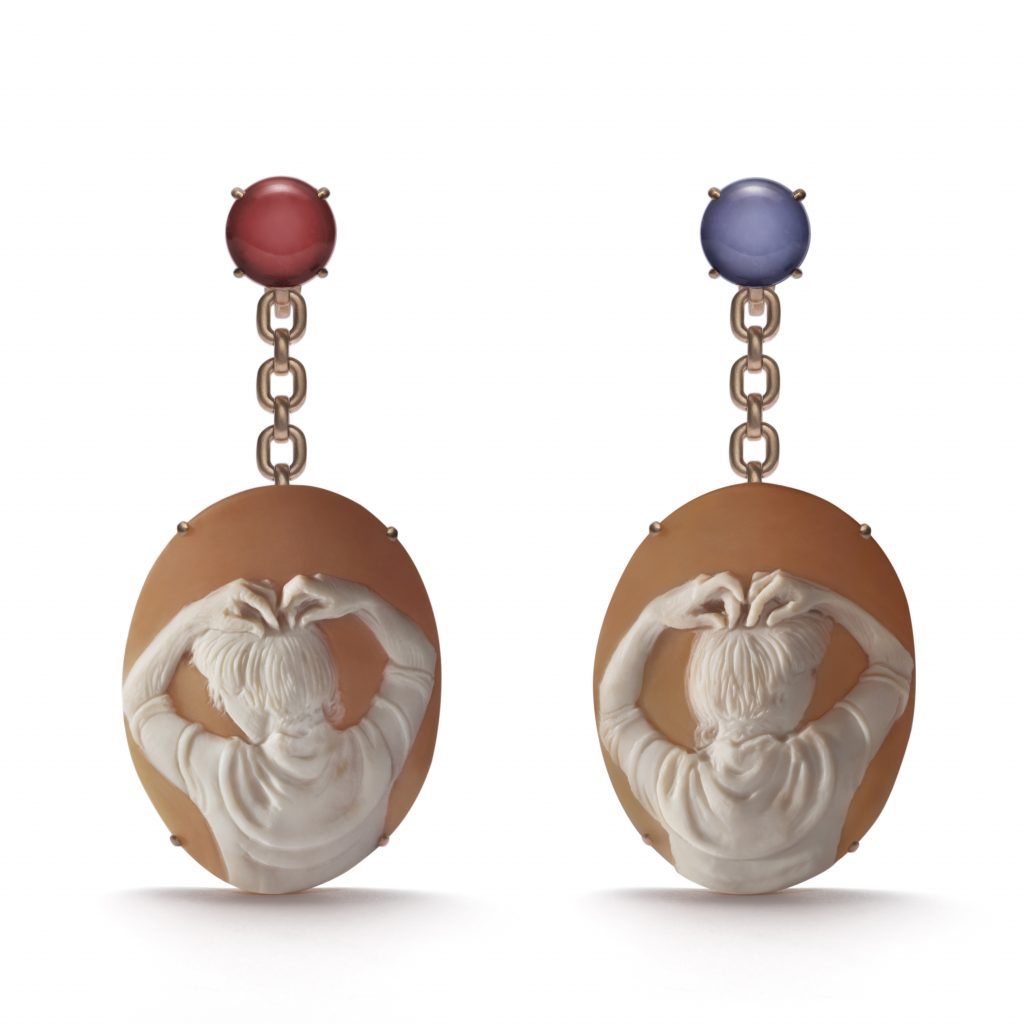 Catherine Opie, MARY Earrings. Cornelian in 18k pink gold, Courtesy of LizWorks.
CONCLUSION
Unsurprisingly, Liz's innovative project has caused a revival which is working its way into the mainstream. Cate Blanchett's much photographed Red Carpet appearance at the 2019 Venice Film Festival wearing Cindy Sherman 'Pensive' cameo earrings was the perfect public platform to launch the revival. LizWorks is inspiring a swath of other designers to return to the cameo; such as Rihanna's lower budget collaboration with Fenty.
Check out Wartski's website to find a rich collection of cameo's to inspire you too!

Owl and Cockerel Cameo, Courtesy of Wartski's.
Buy Art jewellery and watches from The MET here
Categories
Tags