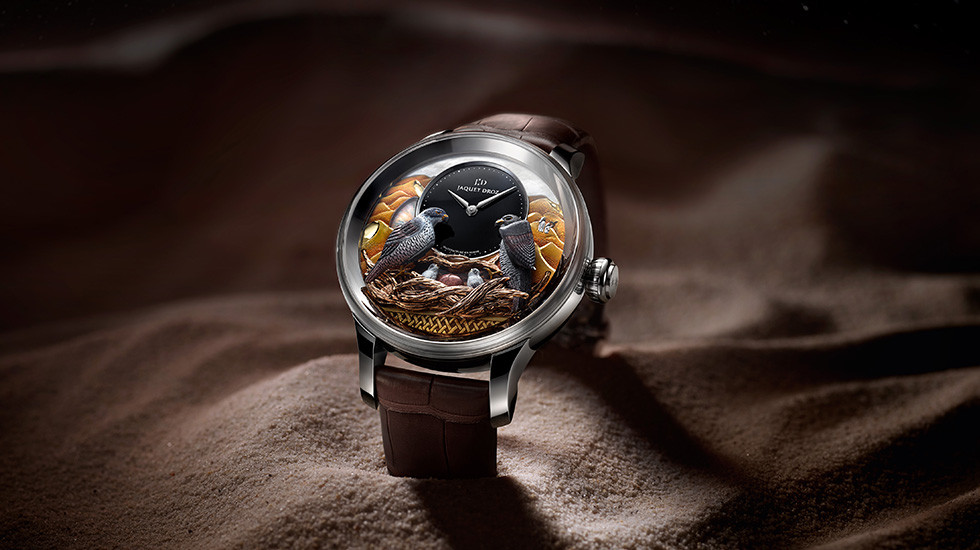 The art of luxury watchmaking has been written about time and time again. The craftsmanship that goes into making a high-end Rolex or Omega is outstanding. But today we want to get more specific and highlight some moments when art truly meets with horology and the results.
Cross-industry collaborations have always been popular. And it can lead to some fantastic results. When two groups of people from different backgrounds bang heads something fresh & exciting is made.
Let's look at a couple of those moments now
Hand-painted dials
Two major collaborations spring to mind but there have been more. Ronnie Wood from the Rolling Stones has done a lot of collaboration with watch brands. His most recent collections, the 1947 collection of hand-painted watch dials is stunning.   
The dials were painted whilst on tour & reflect the energy & edge of the rock world. As this blogger from Chronoexpert.com puts, "it's almost as if the tour has leaked onto each piece" 
Jaquet Droz went one step further creating a one of a kind luxury watch with a hand-painted dial of a bird scene. A family scene of two falcons with their babies, one still to hatch from the egg. The colors a beautiful palette of earthy tones with the ochre-colored dunes in the background. 
There are artists which paint dials as a service…
Some artists have decided to focus on offering hand-painted custom dials as a service. Chris Alexander is one such artist, he hand paints dials from his home studio. Fitting it around is lecturing in fine art & design. Known as "the dial artist", here's one person who is working cross-industry & pushing boundaries. 
There are watches inspired by art
The Ulysse Nardin Freak Vision was created with artist Damien Hurst who also produced the coral sculptures which sat in the exhibition room at one of the world's biggest luxury watch conferences SIHH.  
The watch features a light silicium balance wheel with nickel & stabilizing microblade. Technically very complicated but also visually out of this world. The watch dial has a depth and layer to it that has not been achieved before. A sculpted, postmodern dial with immense complexity.
Graffiti in the lux watch industry
There are also watch companies that have turned to graffiti artists to help them promote their watches. Swatch did a well-known campaign that results in giant murals of their watches painted on the streets. The resulting press from the activity was far wider than the exposure the graffiti mural would have got locally. Which brings us to our final point…  
Not only does bringing industries together to collaborate result in interesting products, but it also results in something interesting to talk about = PR. Collaboration or partnership is something new & fresh to talk about and in a world driven by marketing & PR, it is essential. 
Within your work is there someone you can reach out to and collaborate with? Perhaps in music, theatre or art? There are tons of opportunities out there to work with other people and bring fresh ideas to the table. There may also be grants available to help you along, the arts are important to protect in the UK and those with the biggest ideas and ambitions often get the most help. So think big, think wide & collaborate! 
Buy Art jewellery and watches from The MET here
Categories
Tags