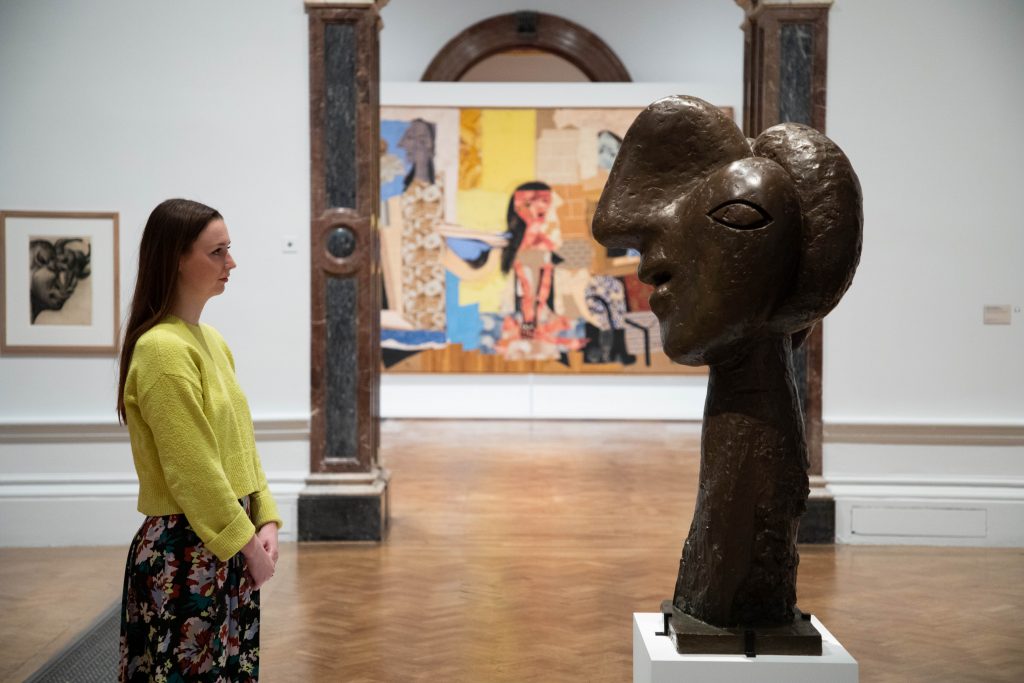 Installation view of the 'Picasso and Paper' exhibition at the Royal Academy of Arts, London (25 January – 13 April 2020) Photo © David Parry/Royal Academy of Arts © Succession Picasso/DACS 2020 Exhibition organised by the Royal Academy of Arts, London and the Cleveland Museum of Art in partnership with the Musée national Picasso-Paris
There have been almost too many Picasso exhibitions to count, with the most recent blockbuster museum show at Tate Modern in 2018 attracting record visitor numbers, and a major refurbishment of the Picasso museum in Paris reopening on what would have been his 133rd birthday in 2014 and housing more than 200 paintings and 150 sculptures. Yet, despite the wealth of museums and galleries worldwide exhibiting Picasso, the Royal Academy of Arts has managed to create an exhibition which looks at the maestro's work with fresh eyes. Picasso and Paper features over 300 works including drawings, prints, collage and sculptures on or made from paper, as well as some iconic paintings juxtaposed with the preparatory sketches, prints and collages related to them.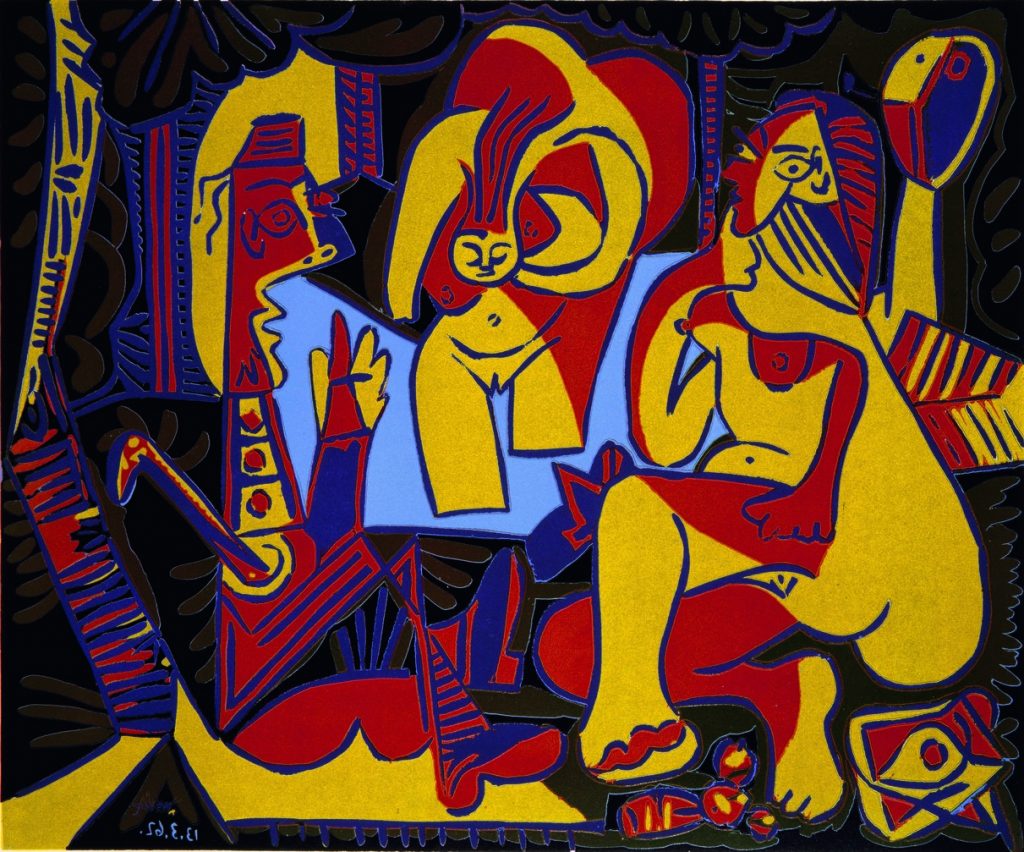 Pablo Picasso, 'Le Déjeuner sur l'herbe' after Manet, I, Mougins, 26 January–13 March 1962 Linocut, fifth state. Artist's proof on Arches wove paper, printed in six passes in purple, yellow, red, green, blue and black, 62 x 75.2 cm Musée national Picasso-Paris. Pablo Picasso Gift in Lieu, 1979. MP3488 Photo © RMN-Grand Palais (Musée national Picasso-Paris) / Marine Beck-Coppola © Succession Picasso/DACS 2019

The curators take visitors on a chronological journey through his rose, blue, cubist, surrealist and neoclassical phases, with the displays enhanced by beautiful exhibition design conceived by a team in London and Cleveland.
Picasso and Paper is a collaboration between the Royal Academy of Arts, the Cleveland Museum of Art and the Musée national Picasso-Paris. There is a treasure trove of sketchbooks, drawings and prints on display which chart the birth of some revolutionary works of art including Guernica, Les Demoiselles d'Avignon and Femmes à leur toilette, winter 1937-38, a vast 4.8 metre long collage of cut and pasted papers on loan from the Musée national Picasso-Paris, which was last exhibited in the UK half a century ago. There are iconic Cubist papiers-collés featured in the exhibition made during Picasso's cubist phase from unusual materials such as wallpaper and newspaper, and even a 3D costume created for the 1917 ballet Parade.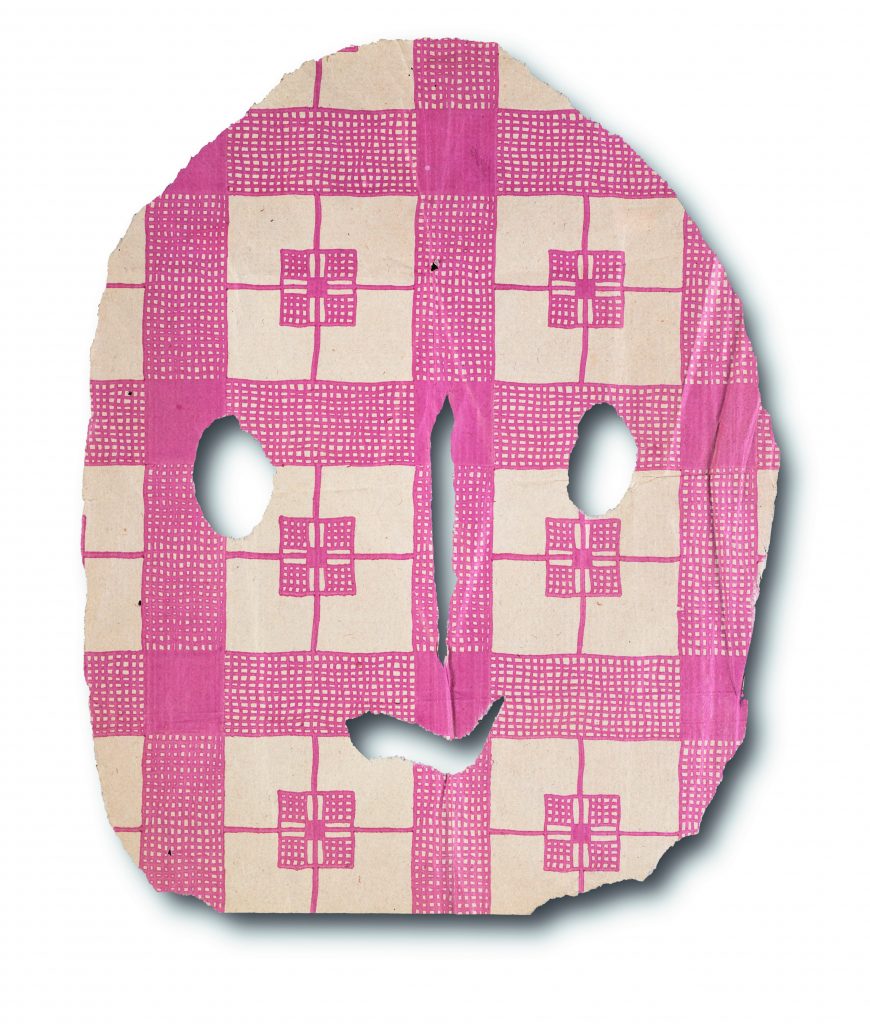 Pablo Picasso, Mask, Paris, 1943 Fragment of a torn, printed-paper tablecloth, 32.2 x 25.3 cm Musée national Picasso-Paris. Previously Dora Maar Collection. MP1998-24 Photo © RMN-Grand Palais (Musée national Picasso-Paris) / Béatrice Hatala © Succession Picasso/DACS 2020
Picasso worked with paper throughout his lifetime, constantly innovating and experimenting. For Picasso the possibilities of creating with paper were endless, and he used it in all its forms including newspaper, wallpaper and sketch books, using napkins as a substitute during the occupation of Paris in World War 2 when more conventional art materials were scarce. Throughout his 80-year career he investigated many forms of printmaking techniques, and sourced antique paper from as far afield as Japan.
A child prodigy, Picasso was the son of an art teacher, so art was in his genes and he displayed technical prowess from a tender age, seen in the first room of the RA exhibition in the form of two delicate framed cut-outs of a dove and a dog by the artist when he was only 8 or 9 years old.
Pablo Picasso, Study for the Horse Head (I). Sketch for 'Guernica', Paris, 2 May 1937 Pencil on paper, 21 x 15.5 cm. Museo Nacional Centro de Arte Reina Sofia, Madrid Archivo Fotográfico Museo Nacional Centro de Arte Reina Sofía, Madrid © Succession Picasso/DACS 2020
The Royal Academy exhibition features significant works on loan from the Picasso museums in Paris and Malaga, meaning that you can see some of his most iconic pieces without having to travel to Spain or France, such as his version of Manet's Dejeuner sur l'herbe. Also featured here are sketches, lithographs and linocuts inspired by Delacroix's Les Femmes d'Alger (1955) that demonstrate the obsessive nature and multitude of processes with which he approached his work.
An entire room is filled with prints which demonstrate Picasso's inexhaustible exploration of different printing techniques including etching, drypoint, engraving, aquatint and lithograph. Some of the original linocuts used for printing are exhibited, revealing the intricacy of Picasso's elaborate marks, including David and Bathsheba (9 May 1949, inked lithograph stone), and the resulting lithographs on paper. There is also a rare chance to see Henri-Georges Clouzot's 1956 film Le mystère Picasso, which reveals the creative process of the 75-year-old artist as he is filmed drawing on newspaper using the new felt-pen inks.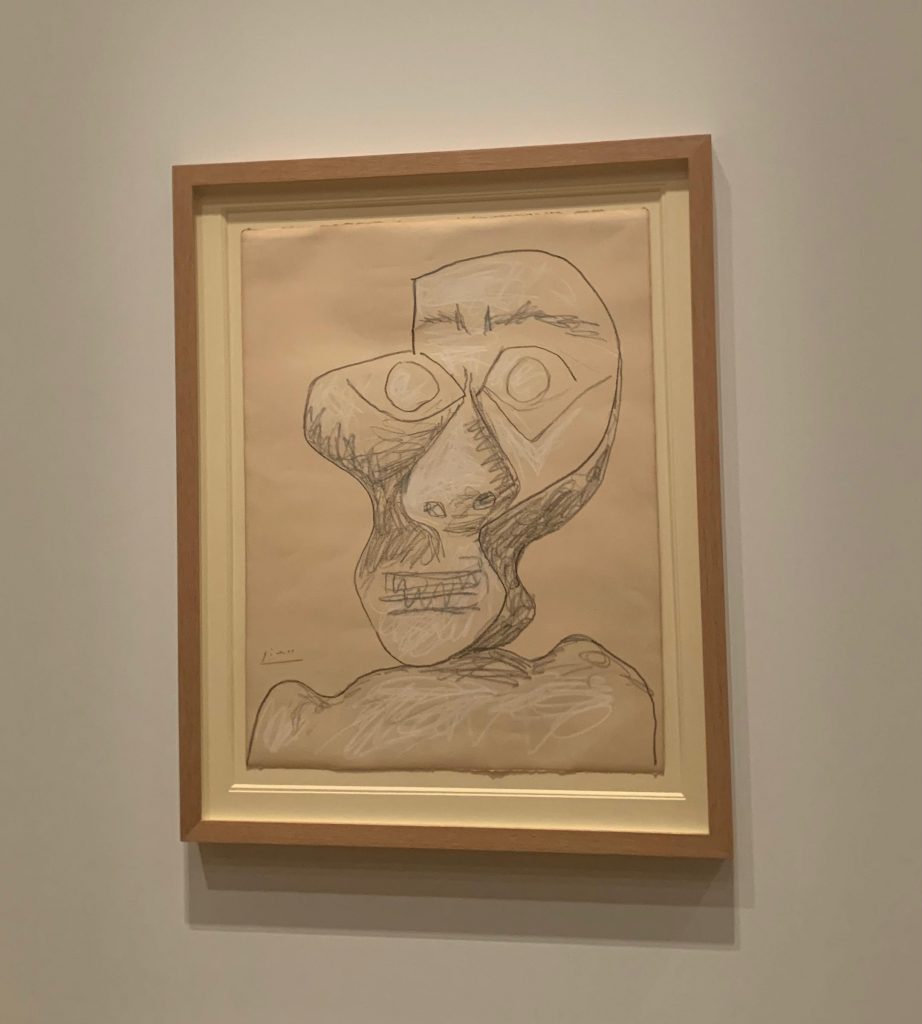 Picasso self portrait photo Mark Westall
Prolific until the end, Picasso was creating and experimenting into his twilight years, and the exhibition poignantly culminates with a 1972 Self-portrait made with black and white crayon at the age of 90, where he depicts himself with brutal honesty as a hollow-cheeked skull about to meet the grim reaper.(as seen above). Picasso and Paper is an unmissable exhibition which provides a fresh insight into the endless creativity of Picasso, and the sheer volume and range of techniques on display proves that in a career spanning 8 decades, Picasso lived up to the moniker of 'Genius'.
Until 13th April at the Royal Academy: https://www.royalacademy.org.uk/exhibition/picasso-and-paper
#PicassoAndPaper
Categories
Tags