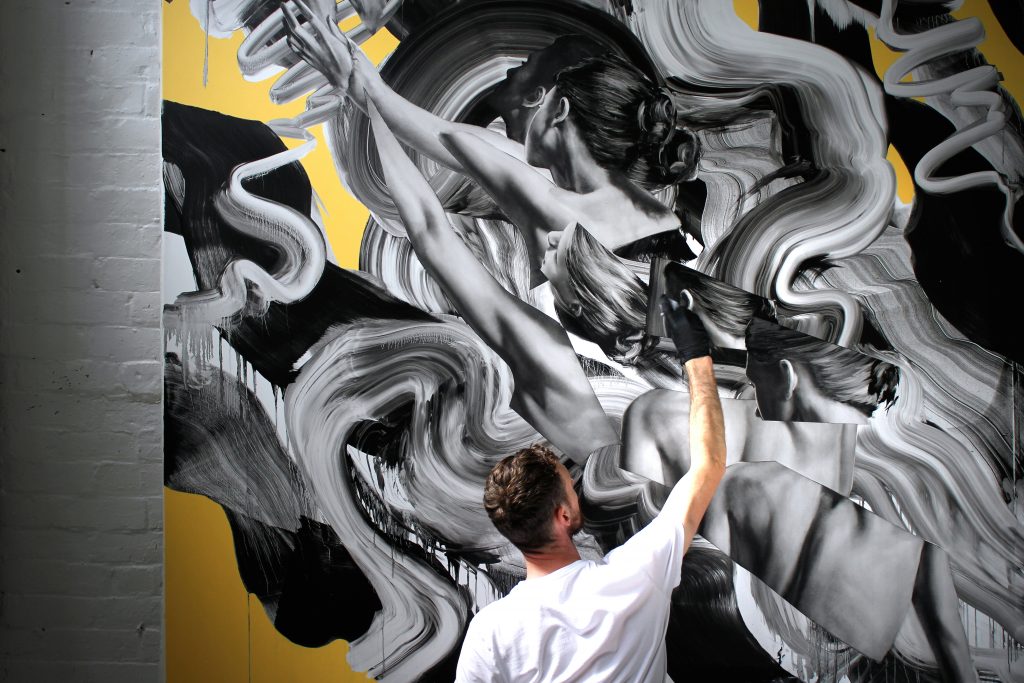 Tom French Portrait at the studio
Unit London are to present Tom French's major retrospective, Transcend. These pieces were created in the knowledge that they would most likely be the artists' last. In his final months, Tom French poured every morsel of hope, determination and strength into this body of work. He spoke of the tranquillity it instilled in him, the therapeutic nature of executing a skill that you have been honing your entire life and the joy that can be gained by continuing to find variation in something so familiar, to find foreign pleasures in native spaces. In some ways the chaotic mess that is premature illness was brought to heel by Tom through his work. To transcend is to go beyond the range of limits of a field of activity or conceptual sphere; Tom's work flows over these boundaries on both sides, it is at once elusive and illusory, thoughtful and innovative.

Tom French Parallax studio group
Transcend brings together two of Tom's most prominent bodies of work: the Parallax and Duality paintings. This is work that emphasises art's ability to transcend a definitive visual experience and intellectual conclusion by creating an illusory framework for interpretation. Both sets of work are monochromatic, figurative combinations of photorealism and abstraction that depict a psychological landscape as well as material space. They are comprised of technically tight charcoal drawings, occasionally enhanced with acrylics, oils, spraypaint and even gold-leafing.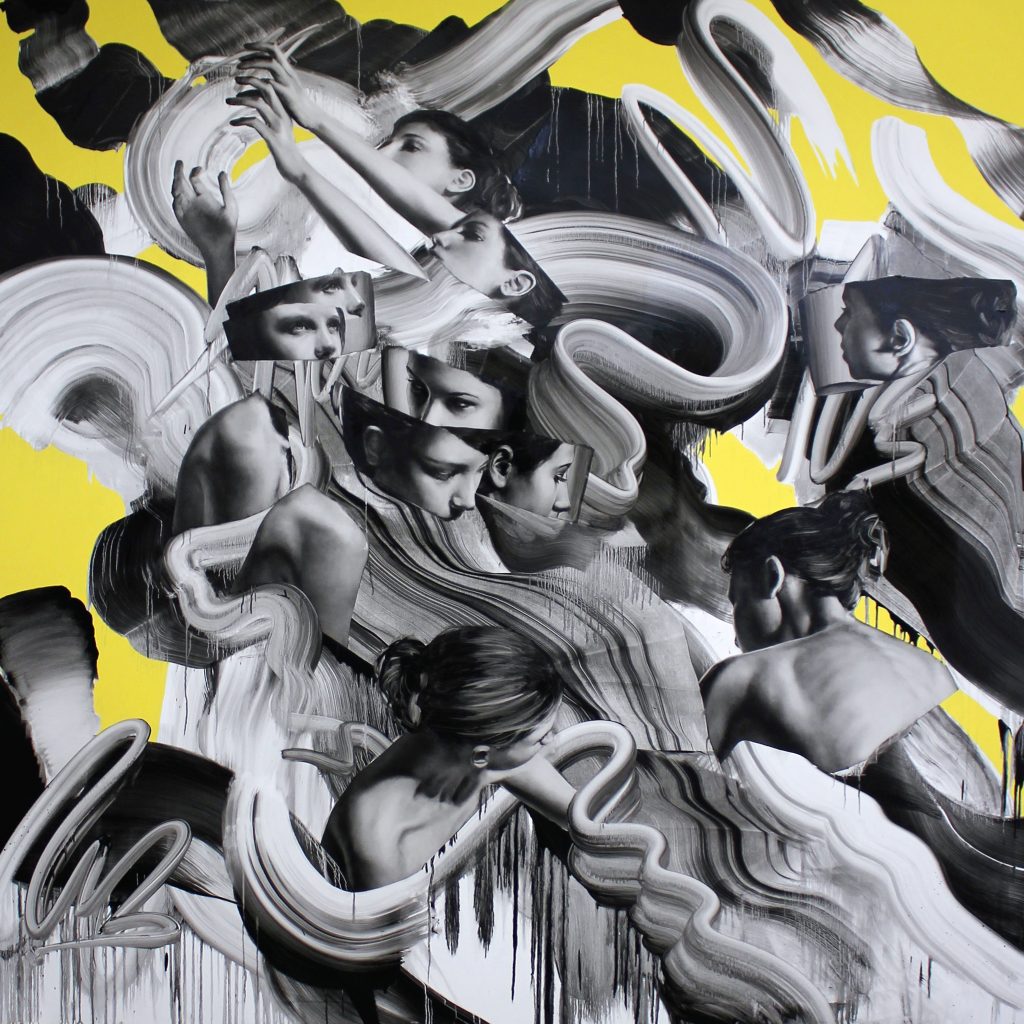 TOM FRENCH Parallax 4, 2019 Oil & acrylic on Italian cotton canvas. 200 x 200 cm
The term 'Parallax' denotes the sensation surrounding the theory of perceptual variation – namely, the displacement of an object caused by a change in the position from which it is viewed. The fragmented presentation of Tom's characters is representative of the way in which we perceive the external world, both visually and psychologically. When viewing a figure we do not see it as a whole, our eyes roam, shifting focus and settling on various points of interest; we construct an individual subjective image, one that is, by definition, fragmented. Tom imbued with a kind of melancholic defiance, even at the last he was experimenting with new methods and ideas: the Parallax paintings were his first to incorporate the use of colour, not only did he find this therapeutic, it's also a pointed inclusion of the most subjective of artistic mediums, thoroughly justifying the choice of 'Parallax'.
The Parallax theme of simultaneous multiple perspectives and realities has many conceptual parallels to the Duality works, which utilise illusion and double image techniques to further explore this range of ideas. The Duality paintings are meditations on the theory of dualism: the idea that the mind and body are distinct entities. In these works swirling abstraction captures consciousness and mental activity, whilst glimpses of the figurative bring attention back to the physical. When one stands back and takes in the entirety of the work a composite shape begins to appear, encapsulating both realms of a dualistic existence. In Tom's own words:
"there is no single reality here, the realities transcend and coexist, they repeat and overlap, and – particularly with the illusion works – transcend the usual boundaries."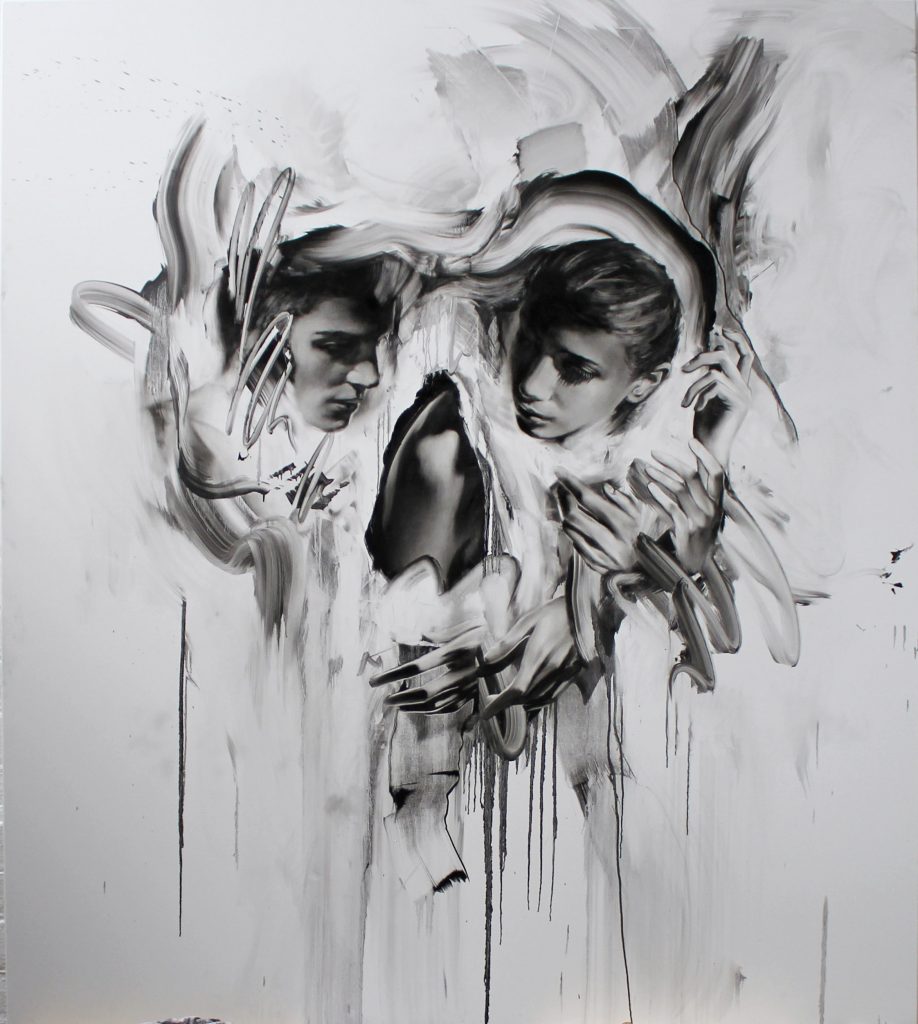 TOM FRENCH Vessel, 2018 Oil on canvas. 170 x 150 cm
"On Christmas Day, after a brave and courageous battle with cancer, one fought with characteristic dignity and strength, we said our last goodbyes to Tom. When considering art, one must always consider the artist – and Tom's work is exceptional for its technical ability and stylistic flair – but the humanity and emotional depth which makes it so distinct and extraordinary came from within Tom and could never have come from anywhere else. Tom's work was a source of awe and inspiration for artists and followers alike. His mixture of talent and unwavering drive ensured his success on both sides of the Atlantic. In the UK, Tom's sell out show Flux (2014) at Lawrence Alkin signalled his unambiguous arrival on the scene and from there it was only up as he began to appear at art fairs across the globe. Everyone at Unit London had a connection with Tom and we are all honoured to have had the privilege to work alongside him."
– Joe Kennedy and Jonny Burt
Tom French, 'Transcend' Thursday, 30th January, 6:30pm – 9:30pm 30th January 2020 – 29th February 2020 @unitlondon
About The Artist
Tom French (1982-2019) grew up in Newcastle upon Tyne and, as the son of an artist, enjoyed visiting galleries, painting and reading comic books. After school he began studying at the Newcastle School of Art and Design and went on to study at the She ield Institute of Art and Design, achieving a first class BA Honours in 2005. Tom had solo shows in both the UK and US, including the extended sold out show Flux at Lawrence Alkin gallery in 2014. His work appeared at the London Art Fair and at Scope New York and Scope Miami Beach. In 2013 his work was featured on the cover of 'Los Angeles Where' and 'Upstart' Magazine. Elsewhere he created the cover art for the soundtrack of the cult film Donnie Darko.
Categories
Tags