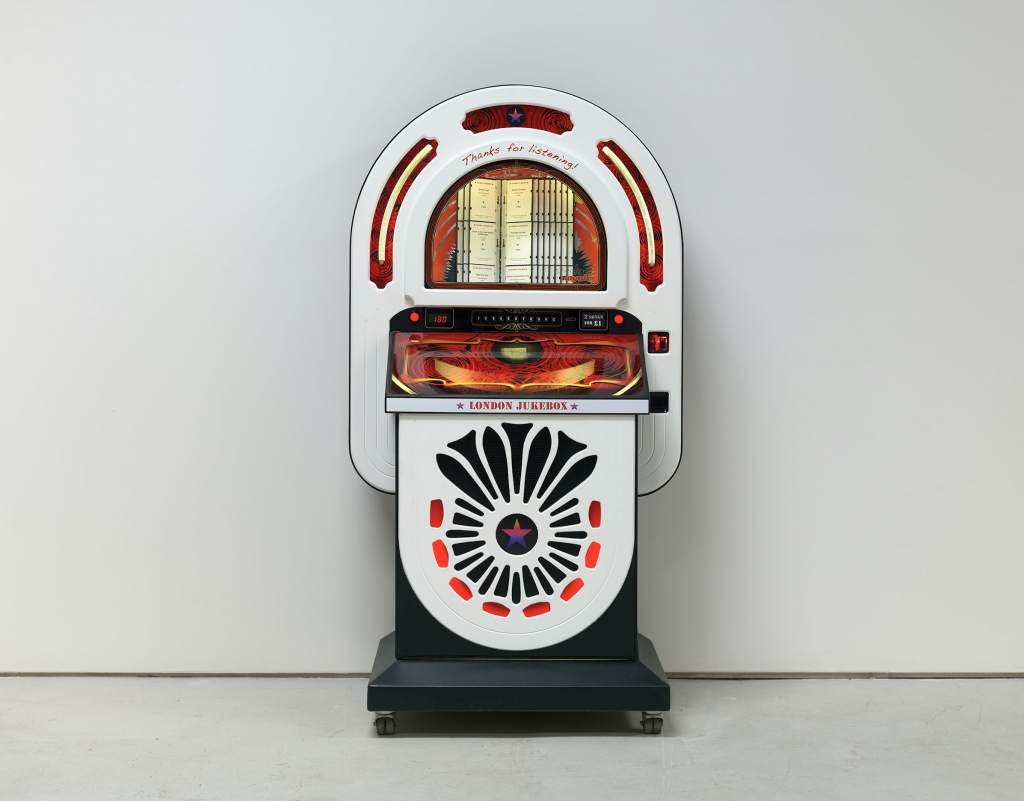 Susan Hiller London Jukebox (2008 -2018)
London Mithraeum Bloomberg SPACE has just announced its latest contemporary art installation London Jukebox, opening 22nd January 2020. Developed by the late Susan Hiller over a period of ten years completing in 2018, London Jukebox was Hiller's last major work. The installation is centred on an audio sculpture comprising of a vintage-style jukebox customised with a selection of 70 songs about London chosen by the artist.
With a multimedia practice extending over 50 years, the late Susan Hiller was one of the most influential artists of her generation. Since first making innovative use of audio and visual technology in the early 1980s, Hiller's ground-breaking installations, multi-screen videos and audio works have achieved international recognition. Her approach often involved collecting and assembling elements of culture that were overlooked, or considered trivial or marginal.
This collection of London songs is Hiller's homage to the richly diverse narratives that weave through the city's neighbourhoods. Representing different eras, genres, classes and communities, the artist's personal anthology speaks to the enduring capacity of popular song to trigger memories and associations, and to reflect specific political and cultural moments. Hiller was particularly interested in how people react and interact with the power of voices, and in the possibility of generating a collective space for historical awareness. Outfitted with benches and headphones, the installation invites visitors to either choose a song which resonates with them, or enjoy the selections made by others. Excerpts from the songs' lyrics fill the walls of Bloomberg SPACE along with a map of London that plots the geography of Hiller's playlist.
Situated on the site of Bloomberg's European headquarters, London Mithraeum Bloomberg SPACE returns the Roman Temple of Mithras to the location of its discovery and offers visitors an immersive experience of the ancient Roman temple, as well as the chance to explore a remarkable range of Roman artefacts found during the building excavations. Hiller's London Jukebox can be appreciated as its own form of archaeology. Featuring an array of cultural artefacts – in this case popular songs – it surveys the shifting musical layers of the city.
"Popular music threads its way into all our lives, evoking personal memories and shared histories. London has inspired enduring pop music – songs that reciprocally affect as well as reflect our cultural landscape. The capital casts a spell over songwriters' imaginations rivalled – perhaps – only by New York."
Susan Hiller
Expanding on Bloomberg's legacy of support for new commissions by international artists, the Bloomberg SPACE gallery aims to present thoughtful works by contemporary artists whilst bringing fresh perspectives to the many-layered history of the site.
Susan Hiller's London Jukebox is the fifth contemporary art display at London Mithraeum Bloomberg SPACE, following installations by Isabel Nolan, Another View from Nowhen; Pablo Bronstein, London in its Original Splendour; Claudia Wieser, Shift and Daniel Silver, Human Activity.
Susan Hiller (1940 – 2019), London Jukebox (2008 – 2018) 22nd January, 2020 – 11th July, 2020
London Mithraeum Bloomberg SPACE, 12 Walbrook, EC4N 8AA www.londonmithraeum.com
About The Artist
Susan Hiller (1940-2019) was born in Tallahassee, Florida. By the early 1960s she had settled in London, which became her adopted home. Prior to embarking on her career as an artist Hiller had studied anthropology, and over the course of her 50+ year career, her profound interest in language, cultures and societies has informed and permeated her works. Since first making innovative use of audio and visual technology in the early 1980s, her ground breaking installations, multi-screen videos and audio works have achieved international recognition.
Her career has been recognised by survey exhibitions including at The Polygon, Vancouver, Canada (2018); OGR, Turin, Italy (2018); Muse?e d'Art Moderne et Contemporain, Toulouse, France (2014); Tate Britain, London, UK (2011); Bawag Foundation, Vienna, Austria (2008); Castello di Rivoli, Turin, Italy (2006); Baltic Centre for Contemporary Art, Gateshead, UK, Kunsthalle Basel, Switzerland, and Museu Serralves, Porto, Portugal (2004); ICA, Philadelphia, PA, USA (1998); Tate Liverpool, UK (1996); and ICA, London, UK (1986). Hiller's work features in numerous international private and public collections including the Centre Pompidou, Paris, France; Ludwig Museum, Cologne, Germany; Museum of Modern Art, New York, USA; Tate Gallery, London, UK; and the Centro de Arte Contemporanea Inhotim, Brumadinho, Brazil.
Categories
Tags