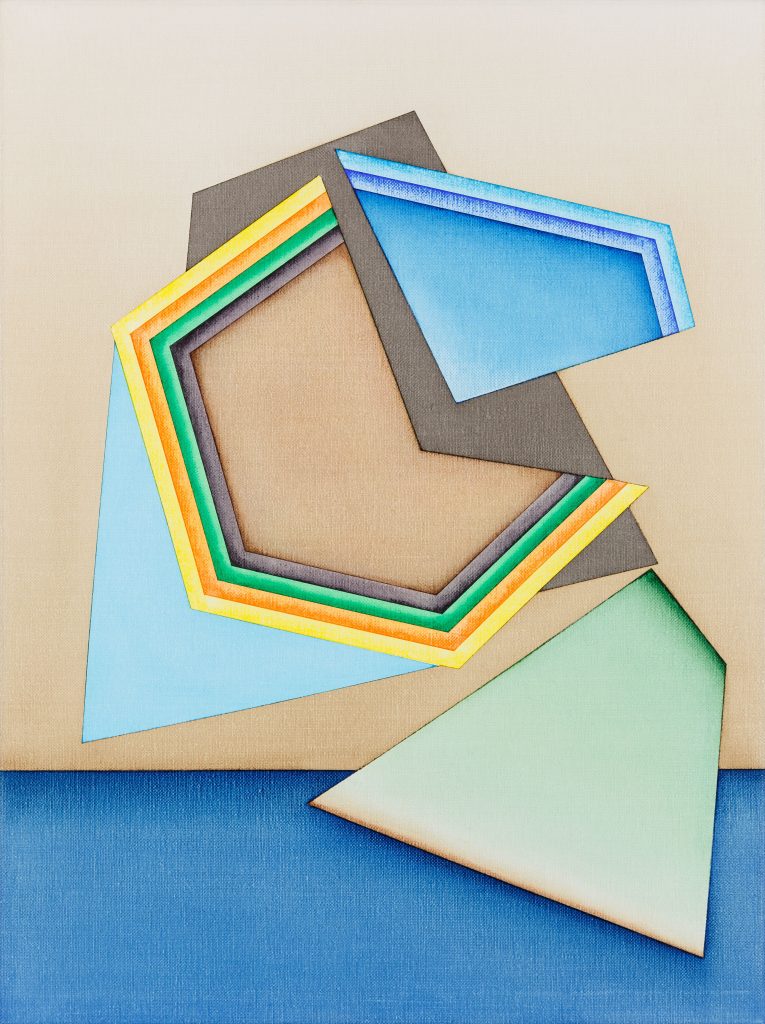 Selma Parlour: Smack Dab II (2019)
Technology has caught up with Selma Parlour. The abstract painter has long made work which looks to be modelled on screen and then machined onto the linen which she favours. Now she has accessed three actual 'machines' to augment her brush and add a further conceptual dimension to her explorations of non-referential form, luminous colour, precision draftsmanship, pictorial language, and flatness.
Her three new muses are an old tech duplicator, an industrial coding machine and a laser engraver. The duplicator, otherwise known as a risograph, has been used to emulate paint, but if anything the results looks handmade. The industrial coding machine is more generally used to print barcodes onto items on a production line. Here it finds new purpose spraying fragments of text and wedge shapes onto a pair of diptychs. Combining a machine for fixing prices into conversation with a form from devotional art, Parlour offers a startling mix of sacred and profane. Finally, her laser engraver has been used to erase the undercoat which she uses to make her linens glow. This task recalls Homer's Odyssey, and the wily work of Penelope, working on her tapestry by day and unravelling it by night.
Selma Parlour: Activities from the Abyss (installation view) (2019)
Along with wedges, Parlour's formal language includes trapeziums and stripe-like borders. There are frames throughout her work, although none to be seen around it. In this way, her paintings refer to other paintings, and the tradition of picture making she takes as her starting point. Internal contradictions within the composition ensure you never forget this is a two-dimensional surface. Her delicate shading can only hint at depth, and heighten the intensity of the jewel-like works. She layers her paint with great patience and skill to achieve a luminous ground, with as much light trickery as a Van Eyck or a Rothko. As a result her colours punch out, in a wild range of shades from pretty pastel to harshly acidic. These are best appreciated in a series of more than a dozen smallish works, 41cm x 30.5cm, which go by the name 'Smack Dab'. What sounds like a wrestling move is a battle of shapes which never quite overlap and dense colours which are somehow weightless.
Another small format series is 'Four Ways from Sunday', of which there are only three. In these works, disparate forms appear in greyscale with a corner or two steeped in Parlour's vibrant palette. These works appear unfinished as if bearing an artist's memo-to-self about colourways. Across the space is another, four-strong, series 'Miniaturised Minimalism'. These demonstrate the way in which a laser can erase a primer or a grid of light grey paint. Parlour had access to a laser engraver while on a residency in Los Angeles and the new technology quite fits with her love of finely calibrated geometric puzzles. They puzzle, because so hard to grasp.
Selma Parlour: Miniaturised Minimalism (Fixed Four I) (2019)
Parlour can seem less concerned with speaking to the viewer, than speaking across history to many other painters. Her erasures with lasers conjure with Rauschenberg, who famously rubbed out a drawing by De Kooning. Her titles namecheck Giotto, the US minimalist Robert Mangold, and painter of 19th century Edo, Utagawa Kuniyoshi.
But she is not being wilfully highbrow. One of the stars in her firmament is a fictional character from a 1954 Hollywood film, namely Gladys Glover. Her name appears on one of the larger works here, printed with coding machine alongside Parlour's own digital signature. It's another wrestling face off. Glover is an ordinary woman who longs for fame and uses paid advertising to make her dreams come true. Parlour has suggested that the resulting movie, 'It Should Happen to You', is a premonition of selfie culture with Glover as Western culture's first influencer. It's a fascinating aside for a show which makes a virtue of its superficial finish. Parlour's highly technical, lexical, and at times abstruse works are much more challenging than that last viral tweet you saw.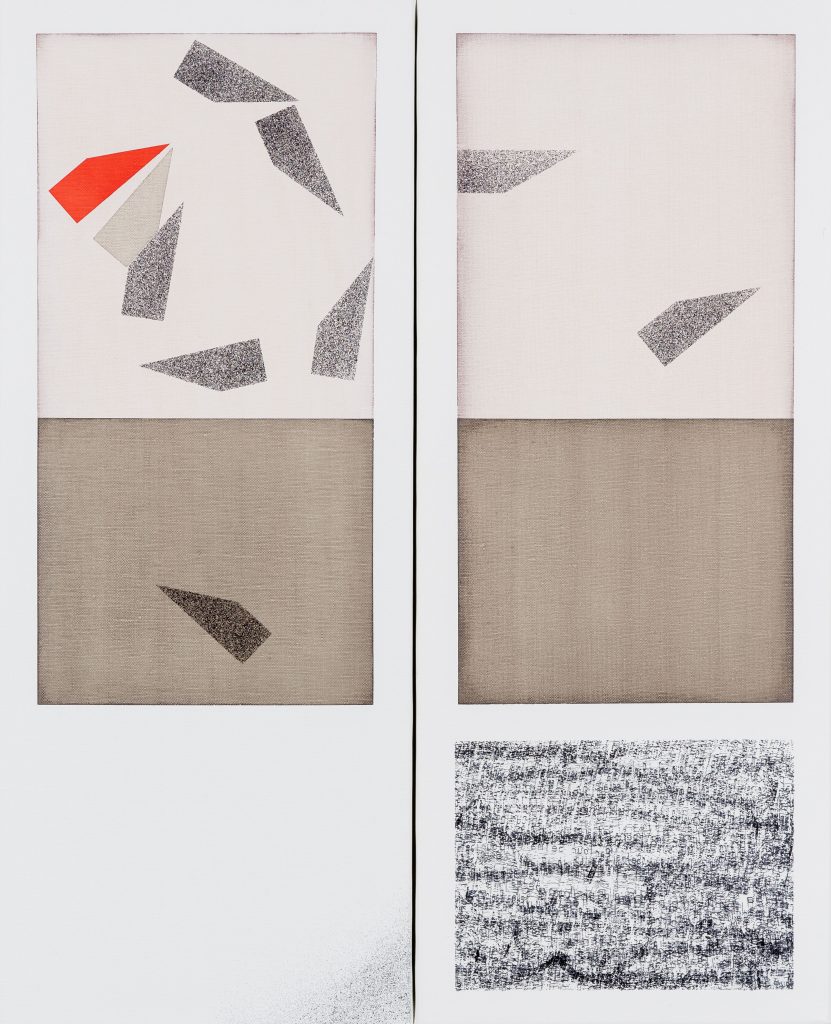 Selma Parlour: Wedges (2019)
Selma Parlour Activities for the Abyss at Pi Artworks extended to January 18th selmaparlour.com
About Mark Sheerin