Record-Breaking Rubies sold at Elmwood's Auction IMPORTANT JEWELS  Sale, 28th November 2019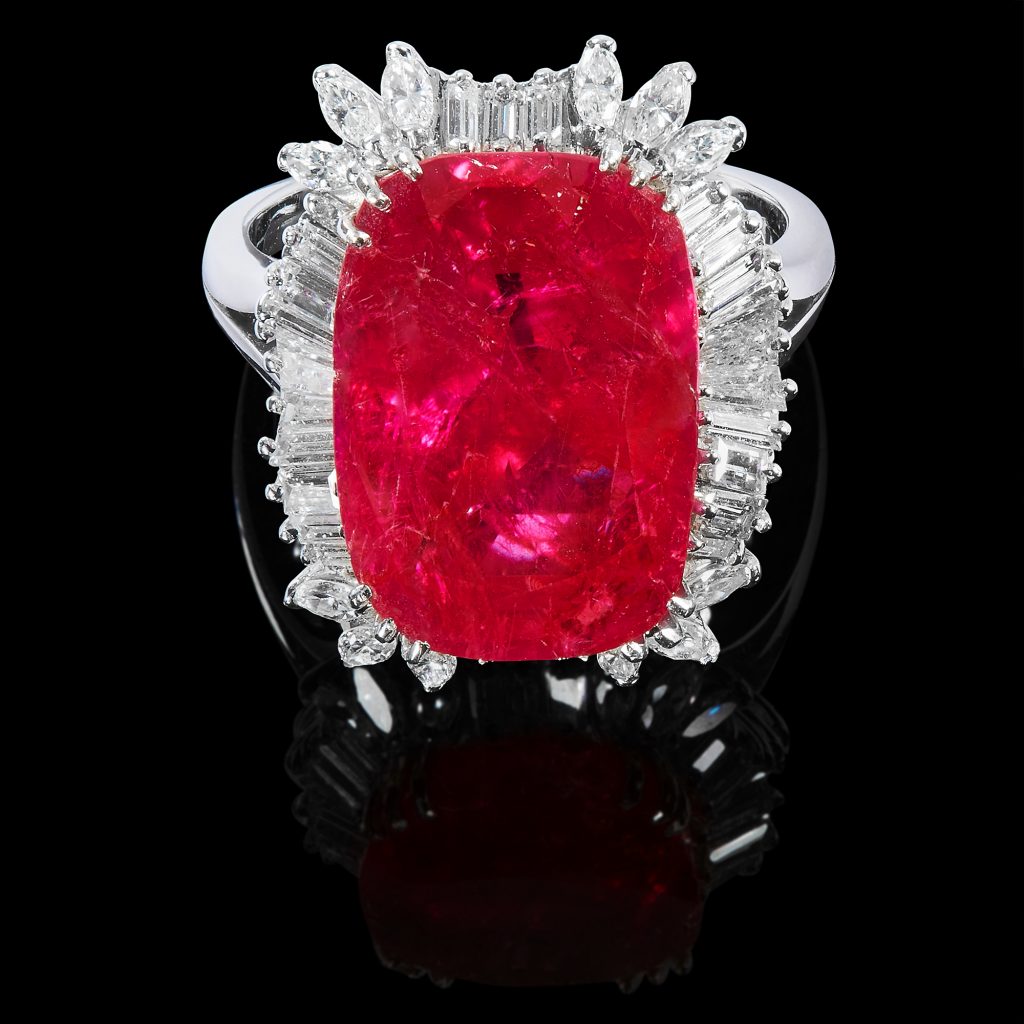 14.67 carat cushion cut Burmese ruby set in ballerina style halo of baguette and marquise cut diamonds, Elmwood's Auction House, 2019
Managing director of Elmwood's auctioneers, Samuel Hill, responded to the auction by saying: "we are thrilled to have set a new house record for a single piece of jewellery."
The auction's top lot was a monumental 14.67 Carat natural Burmese Ruby & Diamond Ring. The cushion cut ruby, encircled by a ballerina style halo of marquise and baguette cut diamonds, on a sold for 6x times the estimate. The ring was valued to have a presale low estimate of £30,000. However, on the auction day, the ring went under the hammer at £200,000.
What is so special about this ring and its exceptional central stone? When considering the value of any stone, there are certain qualities a gemologist or jewellery expert will assess: colour, cut, clarity and carat. This ring has it all!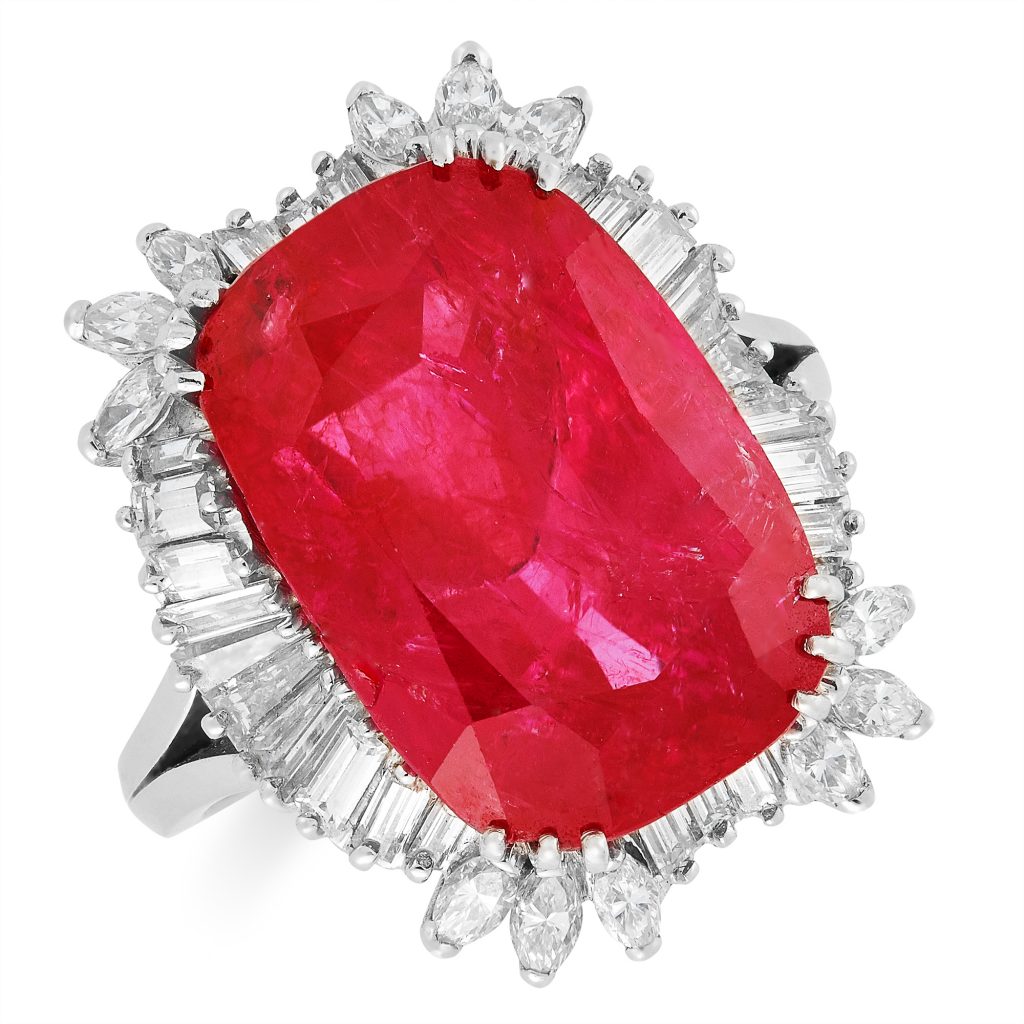 It's most astonishing quality is its size. Natural rubies, with a carat weight above 5, are extremely rare. Weighing 14.67 carats adds considerable value to this cushion cut ruby. In addition, the ring was accompanied by two Gemological reports confirming, firstly that there is no evidence of heat treatment. This confirms the intense colour of this ruby, after cut and polishing, is natural, exactly how it came out of the ground. Many stones of the intense red colour have been treated by heat, to enhance the hue. This is a legal and common practice in the jewellery industry, however it can alter the value of a gem. Secondly, the Gemological report confirms the ruby is Burmese, mined in Myanmar. Burmese rubies are prized for their deep 'pigeon blood' colour.
Another exceptional Burmese ruby (7.61 carats) in the auction sold for £68,750. Again this sale exceeded the conservative low estimate of £6,000. The oval cut ruby was also accompanied by a Gemological report stating Burmese origins and no evidence of heat treatment. The gem is set in a Trombino yellow 18k gold ring (band marked 750), set with pave baguette and round cut diamonds. The Trombino (italian for 'little trumpet') ring is a enduringly popular design by Bulgari since its first release in the 1930s, with retail prices from +£200,000.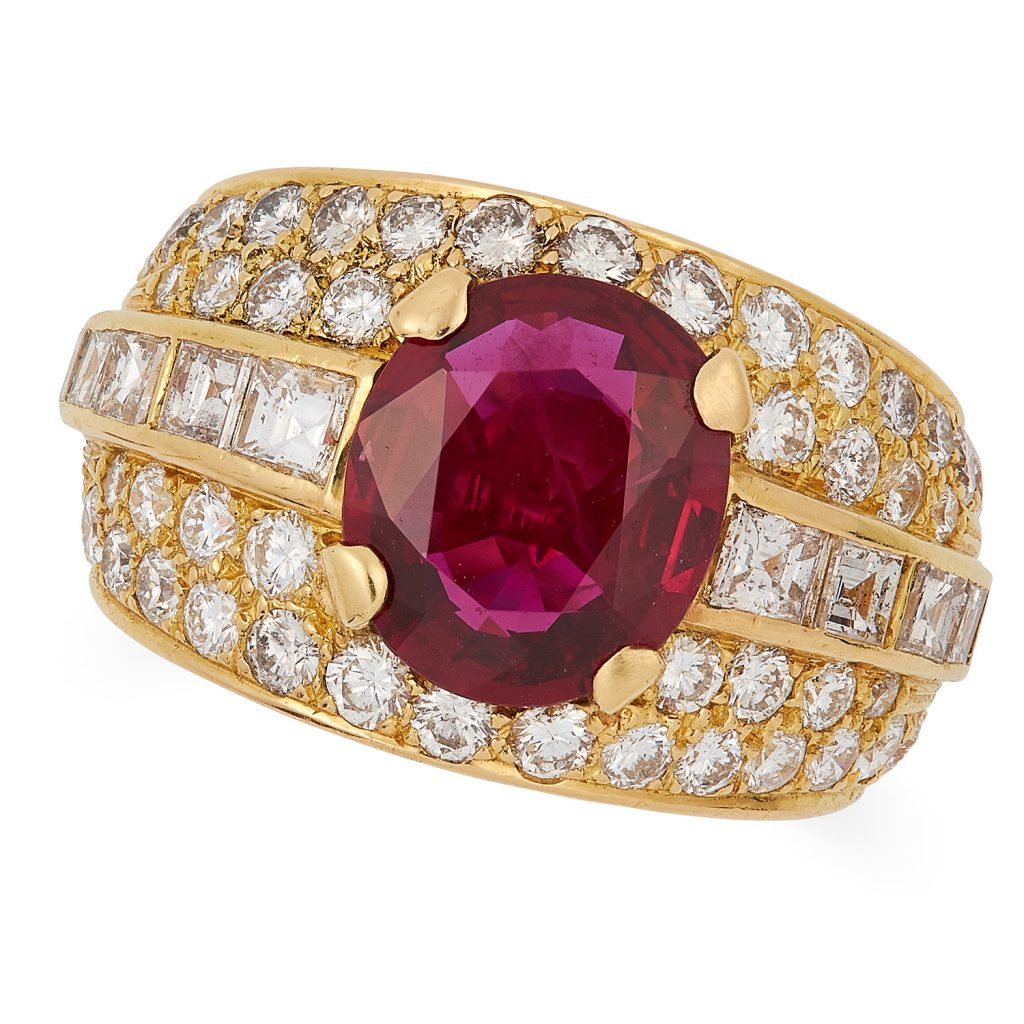 7.61 carat Burmese ruby set in Bulgari Tromboni ring, sells for 10x estimate at Elmwood's auction house.
Samuel Hill also noted "There was fierce bidding for both lots, in the room, online and over the telephones." The curious cannot help wondering where these exceptional stones end up. Elmwood's managing director revealed that of the two record breaking rubies; "one finally going to an anonymous Swiss buyer, and the other to an Asian private collector." Let us hope these spectacular jewels are loved and worn by their new owners this Christmas!
Hill exclaimed of the sale: "We are absolutely delighted with the results of two important rubies, which are a nod to the strength of the market of top quality coloured stones." Elmwood have set a high bar for the close of 2019. Let us wait with baited breath for what 2020 will bring to the auction room!
See more at:
Elmwood's Auctions, The Red House, Munro Mews, London, W10 5XS
Buy Art jewellery and watches from The MET
Categories
Tags