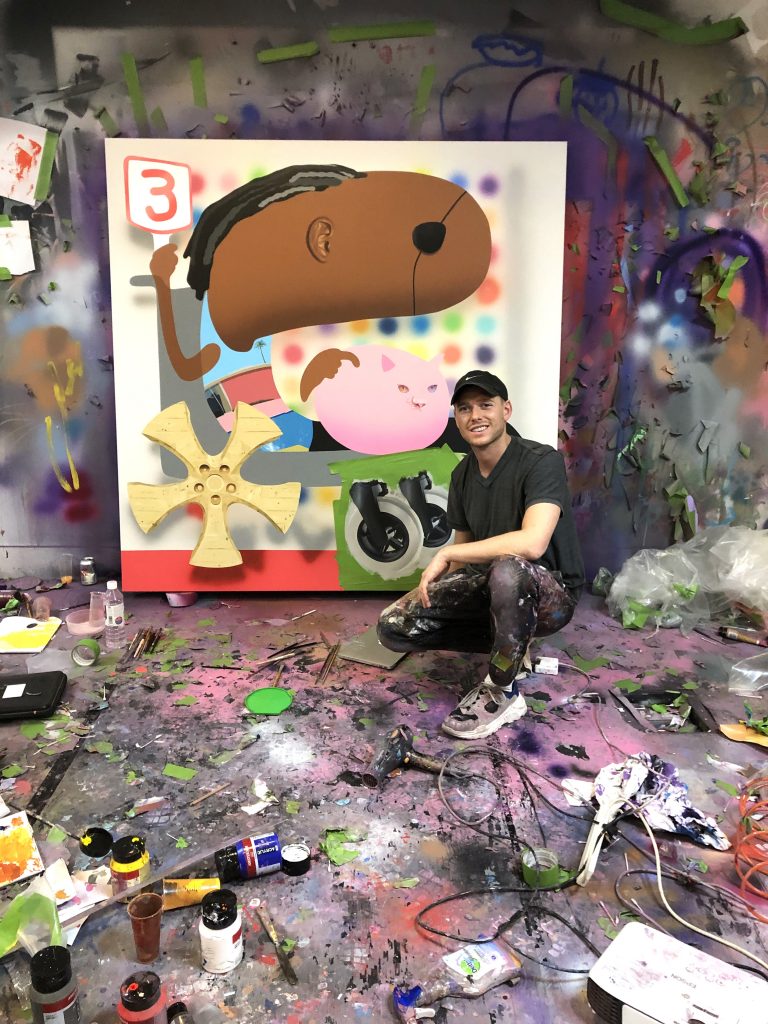 When Oli first came up with the title for his solo show at Carl Kostyal, "Oxymoron", a good friend and curator shot back "oh, that's perfect for you!" Picking up on the 'moron' portion of the word, Oli, characteristically, burst out laughing, enjoying the sincerity of that read.
But I thought that backhanded compliment was dead right. I know Oli pretty well and would struggle to conjure a more exact estimate of him and his practice.
In precisely the same way that Oli scarcely filters how he feels about or sees the world (which can be equally delightful and fatal), his paintings pour into it. His debut London solo show has all the trademarks that he is known for; it is, as ever, a semi-autobiographical account of this cheerful pessimist's experiences, with which we can't help but sympathise.
Over the past couple of year's I've watched Oli's style evolve. Oddly, for a sweet and generous guy, these days the recurring rubric seems to be that of the supervillain. In his wardrobe and interior design this amounts to a little flirtation with excess, exuberance and eccentricity (There's a strong chance he'll be wearing that Tangoed cow to the opening night). But in Oxymoron the supervillain takes centre stage.
Supervillains have captured Oli's imagination for some of the same reasons they bring audiences to cinemas in numbers the heroes no longer seem responsible for. Manifest oxymoron, the supervillain is pointedly foolish for not seeing his vainglorious motives as villainy at all. But the villain isn't merely the foil sent to suffer the retribution of the hero's binary gauge of good and evil. Instead, in recent years, we've seen characters like Joaquin Phoenix's Joker, whose insanity is presented as a reasonable response to a systemically chaotic and unjust world, in which uncertainty and anxiety reign. I mention this film in particular because I know Oli went to see it on three occasions during a time in which he felt personally and professionally wronged by some of the duplicitous characters that worm their way around the buying and selling of art. Because Oli wears his heart on his sleeve I have often watched and heard him learn things out loud and I think Oxymoron is an account of his coming to terms with the injustices that set reality and fiction apart. Paradoxically, however, in his paintings reality and fiction intermingle. In language an oxymoron looks fine at a glance but on closer inspection we realise two opposing ideas have been allowed to coexist. Oli's non-Euclidean slips into Flatland are just like this, where, in terms of painting, the sense of order and hierarchy are upset, largely thanks to the epistemic challenges compounded by our digital lives.
This motely crew of unsavoury figures make for a sensual kaleidoscope of a show. In 'Paddle', a blind art collector recalling Blofeld caresses a hairless feline, surrounded by what might be an endless cornucopia of trophies worthy of Des Esseintes if he were at Sotheby's today. In 'Fool's Gold' a thief deploys superhuman elasticity to evade a laser grid, only to get away with a worthless rock. And, as if Botticelli had visited downtown LA, in 'Aphrodisiac' an ageing succubus adorns herself with mildly putrefying treats to compensate for the harsh reality that she's no Jessica Rabbit.
Whilst thinking about this show I read that the word villain began as a description for the 'low-born villagers' in society who lacked manners and, therefore, morals. Over time this has mutated into the supervillain, who by means of some extraordinary virtue, such as intellect or physical prowess, tries to reach beyond their low origins, no matter the cost. And this is why we quietly root for them and why they are often so tragic.
Perhaps we sympathise with villains more than heroes because their world is not black and white. That is the shrewd dumbness of Oli's oxymoronic characters – they are clearly misunderstood. We no longer follow the heuristics set up by the archetypes we used to know from Hollywood. Perhaps we should be hesitant to vilify because we know that every character has motivations that go beyond the two dimensions we see on screen (often enough, the lives we share on screen ought to make us feel like virtue signalling hypocrites). Driven by neuroses and, all too often, the desire to consume, we see ourselves in these bittersweet paintings and I see them in Oli because I watched him chip his tooth, nervously chewing on a bag of drumstick lollies, whilst preparing for this show. Despite Oli's encounter with injustice the paintings somehow present unbiased opinions about the shameless cretins they depict, the ambiguity of which feels accurate and deceptively honest. by Harrison Pearce
Carl Kostyál presents Oli Epp's first London solo show Oxymoron Opening Thursday 12th December 2019 12a Savile Row, London W1S 3PQ 6-8pm Everyone welcome/no RSVP required exhibtion cntinues 13th December – 28th January kostyal.com/exhibitions/oxymoron/
Categories
Tags