The Goss-Michael Foundation's (Dallas) new exhibition 'Nothing New Under The Sun' is a showcase of eight new works by renowned South African artist Ryan Hewett, from Unit London.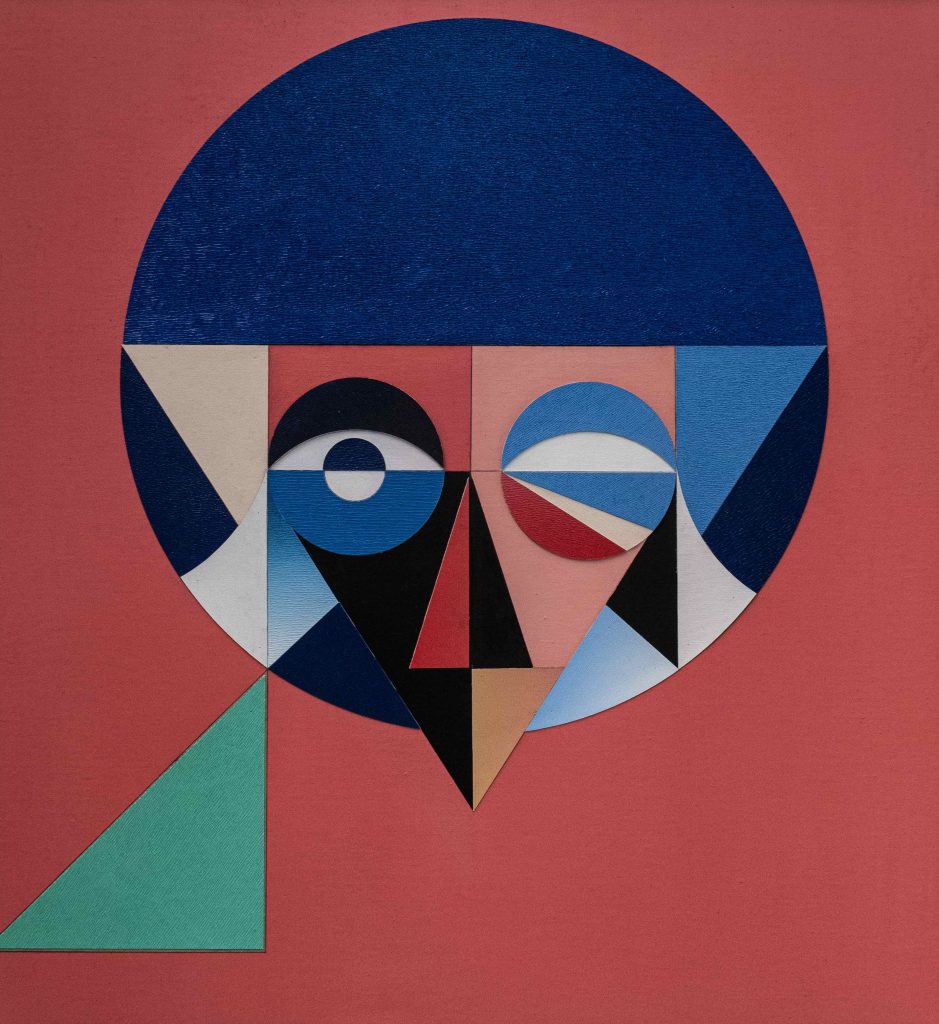 Ryan Hewett Her, 2019 Oil and mixed media on cavas. 139 x 151 cm Framed: 140 x 152 x 5cm
Kenny Goss, co-founder of The Goss-Michael Foundation, said,
'I became acquainted with Ryan Hewett's terrific work through my friends Joe and Jonny, Directors at Unit London. His use of colour and abstract shapes really speak to me. I'm confident Dallas art lovers will be drawn to all the pieces.'
Described by critic Edward Lucie-Smith as 'one of South Africa's most distinguished painters today', Hewett's exhibition features work created especially for the foundation and leaves us to ponder existential questions about the role of humanity and its place in the natural world.
This new body of work by Ryan Hewett is a continuation of themes explored in the Unit London exhibition, 'New Paintings', with increasingly dehumanised figures portrayed in isolating landscapes, reminiscent of Francis Bacon's utopian vision of Atlantis. As human figures are reduced to animalistic likenesses, Hewett imagines the uncharted future of our species and planet with a distinct impartiality as to whether we should be hopeful or fearful of our future.
Using a variety of oil painting techniques, from brushes to knives, Hewett's extensive knowledge draws on renowned movements within art history. Hewett's structured forms and psychedelic colours allude to Cubist portraits and Surrealist landscapes, while his body-length portraits recall Renaissance medical diagrams of the human anatomy.
Joe Kennedy and Jonny Burt, founders of Unit London said,
'It's a privilege for us to be back here in Dallas with one of the first artists to join the Unit London roster. We share the values of the Goss-Michael Foundation which is dedicated to showcasing the best international artistic talent and giving them a deserved platform.'
The exhibition follows The Goss-Michael Foundation's interest in a diverse selection of contemporary artists. Founded in 2007 by the late music icon George Michael and Kenny Goss, it has since exhibited artwork by artists including: Tracey Emin, Damien Hirst, Marc Quinn and Sir Michael Craig- Martin, making it a custodian of one of the leading British art collections in the US.
Ryan Hewett 'Nothing New Under The Sun' to – 11th January 2020
The Goss-Michael Foundation, 1305 Wycliff Ave #120, Dallas, TX 75207, United States
This exhibition also marks Goss-Michael Foundation's and Unit London's shared cultural curiosity in art with exceptional aesthetic and conceptual depth. In March 2019, Unit London worked with the Foundation in MTV's RE:DEFINE art auction and gala to help raise funds for the HIV/AIDS prevention and education charity supported by George Michael. In aid of the GMF's Artist-In-Residence programme, Unit London's founders, Joe Kennedy and Jonny Burt acted as Art Chairs for the RE:DEFINE Award. Together, Unit London and the GMF championed stylistically innovative artists, a mutual passion which is once again realised through this dynamic compilation of Ryan Hewett's artwork.
Categories
Tags