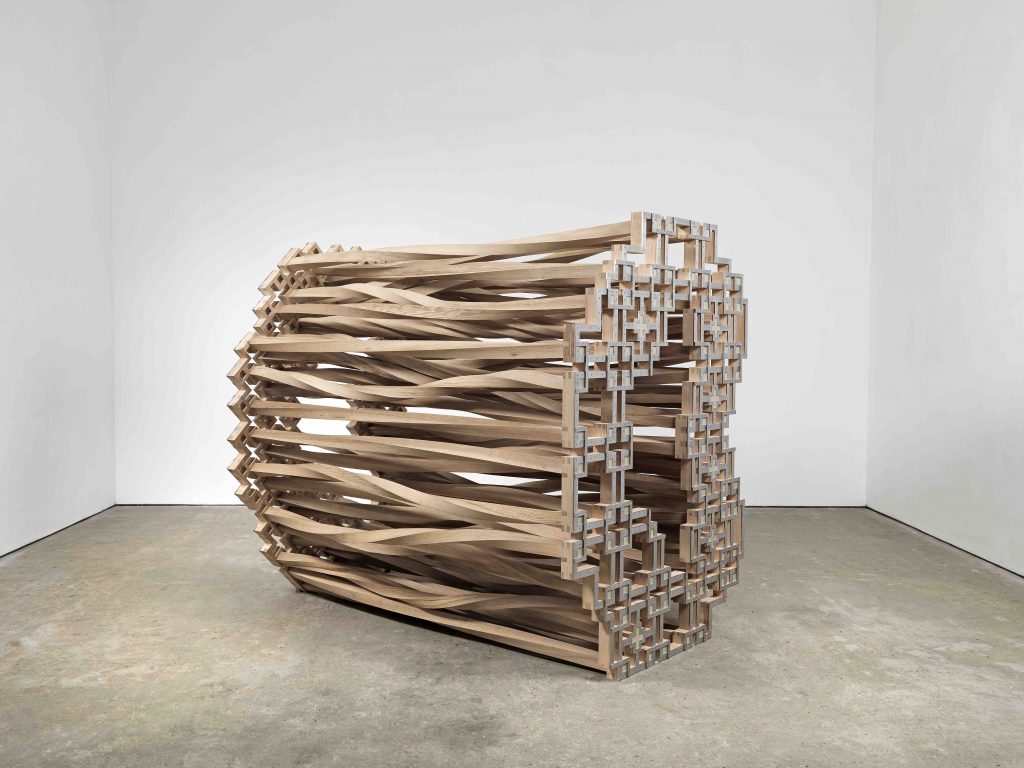 Richard Deacon I Remember #5, 2018 Wood and stainless steel?182 x 137 x 206 cm 71 5/8 x 53 7/8 x 81 in © Richard Deacon; Courtesy Lisson Gallery
"As a sculptor, I have always wondered what exactly is depth? It is shifting and ineffable. Perhaps all I can know is surface, the rest a fiction, a deep state that slips away from view."
Richard Deacon presents his eleventh exhibition with Lisson Gallery, showing works incorporating steel, ceramics, clay, bent wood and ink on paper that evoke different senses – from memory and touch, to sight and movement. This new collection of sculptures, reliefs and drawings also inhabit different planes – from verticality to horizontality – all while shifting between two and three dimensions and passing from porosity to solidity, suggesting their fluid possibilities as either sites for bodily experience or spaces for contemplation and, as the title suggests, for deep dives into each object.
Among his major recent sculptures are the undulating, twisted forms of I Remember #5 (2018), Swell and Under the Weather #5 (both 2019). The complex arrangements of stainless steel housings and spiralling wooden beams in I Remember #5 are presented horizontally, suggesting the viewer walk along its length while following the trajectory of its delicately sinuous wooden lines. With every steamed wooden dowel ending at a different point in a tessellating grid of metal plates, there is an invitation to recall where each begins its journey and follow them to their conclusion.
The upright form in pale bentwood, Under the Weather #5 (2019), represents the apotheosis of Deacon's two-decade-long mastery of the various techniques involved in wood steaming, manipulation and construction, with only the most unobtrusive nodes of joinery completing the object's soaring, shelter-like structure and revealing the techniques of its manufacture.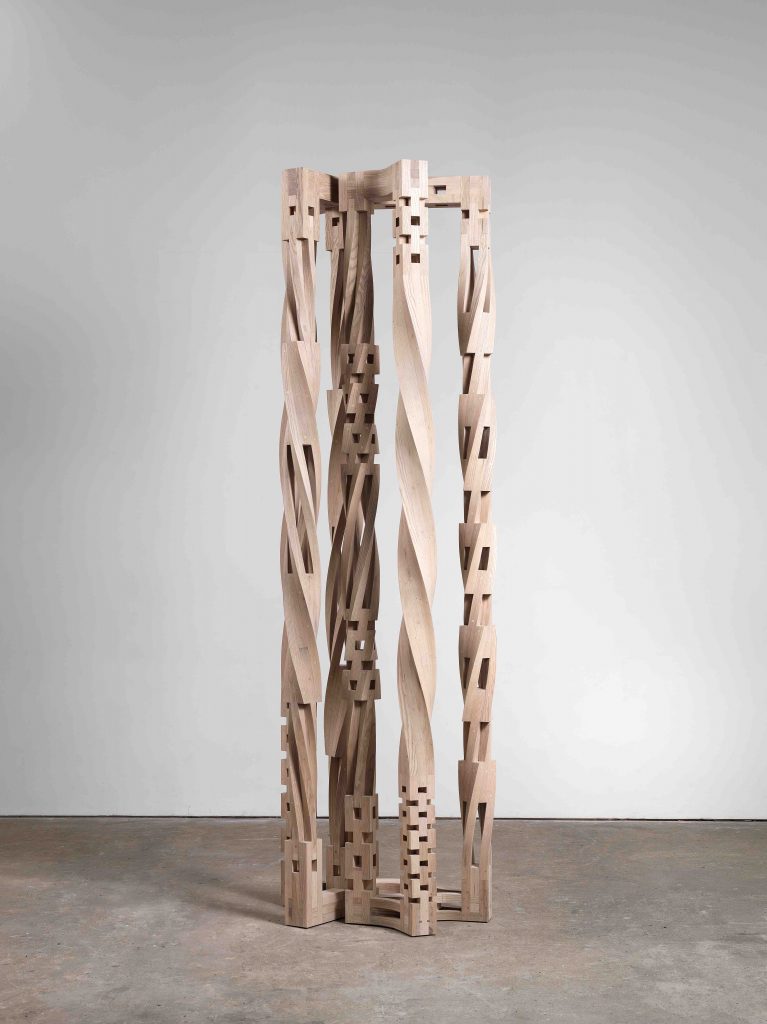 Richard Deacon?Under The Weather #5, 2019? Wood 303 x 97 x 67 cm 119 1/4 x 38 1/8 x 26 3/8 in © Richard Deacon; Courtesy Lisson Gallery
A series of ceramic pieces, another medium Deacon has long been associated with, likewise alternate between the vertical – for a number of glazed wall-based works, collectively titled Flat (2018-19,) that resemble lustrous abstract paintings embedded directly into the wall – and the horizontal, for dark clay plinths which sit somewhere between monumental earthenware, non-functional furniture and sculptural support. Indeed, Deacon has previously experimented with ceramics on an architectural scale for his frieze of 39 polychromatic sculptures on the facade of One Eagle Place in Piccadilly with Eric Barry Architects (2013) and has recently completed another major architectural collaboration with Serbian artist Mrdjan Bajic, to construct From There to Here (2006-19), a 200m pedestrian bridgeway over Belgrade's Sava River connecting the Kalemegdan fortress with a towering sculptural form. While the artist describes his own process as protean and not fixed: "sometimes it's a consequence of accident and sometimes it's a consequence of intention or past history and sometimes it's a combination of all those things," Deacon's ability to translate between one type of material and one set of propositions to multiple others, has resulted in his own unique sculptural language – one that speaks simultaneously in different registers and communicates between industry and craft or between geometry and nature.
"Changing materials from one work to the next is a way of beginning again each time – and thus of finishing what had gone before."
Deacon's linguistic twists and turns extend to his titles, as seen in the large floor-based work called Swell (2019), which consists of ideographic waves of steel, traversing the space like an ocean-bound liner. The exhibition title is indeed also a play on words, between the political inference of a 'Deep State' – the hidden and intersecting internal agencies that operate within governments – and his hard-won approach to revealing the internecine workings of each sculptural or imagistic form.
Richard Deacon: 'Deep State' 20th November 2019 – 29th February 2020 67 Lisson Street, London
Opening: 19th November, 6 – 8pm @lisson_gallery
Categories
Tags