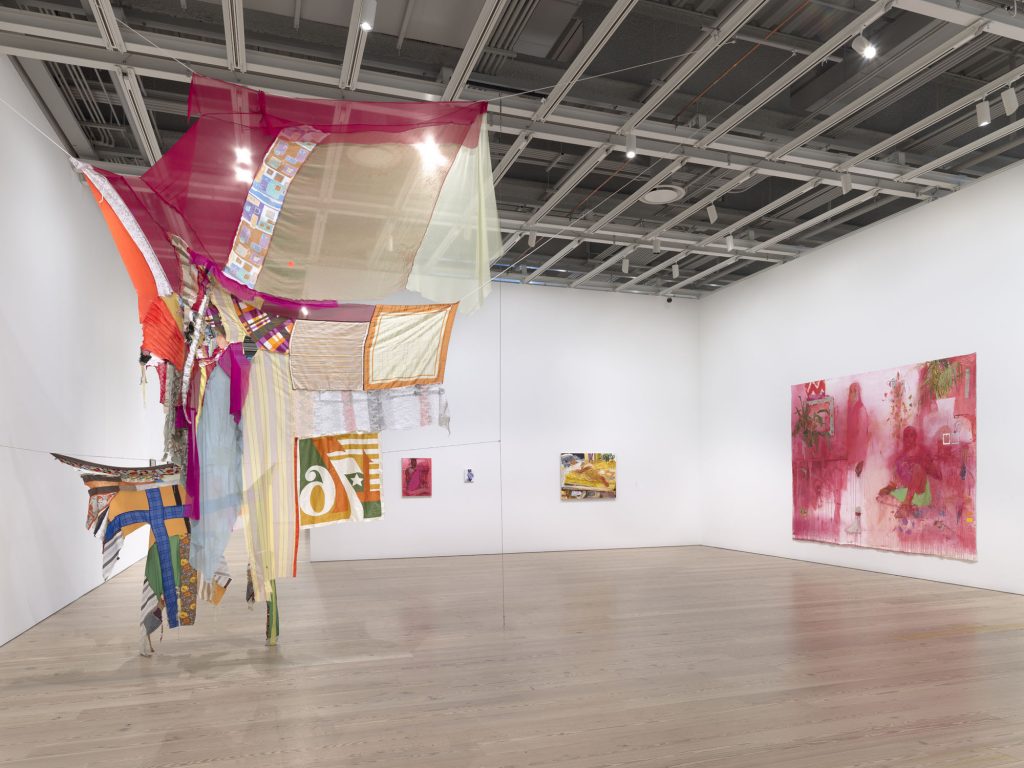 Installation view of the Whitney Biennial 2019 (Whitney Museum of American Art, New York, May 17-September 22, 2019). From left to right: Eric N. Mack, Proposition: for wet Gee's Bend Quilts to replace the American flag – Permanently., 2019; Jennifer Packer, Untitled, 2019; Jennifer Packer, An Exercise in Tenderness, 2017; Jennifer Packer, Untitled, 2019; Jennifer Packer, A Lesson in Longing, 2019. Photograph by Ron Amstutz
The 79th Biennial is the Museum's flagship exhibition. Initiated in 1932 by the Museum's founder, Gertrude Vanderbilt Whitney, the Biennial is the longest-running survey of contemporary art in the United States. Occurring every two years, the Biennial includes work produced in a variety of mediums, from painting, drawing, sculpture and photography, to installations, performances, sound and film. The
curators of the 2019 show, Jane Panetta and Rijeka Hockney, scanned the United States of America, visiting over 300 studios during the past year, to select a comprehensive encyclopaedia of art today.
The New York Times described this year's Biennial as:
"a view of American art far more inclusive that's it once was…artist by artist, piece by piece, there's a lot of quiet agitation in the air…"
The driving force for the selection, as Panetta explains, was a desire for the show to be "especially focused on emerging artists". It is the first time that 75% of the participants are under 40 years old and only 5 have previously appeared in a Whitney Biennial. Pancetta reflected that she and Hockney were conscious of providing young artists who are "struggling and facing fewer opportunities to present their work publicly" with a space and exposure to reach a broad audience.
There is not a single theme for the Biennial, but instead, the curators chose a variety of work from 75 artists and collectives that explores questions about pressing issues of the day, such as race, gender, optimism and community. As is clear from the subjects underlying the work of the participant artists, that the current zeitgeist of America shares a collective conscious and awareness for man's impact on the planet.


Jeffrey Gibson Whitney Biennial 2019
As the curators noted, artists are increasingly choosing to work directly with their materials rather than digitally. Emphasis on physicality and materiality is visible in the work of Olga Balema, Robert Bittenbender and Jeffrey Gibson, all of whose work has a sensual three dimensional quality that play with different textures. Jeffrey Gibson's mixed media sculptures, for example, 'People Like Us', incorporate
beadwork, ribbons and fabrics in reference to the fringed garments associated with the Ghost Dance movement. The movement originated in the late 1800s in Nevada, then spread through Native American cultures. Gibson's references to this indigenous tradition of America shatters boundaries built within the western definition of art versus crafts, and raises awareness of the diversity that completes
the collective identity of the United States of America. Old and new social clashes are given equal weight within Gibson's pieces, with the rainbow colour-scheme of the dance costumes, act as a celebration of contemporary queer club culture. Gibson's work is both confrontational and reflective in its use of multilayered signifiers to question the nature of personal and collective identity.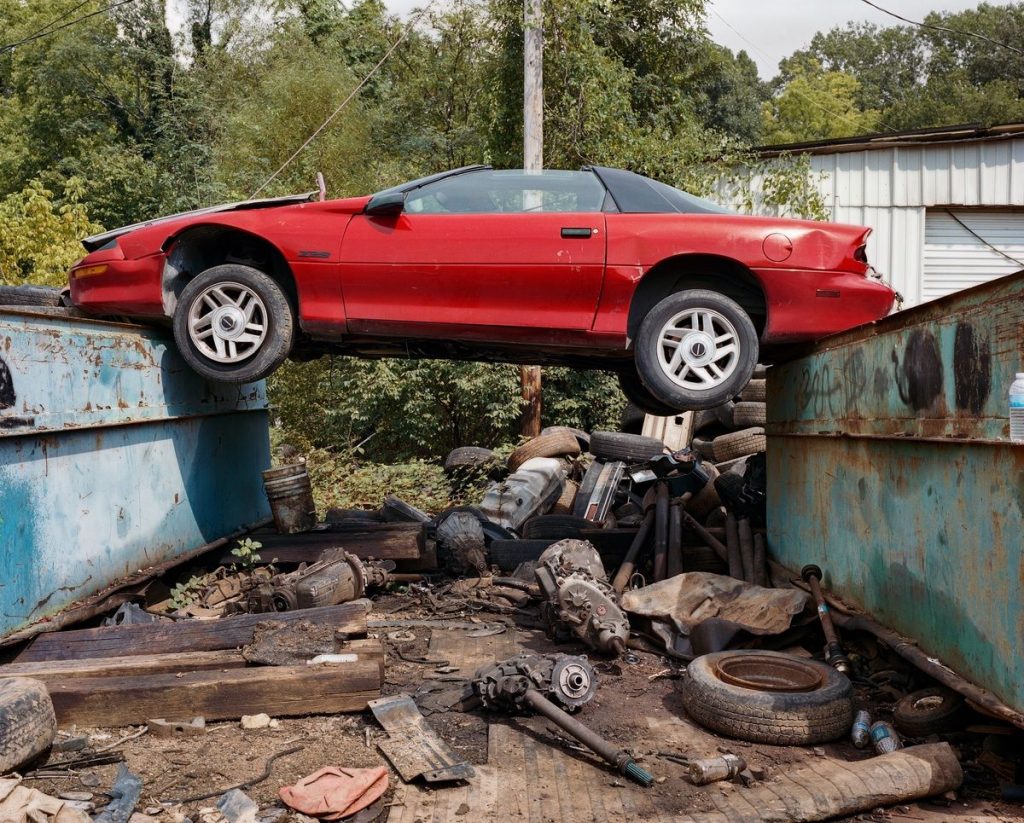 Curran Hatleberg Whitney Biennial 2019
Even the flat two-dimensional photography of Curran Hatleberg is focused on textures and materiality. Hatleberg travelled extensively throughout the United States to take a collection of photograph that capture his observations of the landscape, towns and people of America. Drawing on the American ideal of freedom mythologised by beat literature, such as Jack Kerouac's iconic 'On The Road', Hatleberg's photographs document a modern image of the American Dream. 'Untitled (Camaro), 2017, is a bitter-sweet satire of 'On the Road', depicting a red soft-top car suspended above a scrapyard, its wheels floating well above the road and the rubbish covering it as a warning to protect our country against fuel emissions. The photograph acts as a plea to keep our roads clear from waste.

Brendan Fernandes (1979-), The Master and Form, June 7, 2019. Photo by Paula Court. Performers pictured: Left to right: Mauricio Vera, Amy Saunder, Tiffany Mangulabnan, Tyler Zydel
Performances by eight artists including, Morgan Bassichis, Brendan Fernandes, and Autumn Knight, took place in the Susan and John Hess Family Theatre during the Biennial's running time (17 May – 22 September 2019). Films selected by guest curators were screened during three weekends. The complex nature of identity and what it means to be indigenous was explored in a collection of short films titled
'What was Always Yours and Never Lost'. The nine films were curated by Sky Hopinka and created by a collective of artists, each of which asserted their own distinct identity and presence while traversing the long history of colonial history.
Through the medium of film Caroline Monet, Thorazine Cuthand, and James Luna, along with the collectives Colectivo Los Ingravidos and Jackson Polys with Adam and Zach Khalil, 'claim what was always theirs and celebrate what was never lost': (see Whitney.org for Program Notes).
The overall message for the Whitney's 79th Biennale seems to be an overwhelming collective questioning and celebration of the diversity of 'American' culture. In addition to the never-ending struggle to define our own identities, artists in 2019 show and want to spread an awareness of humanity's relationship with the material world by connecting physically with their materials when making art.
Work remains on view, as part of the partial Biennale, until 27th October 2019.
Categories
Tags