Portrait of Antoni & Alison (as things)
"I think fashion has always been a bit of a problem for us. We both love fashion but don't feel that we are typical fashion designers. We are image makers that happen to use clothes as our canvas. We like to think of the garments as souvenirs of our work. For a long time we felt that the work we were making was being shown to the wrong audience…"
In an industry built around the notion of newness and 'nowness', Antoni Burakowski and Alison Roberts, more widely known as the eponymous design duo Antoni & Alison, have maintained a noteworthy staying power in part through their innate ability to rethink what it means to be a fashion designer.
From the outset they used clothes and accessories as canvases for their concept-inspired ideas, playful commentary and bold graphics, whilst their collections have never self-referenced the fashion industry but rather sourced its inspiration from diverse social practices such as teatime rituals or fancy dress party clichés. It is on account of their design prowess that a generic (and in some circles démodé) word such as Modernist is transformed into something so iconic through their choice of typography alongside the means in which they express it. As with all their projects their work can sit in an art gallery and be just as compelling as it is in a retail environment.
Sold worldwide, their bijou boutique, a former lighting shop, has established itself as a landmark in London's Clerkenwell neigbourhood, attracting customers from all over the world. "Stores abroad see us as very English, we didn't push for that. Almost everyday we have overseas clientele coming by to say hello. We even hosted a wedding in our event space upstairs for a couple who lived in Sydney," Burakowski reveals as a little side note.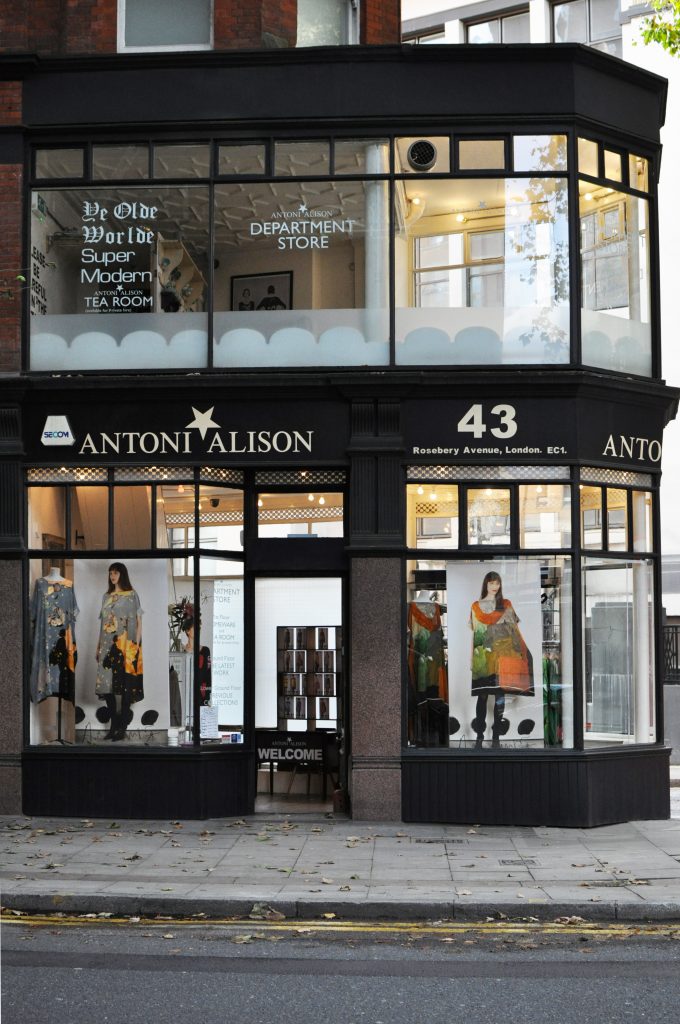 Although their partnership officially launched in 1987, it was as first year students at London's Central Saint Martins that their mutual interest in each other's work prompted them to set up business together. "But it was how to work with each other and deciding what our common link would be," begins Roberts. It transpired that clothing was the ideal medium to combine their talents, but what motivated them was not the practice of dressmaking or pattern cutting rather it was the world of ideas, as continues to this day. "You draw on what you know," adds Burakowski. Roberts' training in fine art, while Burakowski's was in fashion textiles is evident in their output.
"From an art-based context, I think as a process involving two people having to conceptualise, verbalise and justify a piece of work is where the art stems from, and with my training at college and us meeting at college in an art environment, I don't think we have ever stopped," notes Roberts. "I studied fine art for a reason and I always hung on to what I learned at college. Unlike fashion, art practice requires you to justify your work, so much of fashion is about trends, but we've never been interested in trends. When I left college there was little hope – no high rating – for women artists and since I didn't want to be part of a niche women's grouping of artists my prospects were nominal. It was a no brainer to work with Antoni, who is so gregarious in contrast with my shyness, we balanced each other."
"The way we could work together was to write. So we wrote things down and the text became text pieces, and then we looked to the T-shirt as our canvas for our text pieces. We vacuum packed them and before we knew it the T-shirt had become a product. But we never saw it as fashion. It's important to add that we liked making things that were populist. Even now people have kept those T-shirts unopened. Some people put them on the wall and others wore them and became the wall."
"Digital printing on fabric, in the mid-late 90s, was a breakthrough moment for us and it sparked interest, especially as it had no history in fashion. Digital printing was at a really early stage, it was pre-email as we now know it, you couldn't even send a file because there was nothing to send a file on, so we had to post them," recounts Roberts. "We'd already experimented with silk screen printing and photocopying, but suddenly with digital printing we could work in technicolour! Digital printing was the technique and this lent itself to what we had always wanted to do, as far as content was concerned, we could photograph things and give them a 3Dness."
Initially, Antoni & Alison employed a trompe l'oeil method, which involves a photographic depiction of tangible things creating the optical illusion that the represented actually exists. In recent years their ingenious way of printing cloth has developed through the use of collage as both an aesthetic and as a concept, juxtaposing incongruous and unlikely items and images. The digitalized prints see the scale of those depicted items amplified and the respective detail magnified resulting as an abstraction of the original item. The effect is as innovative as it is idiosyncratic.
"These are super modern techniques of printing fabric. It's a process of layering, so we photograph the items and then multi-photograph them sometimes several times, but actually when you shift the proportion and look at them as an ensemble they appear as something incredibly modern and knowing that those photographed items are going to be even bigger as a digital print, they then become even more colossal in a way. Then there is the pattern cutting… You can see a lot of movement in the print, and of course the print moves as the wearer does. Each piece of clothing is made individually by tailors, which incidentally are mainly men, so what we have are the traditional techniques of the olde worlde meeting the super modern, explains Burakowski."
AW19
SS20
"It has always been important that everything makes sense to us, and we took on board in the early days that it didn't matter if it didn't make sense to anyone else. We make the work for ourselves, we make the work not to please ourselves but to excite ourselves, we are constantly asking ourselves questions, pushing our concepts a bit further each time, because it's always about what's next."
In contrast to how many fashion designers conceive their collections, Antoni & Alison tend to work without themes which serves their spontaneous way of working well. "We've used themes in the past, but these days we gravitate towards the idea of 'we like this and we like that' because the way we tend to work is quite quickly. It's both a rigorous process and a spontaneous process. We titled our SS20 collection 'Just Do It' as it alludes to spontaneity and that sums us up, we're not ones to procrastinate, we like testing ideas and trying things out… It's our diary because it can only be stuff that has happened to us, it's totally autobiographical. We are always looking for things that we want to put together, as digital prints, we build a table of those things, turn the music really, really loud, switch off from emails and phone calls and we get on and make work. So what happens is we place things together that don't normally go together and end up with hundreds of print ideas, photographing them, assessing them, making maquettes… And at the same time we talk for a couple of days about what we think is right for the new piece of work and then we go out and find whatever other objects we need. The thing that we are interested in, and the thing that has worked very well for us, is to look at the mundane and overlooked, probably because they are smaller and are irrelevant. So print wise it's much more sculptural. We think of our work as flat sculptures. Typically only twenty prints will be used for the fashion element of our work, others we keep for our fine art and photography work. and they can overlap but we're not too concerned if they do. Either way, we always work from the same basis…
The term 'flat couture' is one we've used a lot throughout the last few seasons. When we started all those years ago it was with a T-shirt and these dresses are actually quite similar to the T-shirt inasmuch that they are just one flat piece, our cut is so simple that it doesn't need complication. However, whereas the T-shirt was spontaneous, the dresses are more considered and more elaborate, but we don't like making things too ornate because the print work is already ornate."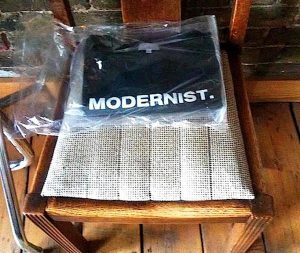 Although Antoni & Alison's bias is with the simplicity of the dress, their current collection also includes A-line skirts in silk crêpe de Chine and wool crêpe, sweaters and classic cardigans, in the finest cashmere imaginable, all adorned with hand drawn graphic stripes, shapes and handwritten words. Their sartorial approach applies a 'no choice choice' philosophy which will delight those who verge on indecision, their output may be minimal yet it's quality not quantity that prevails. Their choice of fabrics are tactile, their print of superlative quality and their cut values the female form; skimming but not hugging the wearer's silhouette.
"We always work on a variation," shares Burakowski, "so for instance we offer a selection of dress styles; the tunic, the classic, which is a shift dress and the mid dress, which is wider, essentially a square. It's all a piece of paper to us, you put your head and arms through the openings and go! So even though we view our dresses as artistic experiments, they really do lend themselves to print. What also attracts us to the dress is that it's just a piece, unlike trousers or dresses that have technicalities like a waistband or a zip. We work to a strict set of rules which we've made ourselves; we offer three types of sleeve, a double cuff, 3/4 sleeve and a puff sleeve and offer four hem lengths; 85cm, 100cm 115cm and 140cm. Because we sell all around the world, different countries want different lengths. For instance in Brazil they like their dresses shorter and in Saudi Arabia they need to be longer, for cultural reasons. Occasionally we might add an artist's neck or we may make the dress twice the width it normally should be, but that's us playing with the proportions for us to have more [surface area] to show the work on because so much is in the print. For instance, if the print demarcation stops beneath the bust and gives the impression of an empire line then we no longer need to cut the cloth as an empire line. Ultimately It's a case of same dress but different print.
We like the idea that we make less things, there are too many things in the world anyway so we want it to be considered when you buy from us. The end use is to be worn but our work has a collectible value as well. We seem to appeal to a lot of curators and artists, both Rachel Whiteread and Kiki Smith have bought from us. Often people buy our pieces just to keep them and we love that because we keep everything, we don't throw anything away; we're hoarders of ideas. At the beginning of our career we had no money and couldn't afford to buy things or had the room for them, so we photographed things that we loved and in a way got to own them through our photographs of them."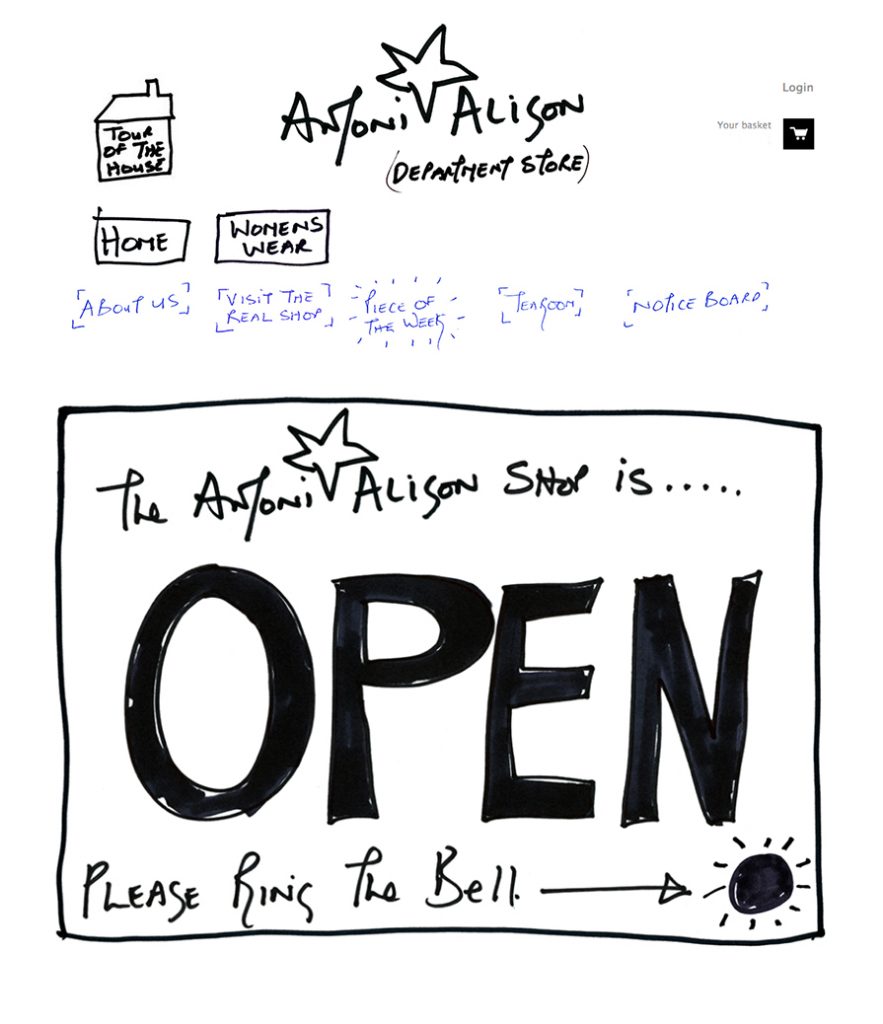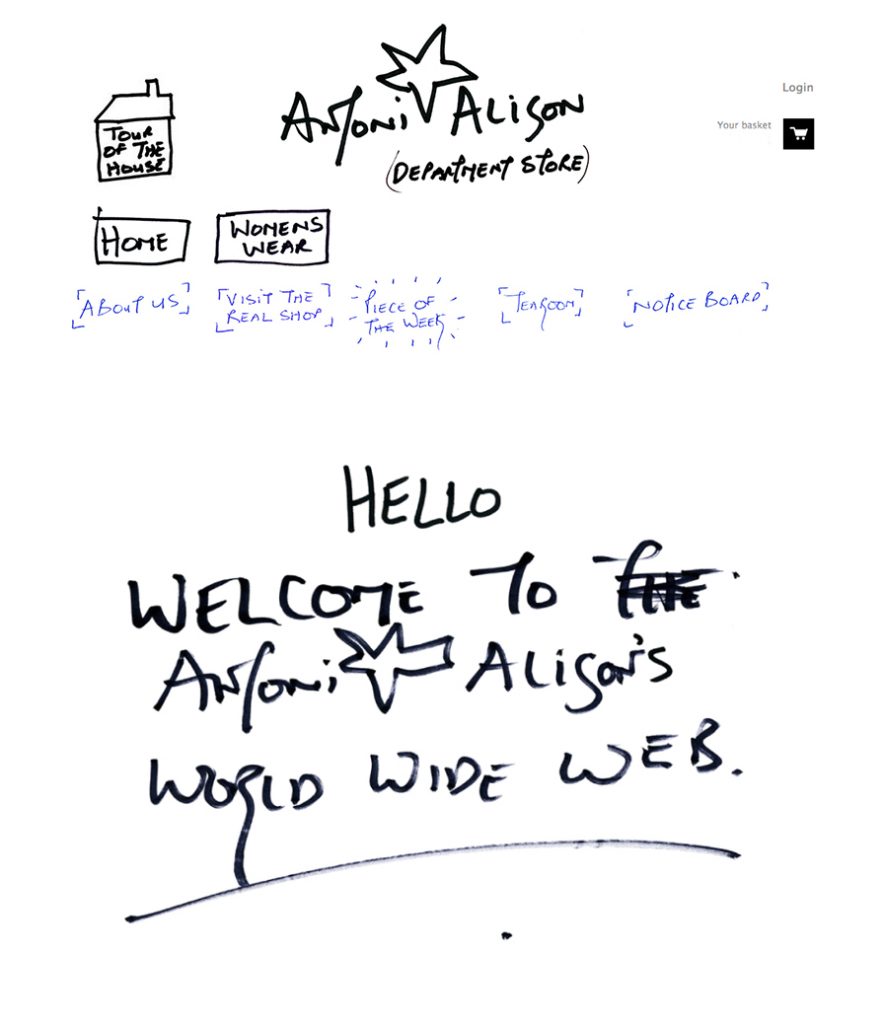 The first ten years of Antoni & Alison's work is now archived at the V&A Museum in London, testimony that their work is as comfortable in an art gallery as it is in a retail context. "There's a box in the Prints and Drawings Study Room, on the 4th floor of the Henry Cole Wing, that has a selection of our pieces including notebooks, drawings, paintings, the 'Be Happy' T-shirt… Blythe House which stores the archive of the V&A has absolutely everything else; collections, paraphernalia, everything, it's by appointment only and before you enter they give you gloves to wear. The V&A are keen to have the following 22 years of our work but because we can't stop working we don't have the time to collate it.
We actually want to structure the way we work differently. Throughout our 32 years together we've always done two seasons – Autumn/Winter and Spring/Summer – but we've been thinking of doing just one collection since we could continue the seasonal cycle forever and ever but we need to fulfil our other dreams. We want to make less clothes and more art," enthuses Burakowski.
Roberts expands on this topic, "we have a tendency to think of our designs as Pop Art pieces, rather than highbrow art pieces although our work is definitely moving towards that direction. Having done a fine art degree and having experienced the grilling you get to justify your work, I can't justify our collections in those high art terms, but I don't think there is anything wrong about coming from the same place to create something different."
Photographs by Antoni & Alison
Text by Stephanie Talbot
Categories
Tags