Serena Morton's presents a new solo show by Adebayo Bolaji. Opening today (19 September), it premieres the artist's film POEM 4. The gallery turned into a 'secret cinema of reality', will also host the trademark canvases of Bolaji.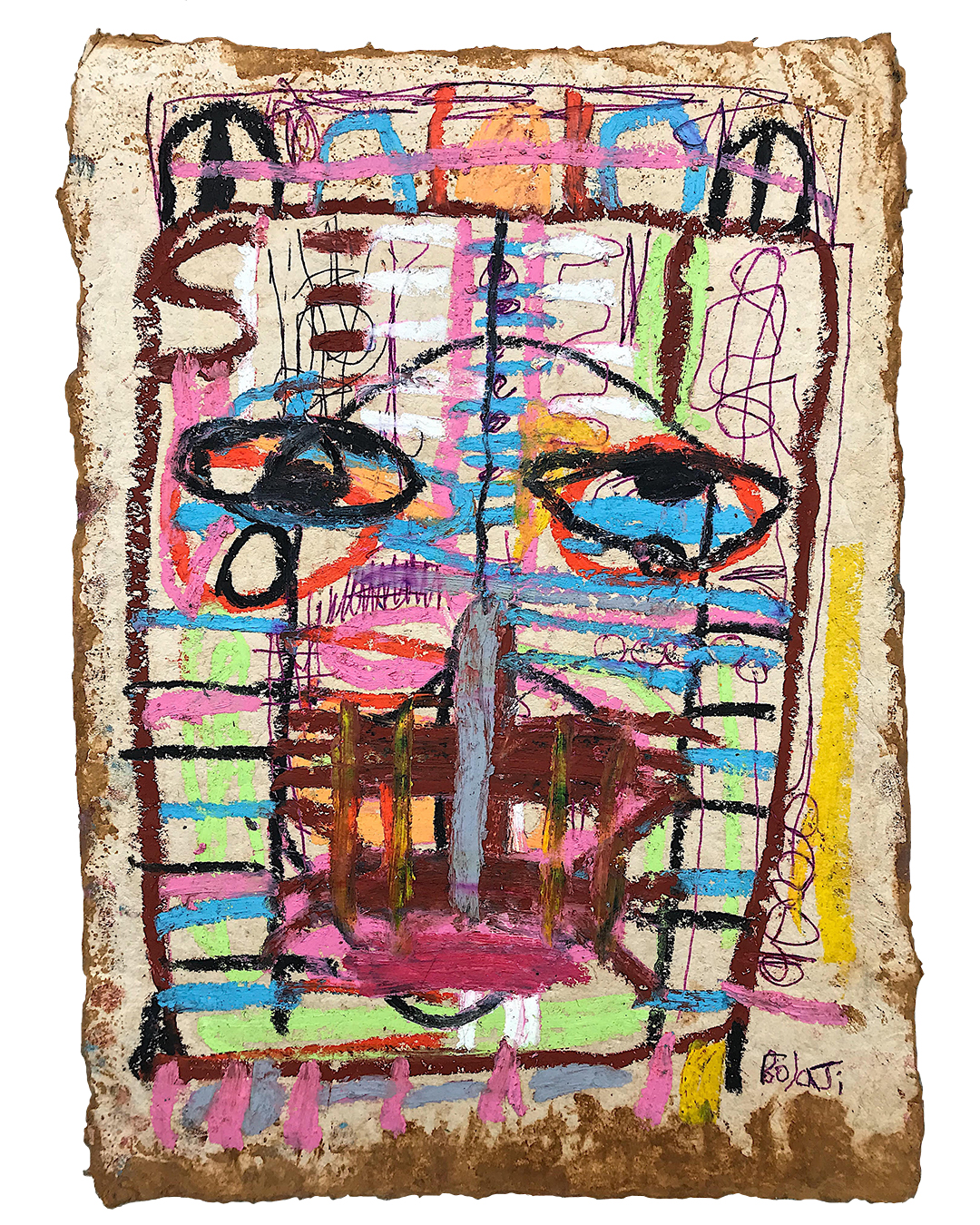 Adebayo Bolaji, HEAD OF A BIRD TOPIA, 2018, ink & oil pastel on bhutanese paper, 45 x 33 cm
The film follows a young Instagram model navigating her way through social media concepts of reality. Doing it, this questions our ideas of control and identity. The film complement and accompanies Bolaji most known canvases, possessed by an outburst of lines and colours.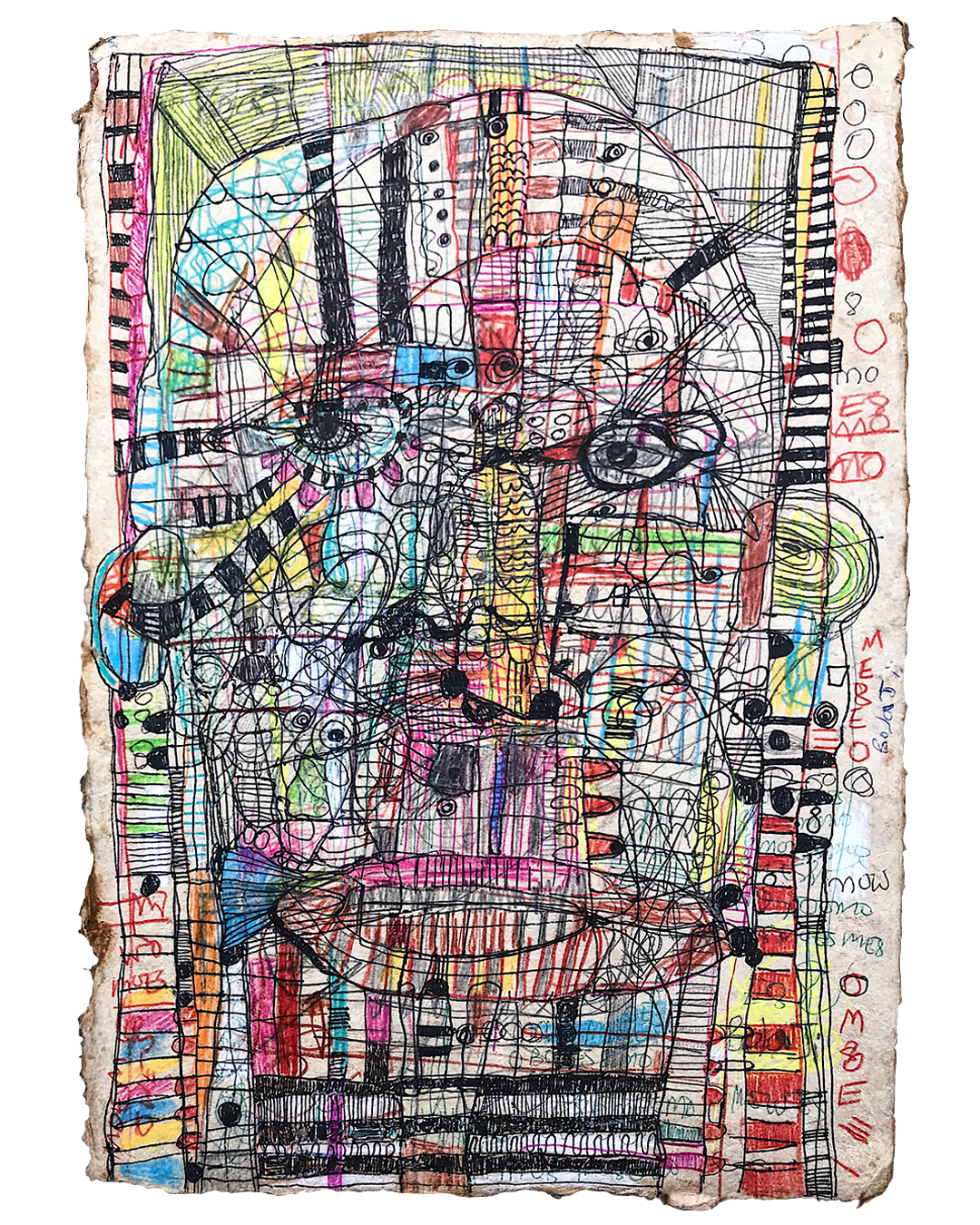 Adebayo Bolaji, HEAD OF A KING TOPIA, 2018, pencil & ink on bhutanese paper, 45 x 33 cm 
Bolaji colourful canvases are dominated by a simultaneous sense of vivacity and unease. There's hope in the bright tones of the Heads of a King Topia; there's also looming darkness reaching out from the Medusa. As for Rest, good and evil are complementary forces. The rapidly sketched, pink arm and the flying blue hair seem to point to a happy ending. Yet, the figure is menaced on the right by a fragile sword; while the mouth, closed, seems unable to scream for help.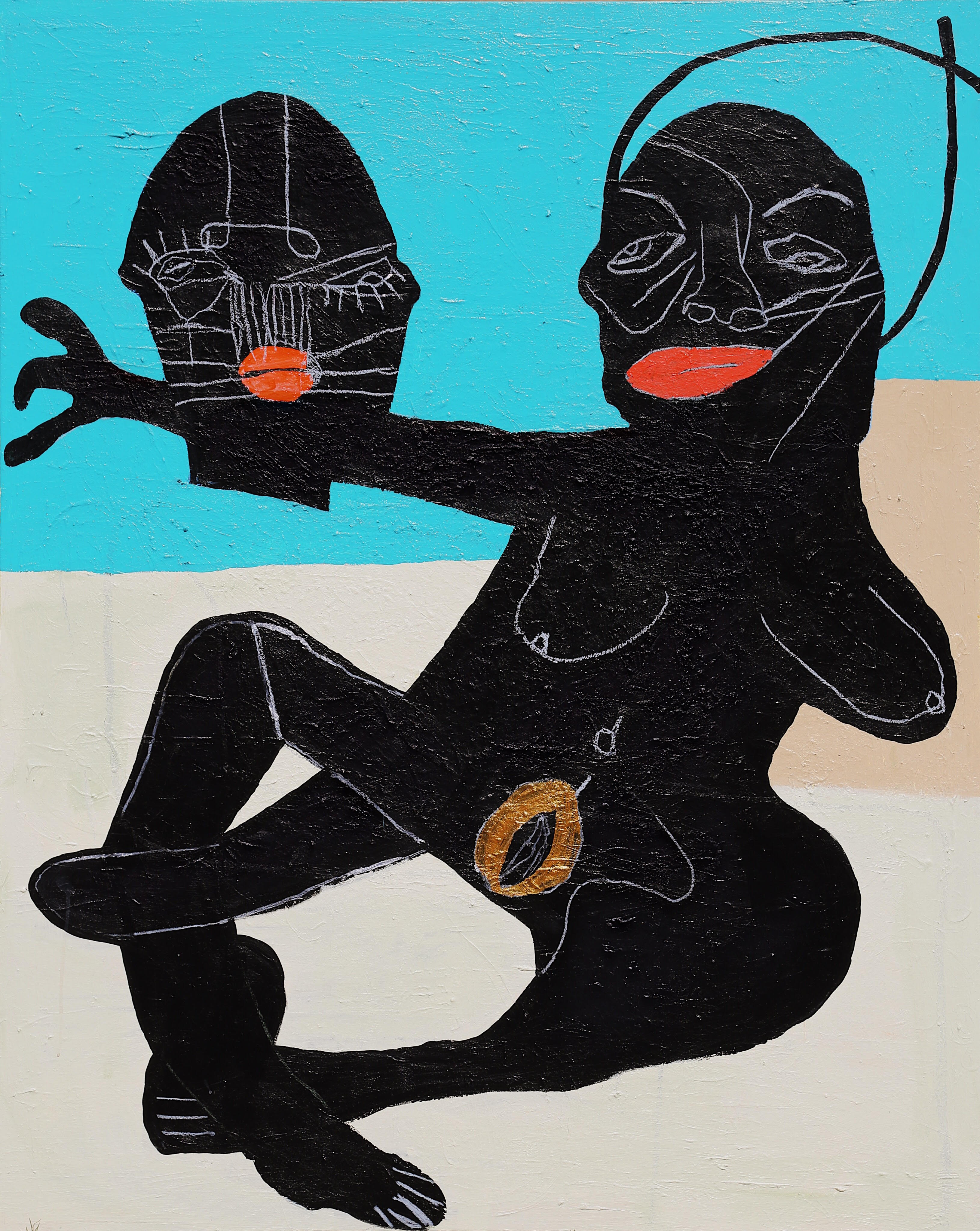 Adebayo Bolaji, MEDUSA, 2019, acrylic, gold & crayon on cotton, 154 x 124 cm
These works are extremely difficult to categorise (given that you have to categories them?). Bolaji's very background belongs to law and acting, rather than academies and art institutions. Furthermore, in the vigorous lines and bold, abstract colours, there hides an intimate exploration. If we listen to what the artist says about them, we will find him to agree:
"There's always more than one story and more that one moment that is happening. There's a dialectic, a conversation, a culmination of ideas. So to define my practice by one thought or one idea will do it an injustice." – A. Bolaji, 'Optimistic. the Power of Now' (catalogue)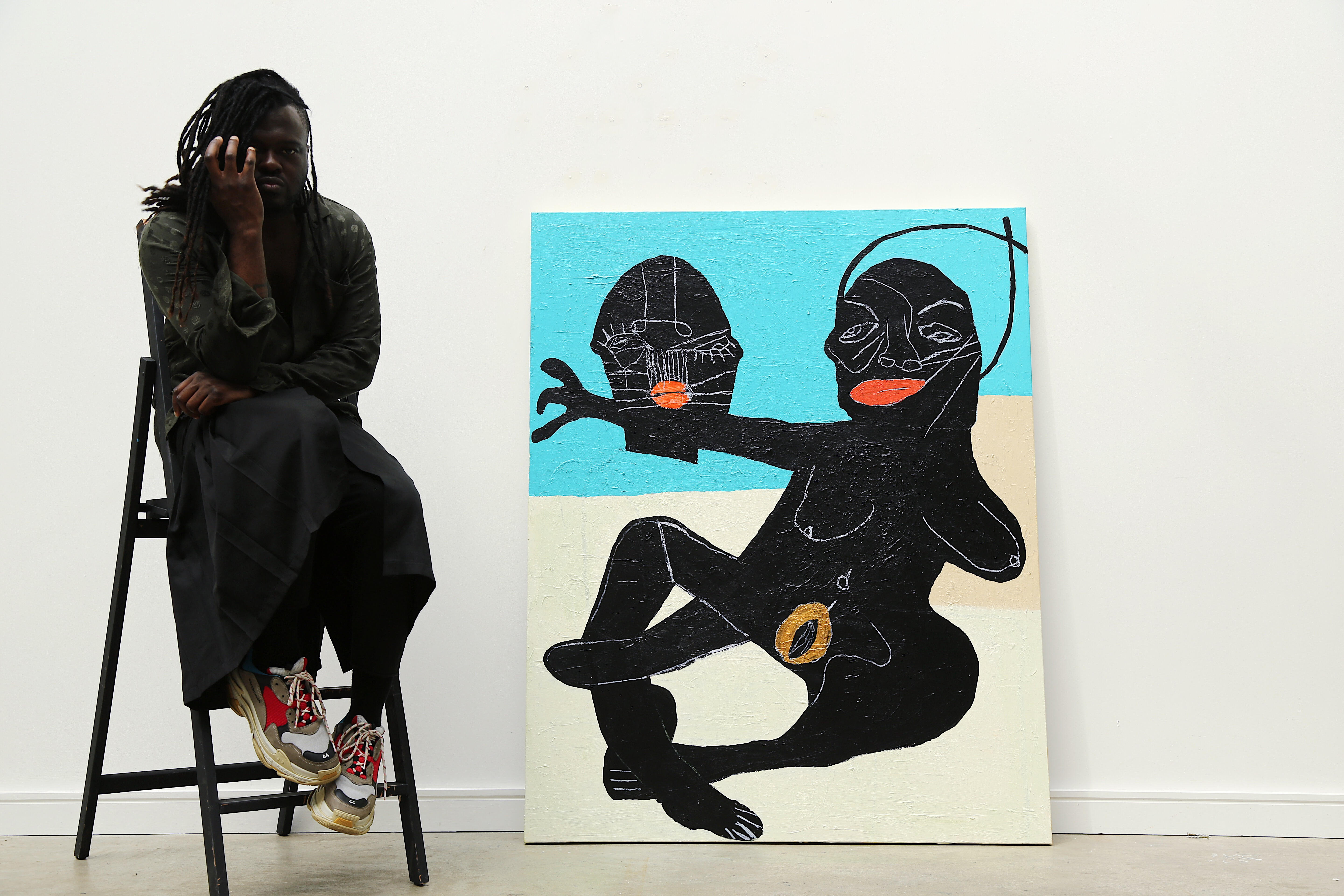 The artist Adebayo Bolaji with 'MEDUSA'
His paintings, so evocative and overflowing with colour, urgently call for an interpretation. Yet it becomes impossible to find a univocal story (fortunately). Lines are mazes; shapes come and go; colours spill over their contours when they have any. The backgrounds, in Transmissions, for instance, are mix-matched and create confusing patterns.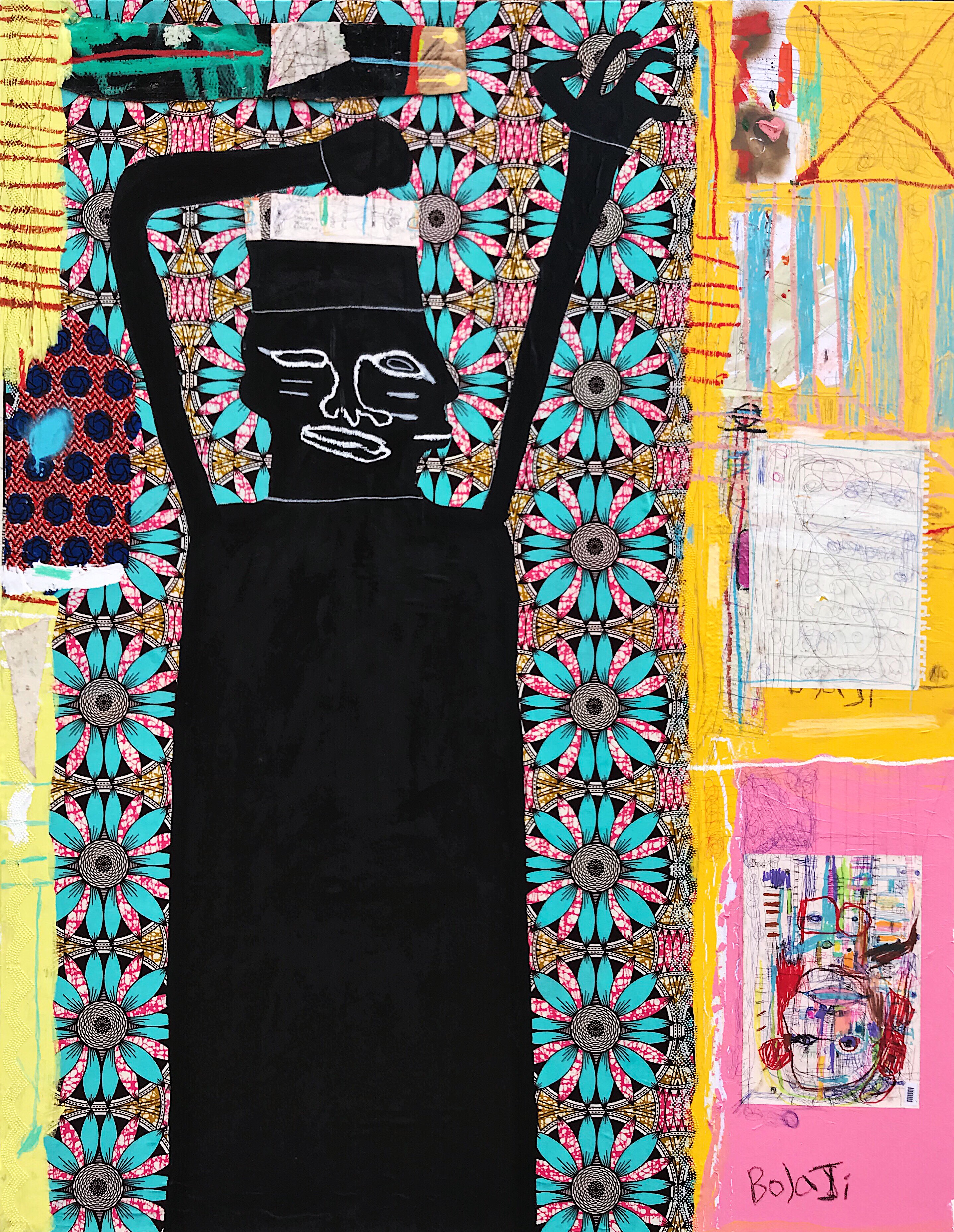 Adebayo Bolaji, TRANSMISSIONS, 2019, mixed media on coarse grain jute, 205 x 165 cm
The final destination of this visual journey is ultimately in the hands of the beholder. Bolaji only traces one possible journey, and yet it expresses it with an incredible pathos. For this exhibition, the imagines arenas start from the internet, be it the dark web or the ever-resourceful life of digital information.
Stories come from within. They materialize on the canvas under the form of striking hues and intricate lines. Only later, once they are fixed on the panel, they acquire a narrative, a meaning, albeit unstable and personal. The strength of Bolaji is that he inevitably takes us somewhere.  The show, indeed, is not an impossible u-topia, or a gloomy dys-topia, but it's an open-ended, embracing 'topia' (place). Which 'Topia' shall we explore next, we might wonder?
Adebayo Bolaji, MR TOPIA, 2019, mixed media on coarse grain jute, 205 x 165 cm
The artist is everywhere felt in his works. Like his creations, he's a powerful character— full of life and endowed with endless curiosity. In creating his works, he follows his most untamed instincts. At the show for Serena Morton gallery, he creates a sort of mythology of alter-egos—Medusa and Mr Topia among others. Yet these are not simply the temporary replacement of Bolaji's self; they are also spaces where each viewer can project her/him/ze- self.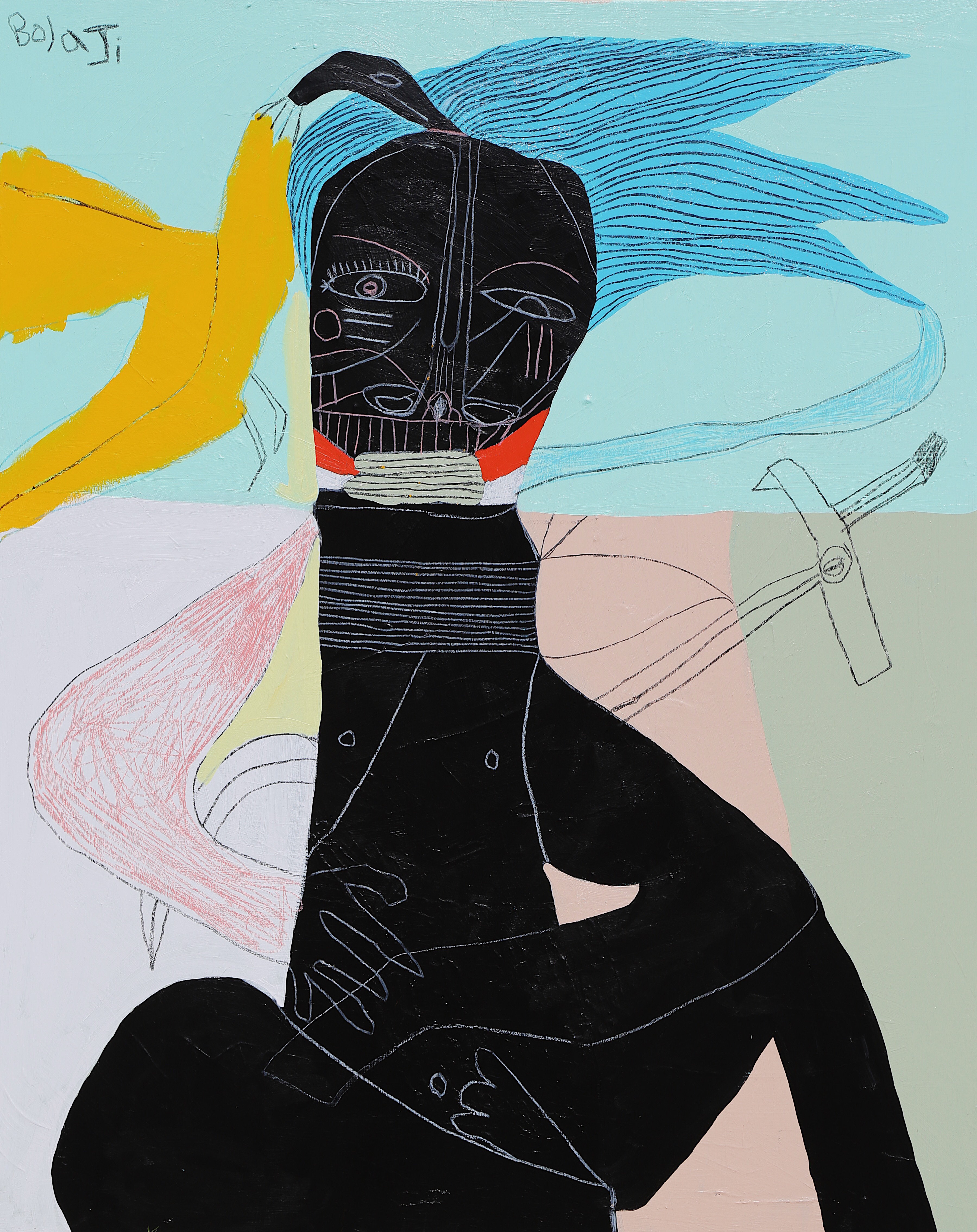 Adebayo Bolaji, REST, 2019, acrylic & crayon on cotton, 154 x 124 cm
Adebayo Bolaji, TOPIA | 19 Sept –  20 Oct 2019 Serena Morton Gallery, London , 343 Ladbroke Grove, W10 6HA
Categories
Tags