When first approaching VITRINE, Basel, where Hong Kong-based artist Nadim Abbas' exhibition 'Poor Toy' is being exhibited, only fragments of the show become visible through the reflections of the surrounding cityscape. The exhibitions mixed realities externalise fragments of our lives.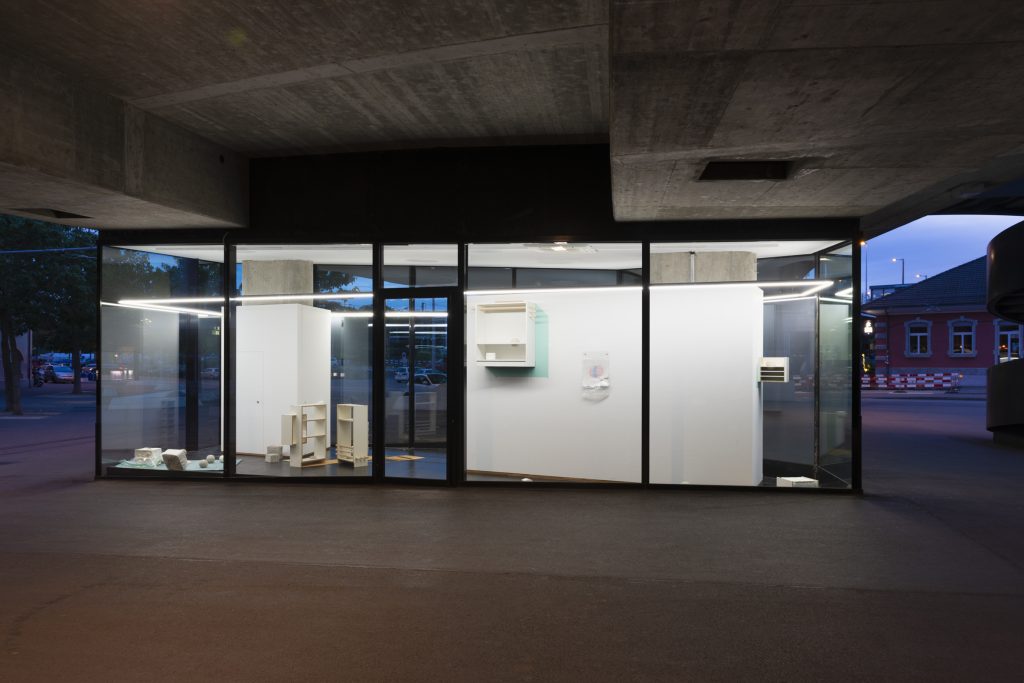 Surreal sculptures are contained in a vessel, dissolving into the reflections of their shell. VITRINE's architecture reinforces the impact of the composed objects because visitors are obliged to look inside and circle around the container. With every additional step around it, the composition changes and creates new relations between the nine works.
Not accessible yet interlocked with its surrounding, the inner art- world and the enclosing cityscape melt into each other. It seems as if the content of the gallery is imposing itself onto the outside world.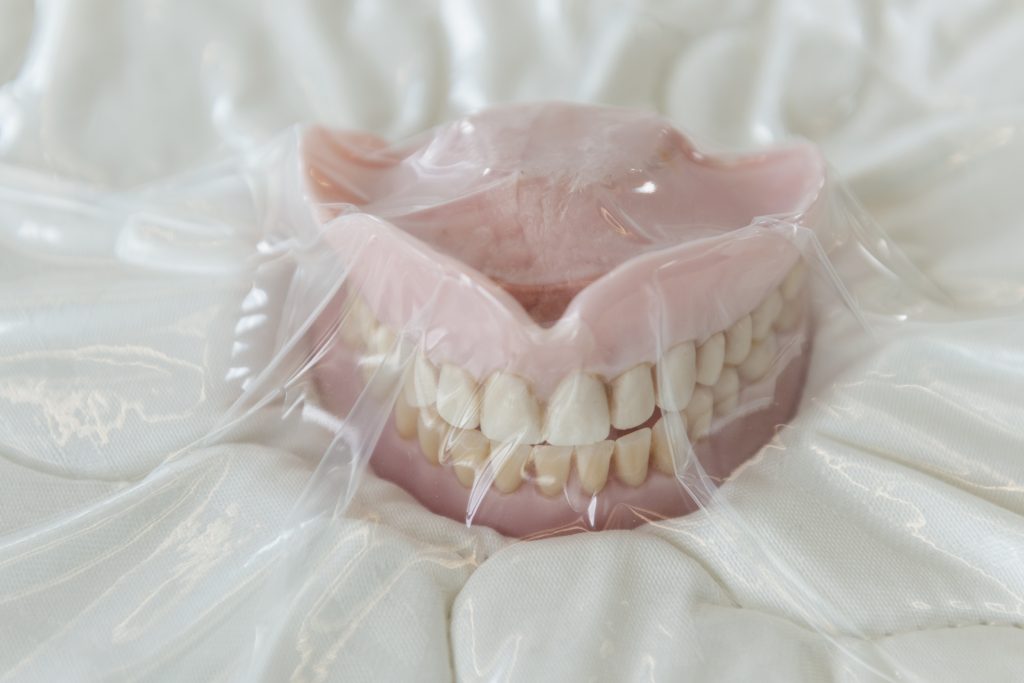 Abbas creates sculptures by deconstructing domestic objects which ultimately have an effect on our everyday life. His work is architectural, sharing a relationship to volume and void on different scales. 'Poor Toy' makes us consider the psychology-of- self through the ambiguity of domesticity blurred into bizarreness. It evokes a certain kind of fearful reaction deep within us, a feeling of horror which originates from the work's abstraction of location, size and shape. The irritation lies in the disquieting contrast between the extreme familiarity of an object and its subtle transformation in an unusual and unexpected way. Its uncanny character is arising from our fear of death and the decline of bodily integrity and soundness.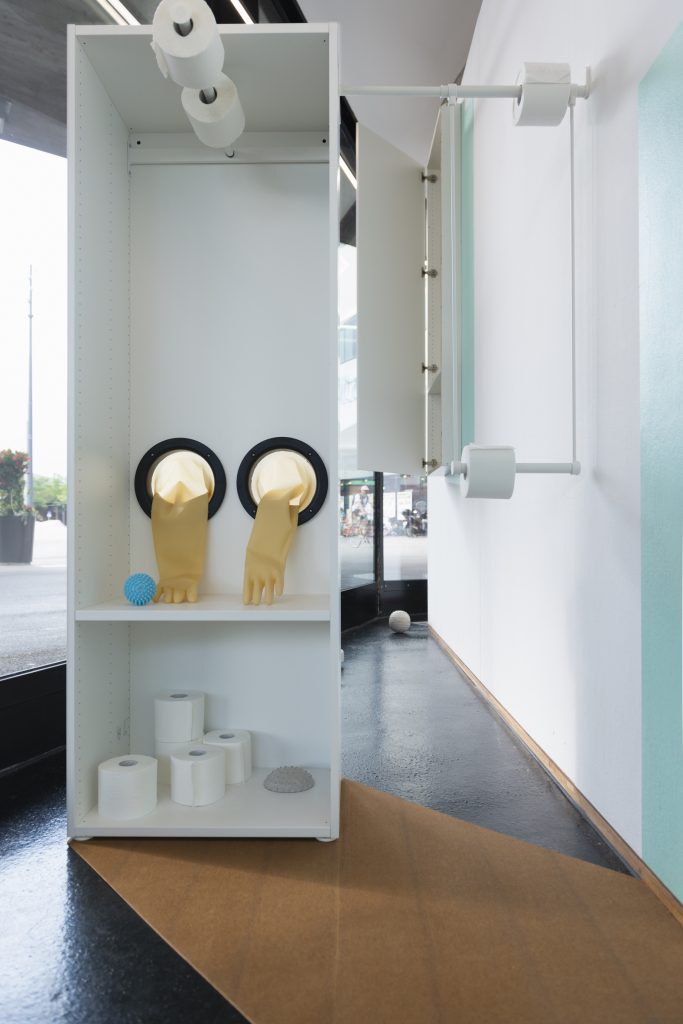 Through an additional implementation of physical shadows, seemingly arising from hanging and standing furniture pieces, the impression of various remote floodlights is created. Again, an eeriness emerges due to the randomness in which the shadows seem to originate from multiple directions. Through his use of long shadows as a stylistic device, similar to their use in the Film Noir, Abbas manages to control the atmosphere; it is able to be perceived regardless of the time of day, remaining unnatural. This also reinforces the stage-like character of the exhibition, as if it has been lit like crime scene.
Kodokushi or 'lonely death', the Japanese phenomenon of dying alone and remaining undiscovered, is in stark contrast to a time of rising life expectancy where young individuals are used to controlling the course of our lives. Our egos are being buried under a layer of shrink-wrapped foil from a 1x1x1 ft small bespoke mattress. The gadgets we use seem to exist in an alternate reality in which parts of our everyday life are outlived due to an endless capability to reproduction in continuous similarity and perfection. Through their ultimately standardized existence, our own failure is apparent.
Nadim Abbas, to 25th August 2019. VITRINE, Basel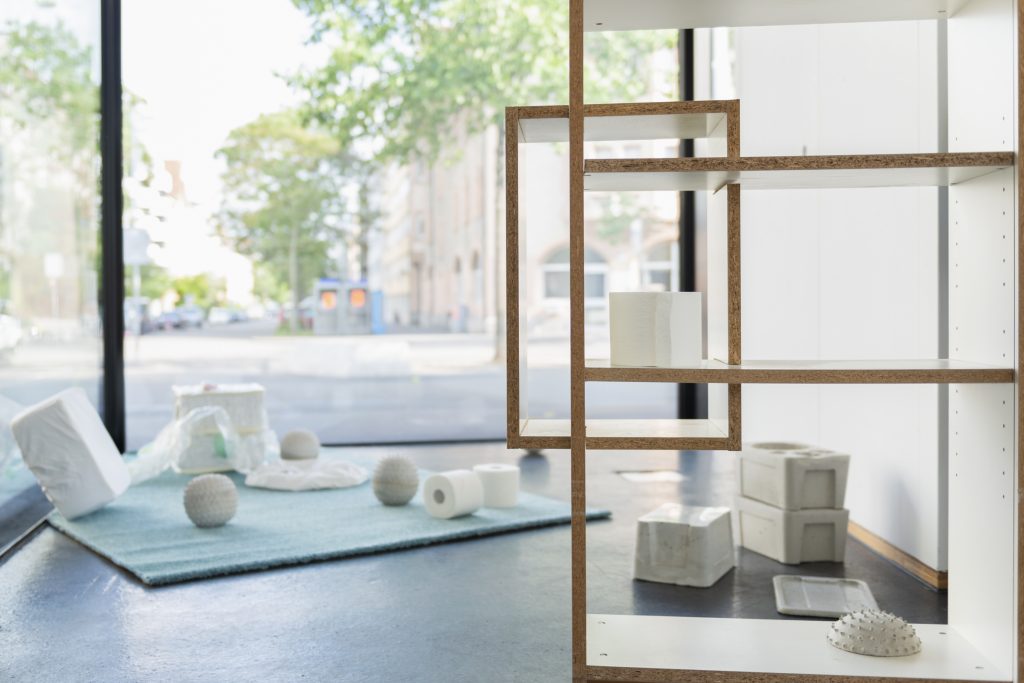 About The Artist
Nadim Abbas is an installation artist based in Hong Kong, who uses a diverse range of media spanning photography, performance, installation and sculpture. Abbas's interests mainly surround references from the every day and in particular how urban living conditions have produced specific social trends and subcultures.
Abbas's practice includes heavy research to inspire works that play on the psychological patterns of familiar objects and the domestic. In his recent work, including 'Camoufleur' (VITRINE, London, 2017), Abbas touches on the unlikely correlation between domesticity and warfare. His work also draws thematic inspiration from literature, science and psychology. Abbas uses almost fetishistic behaviour towards collecting of these objects from markets or cheap stores to incorporate into his art or to serve as cues for research.
Nadim Abbas (b. 1980, Hong Kong, China) received his BFA from London's Chelsea College of Art & Design (2002) and MPhil from the University of Hong Kong Department of Comparative Literature (2006). He was awarded the Hyde Park Art Center Residency, Chicago, USA (2018); Osage Art Foundation and Fundaziun Nairs Hong Kong/Switzerland Cultural Exchange Project (2017); Asian Cultural Council Altius Fellowship; and the HK Arts Development Award (Young Artist / Visual Arts) in 2014. His site-specific public sculpture 'P-SCAPE' was commissioned at Tai Kwun Prison Yard, Hong Kong (2018).
He has been exhibited internationally at biennales, institutions, galleries and fairs including: 12th Shanghai Biennale 2018, CN; 7th Moscow International Biennale of Contemporary Art 2017; Munich Biennale 2018, DE; Triennial 2015: Surround Audience, New Museum, New York, US; Busan Biennale 2014, Busan, KOR; Witte de With Centre for Contemporary Art, Rotterdam, NL; NRW Forum, Düsseldorf, DE; HK Arts Centre, HK; UCCA, Beijing, CN; Fundaziun Nairs, Engiadina, CH; Milieu, Bern, CH; Last Tango, Zurich, CH; Antenna Space, Shanghai, CN; VITRINE, London, UK; Wilkinson Gallery, London, UK: inCube Arts, New York; The Armory Show, Armory Focus: China, New York, US; ARTHK11 Special Projects, Hong Kong, CN; and Absolut at Art Basel Hong Kong 2014, Hong Kong, CN.
Abbas was included in Omar Kholeif's recent publication 'The Artists Who Will Change the World' (2018, published by Thames and Hudson) and has a current solo show 'Poor Toy' at VITRINE, Basel to coincide with Art Basel (June 2019).
About Miriam Stierle