On 14th August, two of London's most iconic destinations – the V&A and Borough Market – will collaborate to showcase innovative sustainable food growing techniques.

Food Exhibition -Mushrooms V&A
Borough Market trader Turnips Borough, a family-run fruit and vegetable retailer and wholesaler, will create a special dish – for one day only – using oyster mushrooms grown in the V&A from used coffee grounds. The mushrooms are a highlight of the V&A's current exhibition FOOD: Bigger than the Plate, and the collaboration aims to take the project beyond the museum for visitors to sample while shopping at London's oldest produce market.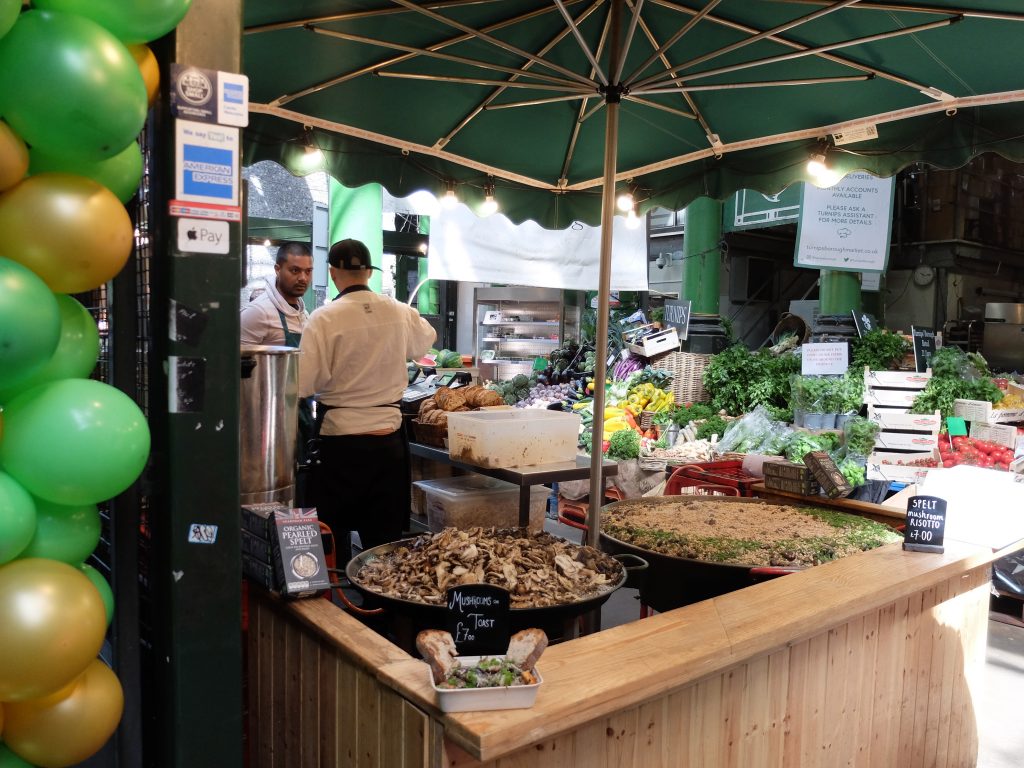 Turnips Borough
In an installation designed for the V&A by social enterprise GroCycle, oyster mushrooms are grown in the gallery from bags filled with used coffee grounds, including grounds from the V&A Benugo café where visitors drink 1,000 cups of coffee a day. The mushrooms are later harvested and return to the museum café as ingredients, closing the nutrient loop and challenging the notion of coffee grounds as 'waste' materials. The mushroom farm is one of over 70 contemporary projects in FOOD at the V&A, which is sponsored by BaxterStorey and explores how innovative individuals, communities and organisations are radically reinventing how we grow, distribute and experience food.
This collaboration will see the V&A redirecting their mushroom harvest to Borough Market for a day, providing 7kg of pink, yellow and grey oyster mushrooms for Turnips to create a delicious mushroom and spelt risotto. 10% of the sales will be donated to Plan Zheroes, a zero food waste charity that Borough Market has worked with since 2014 to redistribute top quality surplus produce from traders to charities across London. To date, Borough Market and Plan Zheroes have saved in excess of 67,000 kilograms of surplus food from going to waste – providing over 135,000 meals for Londoners in need.
Waste reduction is central to Borough Market's drive to promote a responsible, sustainable approach to food production and consumption and this collaboration is part of the Market's wider commitment to sustainability that includes the provision of public drinking fountains, a ban on single-use plastic bottles, a corn starch alternative to plastic bags and a recycling scheme which ensures zero waste goes to landfill.
Borough Market's approach chimes perfectly with Turnips' pioneering tackling of food waste. 15 years ago, before food waste became the hot topic it is today, Turnips began finding new uses for fruit and vegetables which, while perfectly good, could not be sold. This included the making of juices and smoothies with this produce. Today, Turnips' team of chefs use a range of seasonal produce to create incredible street food every day, including their rich mushroom risotto made with organic British spelt from Sharpham Park and topped with generous amounts of parmesan – the dish that inspired this collaboration.
Catherine Flood and May Rosenthal Sloan, co-curators of FOOD: Bigger than the Plate at the V&A said:
"FOOD: Bigger than the Plate explores a range of different ideas for creating a food future that is sustainable, fair and delicious. GroCycle's innovative method of using coffee ground to grow oyster mushrooms demonstrates the possibilities for creating closed loop systems and changing mind sets around waste. They have so far taught the technique to more than 1,000 people in 50 countries. It is a smart form of urban farming because while cities don't always have good soil, they do have an abundance of used coffee grounds that are still rich in nutrients. It is great to be able to bring the project to Borough Market to share the ideas and the mushrooms outside of the museum."
One day sustainable food pop-up 14th August at Turnips Borough, Borough Market www.turnipsboroughmarket.com
FOOD: Bigger than the Plate runs until 20th October 2019. Exhibition tickets are £17, concessions from £13 – available here. Apply the promo code 'Market5' at check out to redeem £5 off individual tickets – a special online-only offer to coincide with the Borough Market collaboration.
Categories
Tags