Lily Allen, Martin Parr, Jeremy Deller, Art Car Boot Fair and Zandra Rhodes anniversary exhibition light up final weekend of Cornwall's leading Arts festival.
Lily Allen, Martin Parr, Jeremy Deller, Alice Temperley, Aardman Studios, Extinction Rebellion, The Coral, Imedla May, Bruce Parry, Katy Brand, Ben Okri, Daisy Lowe, The Idler Academy, Emily Maitlis, Stealing Sheep and Russell Brand were among the leading musicians, artists, fashion designers, activists and authors taking part in the final edition of Port Eliot Festival between 25-28 July. There was also a preview of the Fashion and Textile Museum's forthcoming exhibition, Zandra Rhodes: Fifty Years of Fabulous. The Art Car Boot Fair had a Sunday take-over at the festival with artists Beatrice Brown, Camille Phoenix, Amelia Troubridge, Misfortune Tellers and Abigail Phallis taking part.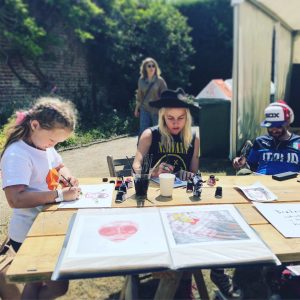 Beatrice Brown at Art Car Boot Fair, Port Eliot
Port Eliot has long been a fixture on the summer calendar for people seeking out a different kind of festival experience, where some of the most exciting figures from contemporary culture gather on an ancient Estate in St Germans, on the South East Rame Peninsula of Cornwall. Port Eliot Festival has its roots in The Elephant Fayre which began at Port Eliot in 1981 with a mix of performing arts, theatre, dance, comedy and music. The Elephant Fayre ended after 6 years with a legendary party, and was later reincarnated as Port Eliot Festival.

Camille Phoenix & Tilly Sharrock at Art Car Boot Fair, Port Eliot
The well-known photographer-documenter of British life, Martin Parr, has been a long time supporter of Port Eliot festival, and commented on the news that this will be the last edition: "Sad to think Port Eliot may fade away, I have been to many events here, and it is now an integral part of my summer routine. It's a magical place and one I will never forget.
Parr was talking about his new book at Port Eliot, intriguingly titled 'Space Dogs', and explained: "The Space Dogs were sent to space having been picked up as strays off the streets of Moscow. Given the backdrop of the cold war, the Russians getting these first living creatures into space was a huge propaganda achievement for the country. It was this triumph that provided the backdrop for this huge wave of space dog ephemera. I spotted this 30 years ago and became obsessed with the concept, and thus began collecting the assorted products and hence the manifestation of this book."

Martin Parr Collection. MEXICO. Mexico City. Honey Rose Studio. A Self Portrait. 2008
A thoughtfully curated programme included Daisy Lowe and Russell Brand reading from their children's books, and Lily Allen and Kate Spicer in conversation about their new books. At the Bowling Green stage there were readings and insights from high profile authors, journalists, poets and presenters including; Newsnight presenter Emily Maitlis; Novelist Ben Okri and Author Viv Groskop. Caught by the River features music, words and collaborations from artists including Stealing Sheep, Aldous Harding, Beak and The Orielles.
At the Fashion Foundation some of the most influential figures in art and fashion took part in a programme of talks and events including; Alice Temperley, Jeremy Deller, Preen and Tatsumi Orimoto. Port Eliot Festival celebrated the golden anniversary of Dame Zandra Rhodes's first fashion foray, including an exclusive sneak preview of the Fashion & Textile Museum's forthcoming exhibition, Zandra Rhodes: Fifty Years of Fabulous.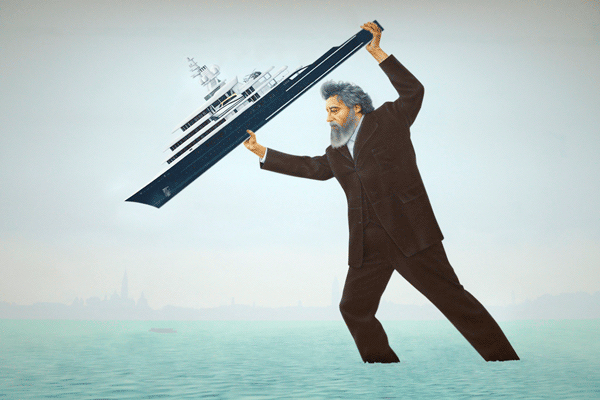 Image courtesy of Jeremy Deller
Louis Eliot, Port Eliot Festival creative director, said,
"Here at the festival, it is our aim to shine a light on some unseen marvels and to provide an intermission from what's expected. We hope it will stoke some new friendships and rekindle some old ones too. And whether you've come to be entertained, have your curiosity whetted or dance like a dervish till the sun comes up, we're sure you'll find something you like. Sadly, this is the last festival for the foreseeable future. From the beginning, we have celebrated the compelling and countercultural, the weird and wonderful and the thoughtful and progressive. The Festival team has always been passionate about compiling the best line-up and bringing the finest party to Cornwall. We are thankful to everybody that has come together to make the Festival what it is. We sincerely hope to return one day in the future."
porteliotfestival.com
About Lee Sharrock