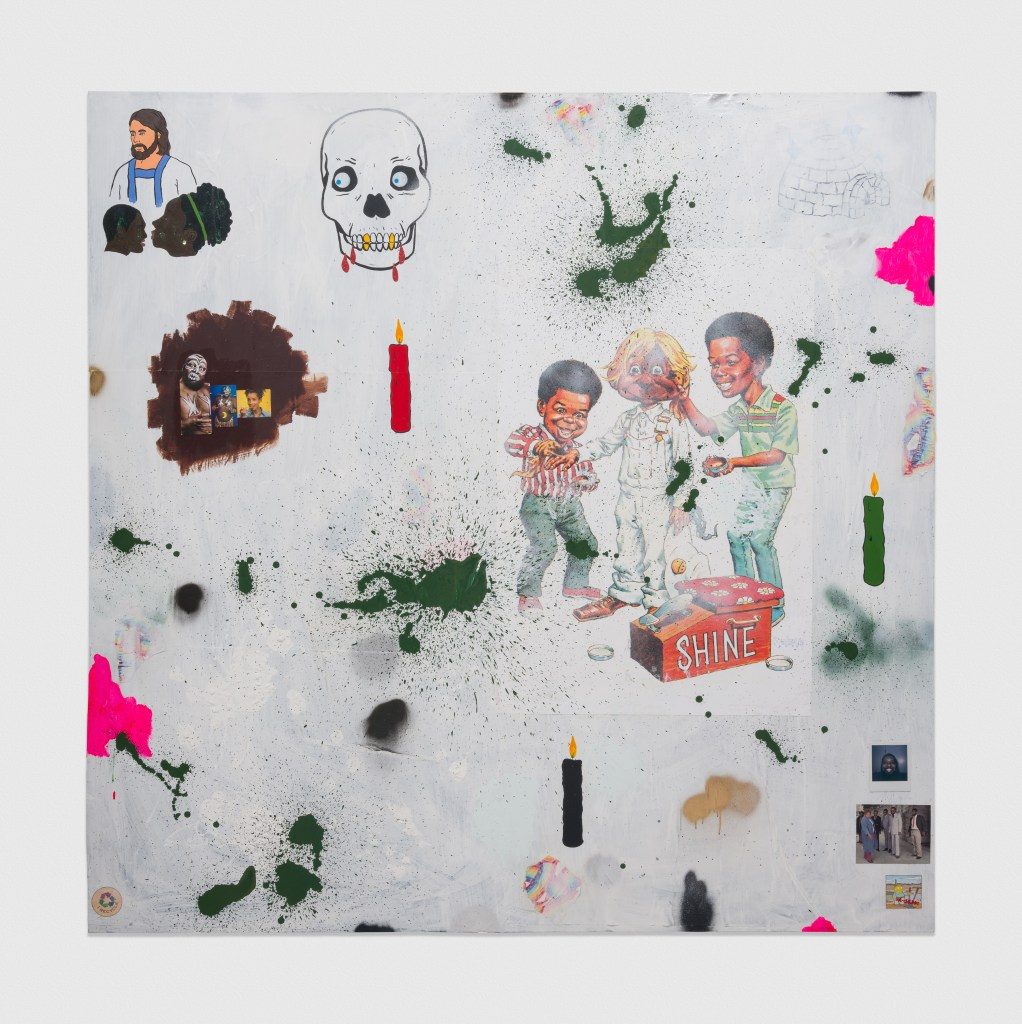 David Leggett, "She's saved, but it is the weekend," 2019. Acrylic, spray paint, and collage on paper mounted on canvas. 72 x 72 inches. Courtesy the Artist and Shane Campbell Gallery, Chicago /Photo: Evan Jenkins
I first interacted with David Leggett's work at Shane Campbell Gallery where some friends mentioned his name to be as an artist that might be of interest. At first sight, I was impacted with emotions of curiosity, humour, but in the end, I felt like a bystander to the racial notions that Leggett was portraying. The introspective aspect of Leggett's work is emotionally taxing in the most constructive way. After looking over and over again at his work I had so many questions that were born out of my own racial interactions and how he has found beauty in confronting race and politics in a contemporary society where we often are too scared to speak.
Caira: The reoccurring elements in your work, like cartoons, black icons, and American history how have these aspects impacted your life personally?
David: I was a shy child, so I spent most of my time alone growing up. I've always loved books and read a lot. In my alone time, I became fixated on history and began to understand the injustices in the world that persist to this day. I grew up on comic books and animated TV and movies, which can, in their own way, rewrite history. Sometimes they sugarcoat things, ignoring what really happened, and sometimes these shows and comic books reveal a darker reality. No matter the tone, with animation and comic books there's a lightness and ease to the format that opens difficult subject matters up to a larger audience to consider. This relationship between subject matter and form is the foundation of my work. With my work I try to make it as easy as possible for the viewer to approach it, to feel familiarity with what's being shown, so then there's a greater possibility they'll feel something about what's being said.
Caira: Is there a series of emotions you hope people interacting with your work experience and why?
David: I want the viewer to feel something with my work, but I don't want to script their experience. However, I would feel as though I've failed if you left with nothing. I try to leave it to the viewer to draw their own conclusions and feel whatever emotions they feel. I don't have any interest in being the moral compass for anyone. I think when artists make political art they are often telling the audience things they already know. I'd rather you question those beliefs.
Caira: What impact has Chicago as a city and where you spend your educational years shaped you as an artist?
David: I moved to Chicago in 2003 after I graduated from SCAD. I was interested in the Chicago Imagists (mostly the Hairy Who) and Kerry James Marshall. I discovered the Imagists' work in an art history book back in 2000. It was a very small bit of text on them, but I knew I wanted to know more about them. At the time there weren't many books in circulation on the Imagists. Kerry James Marshall's work was so different to me. His work was so powerful in its blackness. That was something I never felt or saw in anyone's artwork before.
I worked with many of the Imagists when I started grad school at SAIC. I was surprised how easy it was to meet them. They were so accessible. (Their popularity has grown in recent years.) What I like most about the Imagists' work was their interest in popular culture and subcultures. Unlike pop artists of the same time period, the Imagists seemed to actually enjoy popular culture. I enjoy popular culture as well.
Chicago is a city where artists work without the pressure or interest in following art world trends. Also, it's cold and grey most of the year, so I was indoors, in the studio being productive a lot.

David Leggett, "She's saved, but it is the weekend," 2019. Acrylic, spray paint, and collage on paper mounted on canvas. 72 x 72 inches. Courtesy the Artist and Shane Campbell Gallery, Chicago /Photo: Evan Jenkins
Caira: Your work opposed political correctness in my opinion, do you think as a society we hide racial issues that are a source of tension by being politically correct and how does your work combat this?
David: I've always been a person to blurt out things I wasn't supposed to say. I have a block when it comes to biting my tongue and that often reflects in the work. I wouldn't say I'm trying to combat political correctness. That is a little bit of an abstract idea. I do think in certain instances political correctness can be a kind of band-aid that never allows for any nuance or true progress. In my work I'm just reflecting how I see the world, how life occurs, but I may not always succeed at telling that story. Failure is always a possibility in art, and people don't always know where you're coming from. It's not accurate to say everything in my work reflects my personal beliefs, but it's also false to say none of it is informed by my true feelings. But I also don't think it's necessary for people to always understand my opinion on a matter. I truly want viewers to think for themselves.
Caira: You use text and images simultaneously in your work, Why is that and what is the goal for the viewer with interacting with the text and images?
David: Text and images go hand in hand, in my opinion. This comes from my interest in comic books. When you combine the two, you have more control over the narrative and can direct the subject(s). There's more opportunity when working with text and image together. The work's title is an extension of this, too. It all goes back to allowing the viewer multiple vantage points to consider.
Caira: You spent a majority of your time in the midwest and now you are located in LA, how have the cultural differences impacted your artistic process?
David: I'm from the east coast originally and never really considered myself a midwest artist. Los Angeles is a huge city that has a large art scene. There is so much variety in art here. I like that you can see so many different practices from such diverse artists. The big difference in living here is how everything is spread out. With everything being so spread out you are less likely to interact with people as much as you would in Chicago. Everyone is in their cars.
Caira: If you could collaborate with three artists from any time period who would it be and why?
David: I would choose Robert Colescott, Sigmar Polke, and Clementine Hunter. Robert Colescott had the ability to get to the core of Americas racism like no other artist. Sigmar Polke's use of different materials with such ease and command and combination of his subject matters have interested me for a long time. Clementine Hunter has such natural ability and a great sense of color and shape.
Caira: What is next for you?
David: I'm working on new paintings and works on paper for upcoming art fairs this fall. I'm in talks for a few group shows coming up as well, here in the US and in Europe.
Caira Moreira-Brown Bio
Caira Moreira-Brown is a Chicago-New York based art and culture writer and arts professional with experience in museums and galleries. She holds a B.A. in Art History with a concentration in African-American Art from The Ohio State University. She has held positions at Fredrich Petzel Gallery, Kim Heirston Art Advisory, 67 Gallery, Castor Gallery, Joseph Editions, The Wexner Center for Art, The Scholastic Art & Writing Awards and EXPO Chicago.In addition to her writing, Caira was photographed by Andres Serrano for his America Series that comprises about 100 portraits of people from many different walks of life.
Categories
Tags