Andreas Angelidakis, DEMOS, d14, collection Albertinum, Dresden. Photo Stathis Mamalakis. Courtesy the Breeder
The cultural renaissance transforming the seaside towns of England's South East — spearheaded by the region's world-class galleries and arts organisations — is the inspiration for England's Creative Coast, a series of art commissions and creative initiatives that will connect the coastline of Essex, Kent and East Sussex, bringing new visitors to the region. The first artwork will be launched in spring 2020 with Michael Rakowitz's commission in Margate, with the others following sequentially over the summer.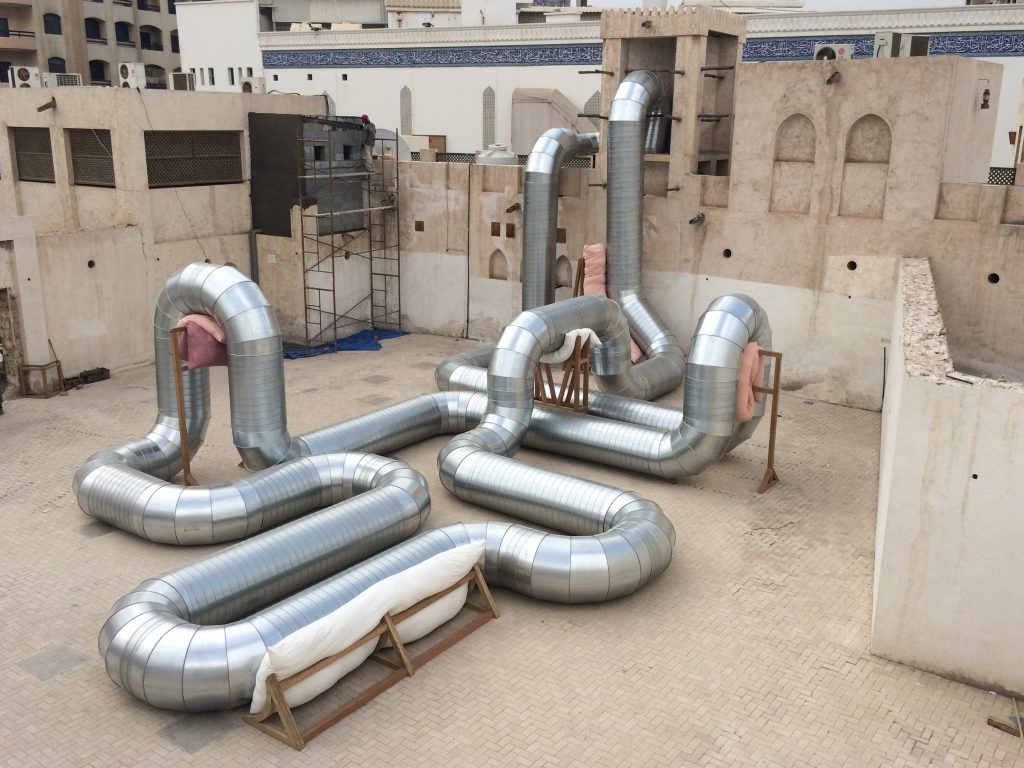 Holly Hendry, Homeostasis (2014) and Homeostasis II, 2018, Galvanised steel ducting, meranti wood, cushions, fan, air. Sharjah Art Foundation + Domaine Vranken Pommery
This ground-breaking project, which is led by Turner Contemporary and Visit Kent and principally funded by Arts Council England and Visit England / Visit Britain through the Discover England Fund, encompasses:
• Waterfronts, curated by Tamsin Dillon – a series of seven new site-specific art commissions by Andreas Angelidakis, Mariana Castillo Deball, Holly Hendry, Jasleen Kaur, Katrina Palmer, Pilar Quinteros and Michael Rakowitz launching through 2020 and on display until late Autumn
• The world's first art GeoTour using GPS-enabled geocaching technology to share the hidden stories and creative spirit of England's South East coast, as told by local communities
• Art Homes, to be piloted in Margate during the 2019 Turner Prize, which invites visitors to stay in the homes of local artists
• Self-build itineraries that allow visitors to curate their own journeys, from cultural experiences to food, drink and accommodation offers

Mariana Castillo Deball, Hipo?tese de uma a?rvore [Hypothesis of a Tree], Sau Paolo Biennial, 2016. Installation view of the 32nd Sa?o Paulo Biennial, Sao Paulo, Brazil 2016. Photo © Leo Eloy / Estu?dio Garagem/ Fundac?a?o Bienal de Sa?o Paulo
Towner Eastbourne, the De La Warr Pavilion in Bexhill-on-Sea, Hastings Contemporary, Creative Folkestone, Turner Contemporary in Margate, Cement Fields in Gravesend and Metal in Southend-on-Sea are joining forces for the first time to pioneer a cultural adventure that stretches from the South Downs to the Thames Estuary, running from Spring to late Autumn of 2020.
The breath-taking coastline of Essex, Kent and Sussex is home to some of the UK's most distinctive and visionary galleries and art events. From the iconic modernism of the De La Warr Pavilion —designed by architects Mendelsohn and Chermayeff to offer a new model of cultural provision for the people of Bexhill-on-Sea in 1935 and re-opened in 2005; through to the Chipperfield-designed Turner Contemporary in Margate, host of Turner Prize 2019, which has attracted over 3.2million visits and become an internationally renowned visitor attraction since opening in 2011; to Creative Folkestone's mission to transform its town through collective creativity, the area has been at the forefront of arts led regeneration.
Over the past twenty years this arts regeneration has driven a significant renaissance in the region, expanding local economies by bringing new jobs, businesses and visitors to the coast while connecting the arts to daily life. With improved rail links such as Southeastern's High Speed service, travel from London and moving from place to place along the coast has become easier and faster, bringing even more people to the area.
England's Creative Coast builds on and celebrates this success, bringing together these coastal arts organisations for the first time in a project that connects art with the coastline to explore its ecology, history and future, and invites visitors to explore the region in a new way.
Sarah Dance, Director of England's Creative Coast:
"The creative vein that runs through the South East coast is unparalleled. Our exceptional galleries and arts organisations are helping to lead the transformation of our towns. By working with the local communities and international artists to create place-specific work and by putting arts and culture at the core of the tourism offer, England's Creative Coast is creating a truly new visitor experience that will help us to celebrate and share the power that art has to transform places."
England's Creative Coast has appointed Tamsin Dillon to curate a series of seven specially commissioned artworks, collectively titled Waterfronts, each situated on and made in response to seven places along this coastline:
• Michael Rakowitz working with Turner Contemporary in Margate
• Mariana Castillo Deball working with Towner Eastbourne
• Holly Hendry working with the De La Warr Pavilion in Bexhill-on-sea
• Andreas Angelidakis working with Hastings Contemporary
• Pilar Quinteros working with Creative Folkestone as part of Folkestone Triennial 2020
• Jasleen Kaur working with Cement Fields in Gravesend
• Katrina Palmer working with the Southend-based organisation, Metal
The artists will explore the border between the land and the waters, bringing their own knowledge, understanding and interests to reflect on the issues faced by these particular locations. The commissions will include sculpture, land drawing, painting, sound and video — all distinct works yet linked by the coastline, its people, history and future.

Michael Rakowitz, The Invisible Enemy Should Not Exist, 2020
"There are many things that interest and excite me about the prospect of making a site-specific work in Margate. The history of poets and rescuers looking out at the sea for inspiration and life has informed my project, as has the fossil bearing rock of the coast, which reminds me that stone is an archive. But I am also led by urgency, of understanding what it means to be at the edge of a place, where hospitality and hostility mix."
Michael Rakowitz
About the artists
Andreas Angelidakis (b. 1968, Athens) is interested in how people react to structures. His multi- disciplinary artworks try to make sense of where we are and how we got there. He lives and works in Athens.
Mariana Castillo Deball (b. 1975, Mexico City) mediates between science, archaeology and the visual arts to explore the ways in which these describe the world. She lives and works in Berlin.
Holly Hendry (b. 1990, London) makes sculptures and installations that give physical form to ideas around emptiness, edges, absence, flatness, fakes and forgeries — things that are missing and unknown. She lives and works in London.
Jasleen Kaur (b. 1986, Glasgow) investigates the hybridity of an ongoing exploration into the malleability of culture and the layering of social histories within materials and objects. She lives and works in London.
Katrina Palmer (b. 1967, London) works with storytelling, distributing fragmented elements of narrative across found sites, audio environments, printed matter and performance. She lives and works in London.
Pilar Quinteros (b. 1988, Santiago) works across drawing, video and sculpture, often using inexpensive materials. Her practice explores how one is affected by the context of a place and shaped by its norms, often through interventions in public places. She lives and works in Santiago, Chile.
Michael Rakowitz (b. 1973, New York) reconstructs lost histories through his art, since 2006 seeking to reconstruct more than 8,000 artefacts from the National Museum of Iraq in Baghdad that are missing, stolen, destroyed or 'of status unknown' following the 2003 invasion by the US- led coalition. He lives and works in Chicago, USA.
Categories
Tags