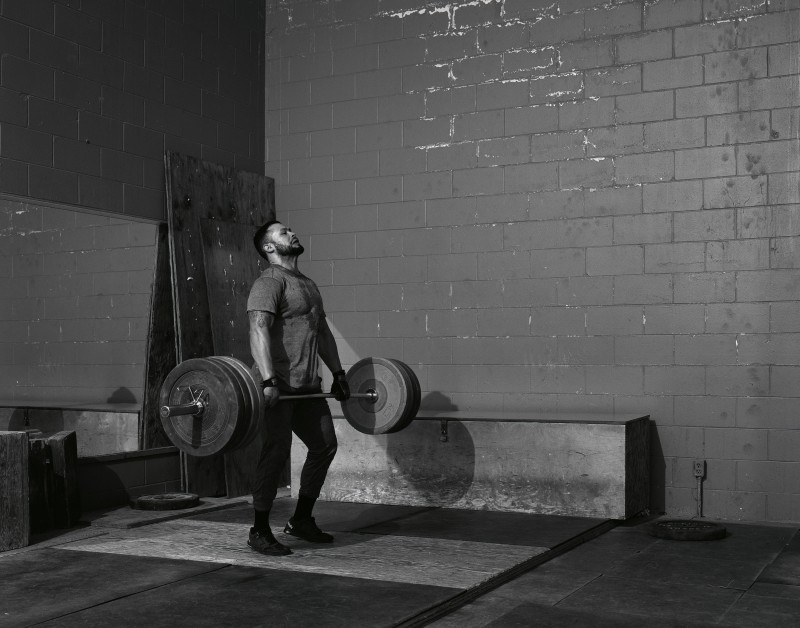 White Cube Mason's Yard is to present an exhibition of new and recent works by Jeff Wall, a number of which strike out in new directions for the artist.
Recovery (2017-18) depicts a seaside park on a bright summer afternoon. It appears to be a photograph of a painting executed in a flat decorative style, featuring bright colours and minimal detail while retaining the concreteness of a specific moment in time. In the foreground a seated figure, partly photographic and partly painted, gazes out of the picture. Could it be that this image is of a blissful, fleeting vision occasioned by the young man's recovery from some, happily short-lived, misfortune? Recovery recalls Wall's earlier forays into the hallucinatory, including Dead Troops Talk (1992) and The Flooded Grave (2000).
While Recovery appears to momentarily halt time, time itself becomes a tool in the triptych I giardini / The Gardens (2017) which, for the first time in Wall's oeuvre, presents a narrative that develops chronologically. The three images – individually titled Appunto / Complaint, Disappunto / Denial, and Diffida / Expulsion – trace the relationship between either two or four characters, across three moments. Figures appear as doubles in different modes and registers, as the drama plays out in the three distinct garden spaces. Procedures of doubling, or near doubling, of subject and image are also used in the diptych Pair of Interiors (2018), in which each panel presents a couple in a lamp-lit living room. Here, however, there is no 'before and after' dialogue between the images, and the relationship between the couple (or couples) is suspended in time.
Parent child (2018) offers another sunny summer day, this time the scene is of a sidewalk in a suburban shopping district. A man gazes down at a little girl who has decided – for reasons of her own – to lie down on the presumably warm, clean and inviting sidewalk. Neither she nor her guardian shows any signs of frustration or impatience. Parent child has the relation to street photography that Wall has developed over the past decades; a contemplation of its effects by means of pictorial construction or reconstruction, a mode he calls 'near documentary'.
Wall's most recent black-and-white picture, Weightlifter (2015), can equally be considered as 'near documentary', or even possibly as documentary photography pure and simple. The lifting of heavy objects recalls the most archaic forms of labour and the permanent subjection of life to the force of gravity. The sport of weightlifting enacts that archaism, detached from any practical purpose and absorbed in private ambition.
Another rapt child appears in Mother of pearl (2016), this time located in a room filled with antique furniture and tasteful keepsakes. She seems fascinated by the iridescence of a set of old game-counters fashioned from mother of pearl, which lends the picture its title, and transported by her imagination as perhaps only children can be.
Three older landscape pictures, two of which are exhibited in London for the first time, are brought together in the ground floor gallery. Hillside near Ragusa was made in the autumn of 2007 near this Sicilian city. Wall was captivated by the remains of old stone walls that criss-cross the hills of the island, and he travelled there specifically to make pictures of them. Hillside is a documentary contemplation of a place simultaneously marked by antiquity and modernity.
Daybreak (on an olive farm / Negev Desert / Israel) was made in 2011, when Wall visited Israel as a participant in a project that invited a number of foreign photographers to the country. He discovered the subject by accident, while in the process of touring other aspects of the desert area. Olive harvest workers, who routinely sleep in the open, are shown at daybreak just before they awake and begin their workday. Wall was inspired by the coincidence of the serene olive grove and the large prison complex just beyond it. The Bedouin harvesters sleeping in the open not far from thousands who sleep in storied cells underground – a coincidence that seems to well up out of the depths of Israel's intensely complex political landscape.
Property line (2015) was made in California City, a city speculative planned in the 1960s, and intended for a community of hundreds of thousands, complete with roads, water services and lot divisions. The population never materialised, bankrupting the original investors, but exists with a population of 14,000. Lots are still bought and sold in the uninhabited neighbourhoods, and from time to time, the services of surveyors are still called upon.
Preview: Thursday 27th June 28th June 2019 – 7th September 2019 White Cube Mason's Yard whitecube.com
About the Artist
Jeff Wall is renowned for large-format photographs with subject matter that ranges from mundane corners of the urban environment to elaborate tableaux that take on the scale and complexity of nineteenth-century history paintings.
Wall seized on the idea of producing large, backlit photographs after seeing an illuminated advertisement from a bus window. He had recently been to the Prado, Madrid, and the artist combined his knowledge of the Western pictorial tradition – he had studied art history at London's Courtauld Institute – with his interest in contemporary media to create one of most influential visions in contemporary art. Wall calls his photographs, after Charles Baudelaire, 'prose poems', a description that emphasises how each picture should be experienced rather than used to illustrate a pre-determined idea or a specific narrative. His pictures may depict an instant and a scenario, but the before and after that moment are left completely unknown, allowing them to remain open to multiple interpretations. The prose poem format allows any truth claims of the photograph – the facts we expect from journalistic photography – to remain suspended, and Wall believes that in that suspension the viewer experiences pleasure. In addition to the light-boxes, Wall has made, since 1996, black-and-white prints and large-scale colour inkjet photographs.
Jeff Wall was born in 1946 in Vancouver where he lives and works. He has exhibited widely, including solo exhibitions at Kunsthalle Mannheim, Germany, touring to Mudam Luxembourg (2018); Pérez Art Museum, Miami (2015); Stedelijk Museum, Amsterdam, touring to Kunsthaus Bregnez, Austria and Louisiana Museum of Modern Art, Humlebaek, Denmark (2014–15); Art Gallery of Western Australia, touring to National Gallery of Victoria, Melbourne and Museum of Contemporary Art Australia, Sydney (2012–13); Pinakothek der Moderne, Munich, Germany (2013); Centro Galego de Arte Contemporanea, Santiago de Compostela, Spain (2011); Museo Tamayo, Mexico City (2008); The Museum of Modern Art, New York touring to The Art Institute of Chicago and San Francisco Museum of Modern Art (2007); and Tate Modern, London touring to Schaulager, Basel, Switzerland (2005). Group exhibitions include 5th Shanghai Biennale (2004); Documenta 11, Kassel, Germany (2002); 12th Biennale of Sydney (2000); 24th Bienal de São Paulo (1998); and Documenta 10, Kassel, Germany (1997).
Categories
Tags