Hauser & Wirth have announced plans to open an arts centre on Isla del Rey, located in the port of Mahon in Menorca. The centre's programme will span ambitious new commissions by gallery artists across all media and exhibitions of 20th-century modern masters, underpinned by a robust series of educational activities. The annual series of changing exhibitions will be presented from April to October and, to contextualise works on view, some will include major loans from museums.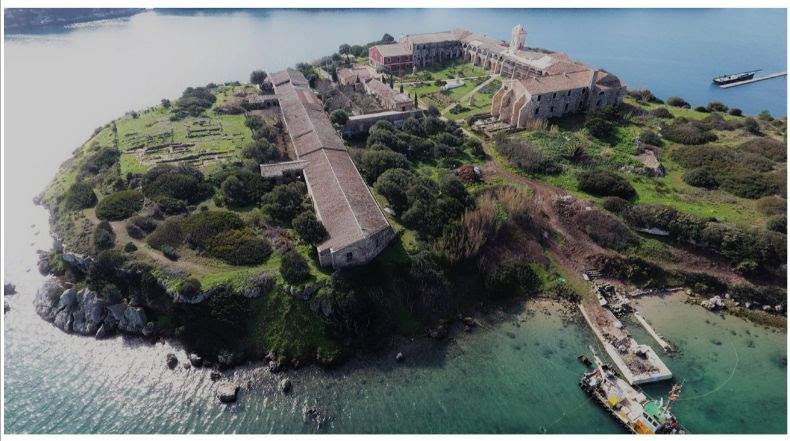 Courtesy Hauser & Wirth Photo: Hélène Binet
Isla del Rey, one of three islands in Mahon port, is home to an architecturally imposing decommissioned naval hospital and a group of disused outbuildings built in the 18th-century. La Fundación Hospital de la Isla del Rey has spearheaded the ongoing restoration of the hospital buildings and creation of a museum celebrating their illustrious history. Working closely with La Fundación Hospital de la Isla del Rey, the President of its board Luis Alejandre, and the Town Hall of Mahon, Hauser & Wirth will conduct a major conservation project to sensitively repurpose the hospital's Langara outbuildings into the arts centre.
Hauser & Wirth Menorca will comprise an exhibition space, education programme, gardens, a gallery shop, and 'cantina' restaurant. The 1,500 square metre space will be restored by the Paris-based, Argentinean architect Luis Laplace, a long-standing collaborator of the gallery. The internationally acclaimed landscape designer, Piet Oudolf, will create gardens in and around the arts centre incorporating native species and planting suited to the Menorcan climate. Laplace and Oudolf were both instrumental in the development of Hauser & Wirth Somerset and will collaborate for this project with a group of local architects, Miquel Sintes, Minerva Sánchez and Bià Garriga, and with a landscape architect from the region, Álvaro de la Rosa.
Hauser & Wirth Menorca's dedicated education programme will offer bespoke and varied education initiatives aimed at engaging the community and international visitors with contemporary art. Hauser & Wirth is partnering with local charities, makers and organisations with whom to develop a range of learning activities that underpin each exhibition. Activities will be developed for and in conjunction with the community's schools, for families and adults as well as tourists, and will include screenings, talks, and interactive workshops.
The Director of Hauser & Wirth Menorca is Mar Rescalvo who hails from Menorca and brings wide experience of delivering cultural and educational projects in the Balearic Islands, Barcelona and Amsterdam. A series of local partnerships and cultural collaborations are underway with the Museu de Menorca, Escola d'Art de Menorca, The Fundació Menorquina de l'Opera and the IME (Institut of Menorquin Studies).
Iwan Wirth comments:
'Manuela and I have been visiting Menorca for several years and long ago fell in love with the island's wild beauty, the hospitable nature of the people who live here and their tenacious efforts to protect the natural environment and cultural heritage of the island. The kindness and enthusiasm shown to us by the Menorcan community and local government when we first began discussing the idea for this project was overwhelming, and convinced us to go ahead. The Fundación Hospital de la Isla del Rey has worked tirelessly to restore the island and are a huge inspiration – we look forward to joining them as custodians of this precious land and working hand-in-hand to transform Isla del Rey into the cultural hub of Menorca.'
The project on Isla del Rey will be developed according to the model of Hauser & Wirth Somerset, the rural arts centre in South West England that focuses on the surrounding community and connects a passion for art with education, conservation, nature, sustainability and locally sourced food. Hauser & Wirth Somerset opened in July 2014 and has since garnered international acclaim and received over 650,000 visitors including 100 schools and educational institutions per year.
About Fundación Hospital de la Isla del Rey
The Hospital Foundation of Isla del Rey is a private, non-profit organisation, established in 2005 to protect and promote the island and conserve the Isla del Rey, the site of a former 18th-century naval hospital. This historic building remains in place today and forms a u-shape, facing southeast surrounding a square and chapel. The Hospital Fundación Isla del Rey provides financial resources and materials for a group of dedicated local volunteers who participate in an ongoing programme of conservation activities on the island undertaken each Sunday. The president of the Foundation's board is Luis Alejandre.
About Isla del Rey
Isla del Rey (Illa del Rei) is an island of approximately 40,000 square metres situated in the port of Mahon in Menorca and is characterised by its rich flora and fauna and historic buildings. It gained the name Isla del Rey as the place where King Alfonso III landed in 1287 when he arrived to conquer the island of Menorca. The main landmark of the island is a decommissioned hospital founded by the English navy in 1711. The remains of a Paleochristian basilica dating from the sixth century AD is located close to the hospital and was discovered in 1888. The island returned to Spanish control following the Treaty of Amiens in 1802 and is now part of the Municipality of Mahon.
Categories
Tags