British artist Anish Kapoor will present a solo exhibition at the Central Academy of Fine Arts Museum and the Imperial Ancestral Temple, by the walls of the Forbidden City in Beijing, from Autumn 2019. This will be Anish Kapoor's first large-scale solo exhibition in China.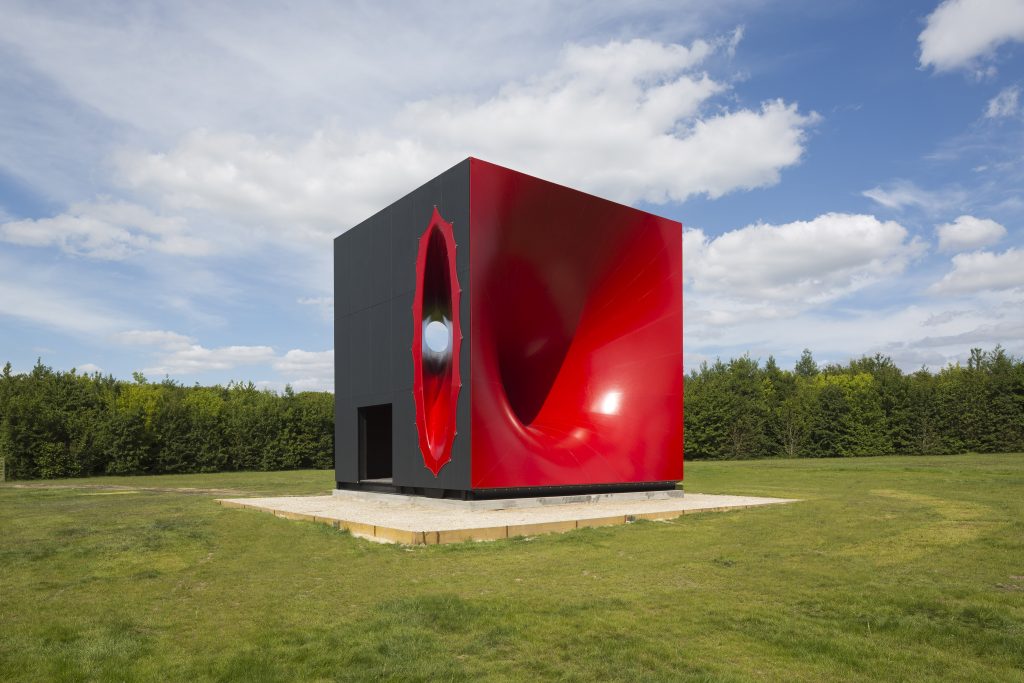 Anish Kapoor Sectional Body Preparing for Monadic Singularity , 2015 P.V.C and steel7.3 x 7.3 x 7.3m Photo: Tadzio
© Anish Kapoor, 2019. All rights reserved
Anish Kapoor's solo exhibition at the Central Academy of Fine Arts (CAFA) Museum and the Imperial Ancestral Temple Arts Museum is led by Academic Consultant Fan Di'an (President of CAFA) with contribution by Su Xinping and Hans Ulrich Obrist, Artistic Director of the Serpentine Galleries, alongside Zhang Zikang as Chief Curator of the project and supported by Central Academy of Fine Arts (CAFA) and Beijing Municipal Federation Trade Unions.
The Forbidden City is the palatial heart of China. Constructed in 1420, during the early Ming Dynasty, it is China's best-preserved imperial palace, and the largest ancient palatial structure in the world, attracting over 10 million visitors annually. The Imperial Ancestral Temple is a historic site and temple built just outside of the Forbidden City walls. During ancient festivals and ceremonies Chinese emperors worshipped within the Temple, thus making it one of the most sacred sites in Imperial Beijing.
The Central Academy of Fine Arts (CAFA) is China's most prestigious and renowned art academy in China and is the only art academy managed directly by the Ministry of Education. The CAFA Museum is the first dedicated art museum constructed by the People's Republic of China. Spread over 14,777 square metres across four floors, the new museum was completed in 2008 and designed by Pritzker Prize winning Japanese architect, Arata Isozaki. This exhibition will create an unprecedented dialogue with the contemporary art space of CAFA Museum as well as the grand historical space of the Imperial Ancestral Temple.
Both exhibitions are organised in collaboration with Beijing Zonhom Arts and Cultural Development, and Lisson Gallery.
About The Artist
Anish Kapoor was born in Mumbai, India in 1954 and lives and works in London. He studied at Hornsey College of Art, London, UK (1973–77) followed by postgraduate studies at Chelsea School of Art, London, UK (1977–78). Recent solo exhibitions include Serralves Museum, Porto, Portugal (2018); 'Descension' at Public Art Fund, Brooklyn Bridge Park Pier 1, New York, NY, USA (2017); Parque de la Memoria, Buenos Aires, Argentina (2017); MAST Foundation, Bologna, Italy (2017); Museo Universitario Arte Contemporáneo (MUAC), Mexico City, Mexico (2016); Couvent de la Tourette, Eveux, France (2015); Château de Versailles, France (2015) and The Jewish Museum and Tolerance Center, Moscow, Russia (2015). Anish Kapoor represented Britain at the 44th Venice Biennale in 1990 with Void Field (1989), for which he was awarded the Premio Duemila for Best Young Artist. Kapoor won the Turner Prize in 1991. Large scale public projects include Marsyas (2002), Tate Modern, London; Cloud Gate (2004) in Millennium Park, Chicago, IL, USA; Temenos (2010) in Middlesbrough, U.K; Leviathan (2011), Grand Palais, Paris; Orbit (2012) in the Queen Elizabeth Olympic Park, London and Ark Nova (2013) the world's first inflatable concert hall in Japan.
About CAFA
The history of the CAFA Art Museum can be traced back to the early 1950s. Originally called the Central Academy of Fine Arts Gallery, the Gallery was the first professional art museum built after the establishment of the People's Republic of China. In 1998, the Gallery changed its name to the CAFA Art Museum. In October 2008, the museum's new building was designed by the noted Pulitzer winner Japanese architect, Arata Isozaki. At the end of 2010, the CAFA Art Museum was selected to be one of the first to be listed as the Key National Museums. The CAFA Art Museum is a professional and international modern art museum that conducts academic research, presents exhibitions, restores artworks and provides art education. The museum upholds the philosophy of open-mindedness and is rooted in the concept of using knowledge to serve society. It aims to bridge the past and the future through presenting great artistic and cultural accomplishments of our humanity, and share the culture of our times with all quarters of society.
About Beijing ZONHOM Arts and Cultural Development
Beijing ZONHOM Arts and Cultural Development was founded in 2014. It is an arts management company that works with international artists, Chinese artists, and art museums to manage their art projects in China and overseas.
Categories
Tags