Tate today announced highlights of its 2020 exhibitions across its four galleries. Spanning over 300 years of groundbreaking art, the programme will take visitors from the Stuart court of the 1660s to Warhol's Factory in the 1960s. There will also be a wide range of contemporary solo exhibitions and commissions, showcasing painting, sculpture, photography, film, installation and performance, including Zanele Muholi, Lynette Yiadom-Boakye, Haegue Yang and Aliza Nisenbaum.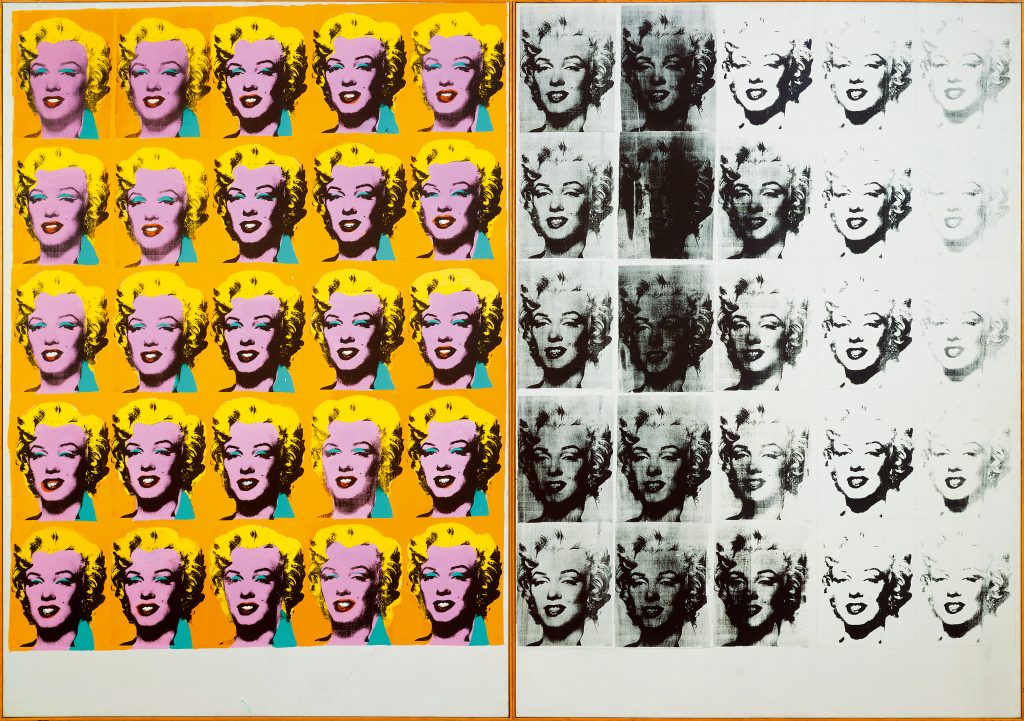 Andy Warhol Marilyn Diptych 1962 Tate. © 2019 The Andy Warhol Foundation for the Visual Arts, Inc. / Artists Right Society (ARS), New York and DACS, London
Maria Balshaw, Director of Tate, said:
'Tate's 2020 exhibitions reflect what we do best: New scholarship will reveal some of the great figures of art history as you've never seen them before, while major shows of contemporary art will give a platform to exciting and innovative artists working around the world today.'
Spring 2020
In the spring Tate Modern will open a bold new Andy Warhol exhibition, telling the story of a shy outsider who became a pop art superstar. The show will demonstrate how his work captured the contradictions of 20th century American society and culture, informed by his own identity as a gay Catholic man from a working-class immigrant family. In February Tate Modern will also stage a show spanning 20 years of work by Turner Prize-winning artist and Oscar-winning filmmaker Steve McQueen, overlapping with his hugely ambitious Year 3 project at Tate Britain, while in March the annual BMW Tate Live Exhibition will return to the Tanks for 10 days of live performance.
Alongside its annual Winter Commission – this year undertaken by artist Anne Hardy – and its ongoing Art Now programme, Tate Britain will present a double bill of historic art with two major exhibitions: The first will be a sweeping survey of British art in the Baroque age, from the Restoration of Charles II in 1660 to the death of Queen Anne in 1714. Featuring many works never shown in public before, Baroque in Britain will explore how art and architecture were used by the crown, the church and the aristocracy to project images of power and status. This will be followed by a landmark retrospective of Aubrey Beardsley's sinuous and scandalous drawings, bringing together over 200 images from the erotic to the grotesque.
Tate St Ives will start the year with a large-scale exhibition of Naum Gabo's constructivist sculptures, paintings, drawings and designs. Marking the centenary of his revolutionary Realistic Manifesto, launched with his brother in Moscow in 1920, this will be the first retrospective of Gabo's work to be held in the UK for over 30 years. Tate Liverpool's Theaster Gates exhibition, Amalgam, will open in December 2019 and continue through spring 2020. His first UK museum show, it will use sculpture, film, dance and music to explore the complex and intertwining issues of race, territory and inequality in the USA. It will run alongside an exhibition of Vivian Suter's brightly coloured paintings inspired by tropical Guatemalan landscapes.
Summer 2020
Summer 2020 will see all four Tate galleries present solo exhibitions of modern and contemporary artists. Tate Liverpool will showcase Candice Breitz's powerful video installation Love Story, relating the experiences of the global refugee crisis from around the world. Tate St Ives will stage an exhibition of new and existing work by Haegue Yang, renowned for her varied artistic languages and for combining industrial and everyday materials to create immersive environments and labour-intensive, creature-like sculptures. From April Tate Modern will also host the largest exhibition yet of visual activist Zanele Muholi's intimate and intense photographs of LGBTQI+ individuals, while from June visitors will be immersed in a forest of vast textile sculptures in an exhibition of work by Polish artist Magdalena Abakanowicz. Tate Britain will open an extensive survey of Lynette Yiadom-Boakye, one of the most important painters of her generation, whose images of imaginary black characters allude to historic portraiture through decidedly contemporary subjects and techniques.
Photography will also be on show at Tate Britain, where an exhibition of documentary photographs will chart the period of change, struggle and hope between 1945 and 1979, from British conflicts and interventions abroad to migration and civil rights movements at home. The summer will also see new works of contemporary art unveiled in London and Liverpool, with Heather Phillipson undertaking the annual Tate Britain Commission for the Duveen Galleries, and Tate Liverpool joining venues across the city for the Liverpool Biennial, the UK's largest festival of contemporary art.
Autumn 2020
In autumn 2020, in the year that JMW Turner will appear on the new £20 bank note, Tate Britain will celebrate Britain's great painter of the industrial revolution with a major new exhibition: Turner and the Modern World will show his fascination with the age when machine-power replaced manpower, steam replaced sail, and a new society was forged. It will also coincide with the 2020 Turner Prize exhibition, named in honour of this innovative and influential artist.
Alongside the annual Hyundai Commission for the Turbine Hall, Tate Modern will present an ARTIST ROOMS exhibition dedicated to Phyllida Barlow, as well as retrospectives of two very different sculptors: The EY Exhibition: Rodin will reveal Auguste Rodin as a radical artist, whose highly experimental works modelled in clay and plaster broke with century-long traditions and inaugurated a new age of modern sculpture. A survey of Slovak artist Maria Bartuszová, meanwhile, will provide a long overdue opportunity to explore her varied practice, from tactile organic works in plaster to commissions for public spaces and ephemeral works in the landscape. Tate Modern will also open an emphatically experiential exhibition spanning 40 years of Bruce Nauman's restlessly inventive work, featuring neon lights, film projections, 3D videos and holograms. A new commission by Aliza Nisenbaum, best known for her paintings that often focus on members of local communities, will be unveiled at Tate Liverpool in the autumn, while Kosovar artist Petrit Halilaj will have his first UK museum solo exhibition at Tate St Ives. Halilaj explores cultural heritage and memory through installations that include found objects, as well as animal forms that act as metaphors for transformation and discovery.
Find reaviews etc about TATE exhibitions here and here
EXHIBITION DATES
Winter Commission 2019: Anne Hardy (1 December 2019 – January 2020, Tate Britain)
Theaster Gates: Amalgam (13 Dec 2019 – 4 May 2020, Tate Liverpool)
Supported by University of Liverpool and Tate Members. Exhibition organised in collaboration with the Palais de Tokyo, Paris
Vivian Suter (13 Dec 2019 – 16 March 2020, Tate Liverpool)
Naum Gabo (24 Jan – 4 May 2020, Tate St Ives)
Baroque in Britain (5 Feb – 19 Apr 2020, Tate Britain)
Supported by White and Case, with additional support from Tate Patrons
Steve McQueen (13 Feb – 10 May 2020, Tate Modern)
Exhibition organised by Tate Modern in collaboration with Pirelli HangarBicocca, Milan
Aubrey Beardsley (4 Mar – 25 May 2020, Tate Britain)
Touring to the Musee d'Orsay, Paris
Andy Warhol (12 Mar – 6 Sep 2020, Tate Modern)
In partnership with Bank of America, with additional support from Tate Patrons and Tate Members. Presented in The Eyal Ofer Galleries. Exhibition organised by Tate Modern and Museum Ludwig, Cologne in collaboration with the Art Gallery of Ontario, Toronto and Dallas Museum of Art
BMW Tate Live Exhibition (20 – 29 Mar 2020, Tate Modern)
In partnership with BMW
Candice Breitz: Love Story (9 Apr – 7 Jun 2020, Tate Liverpool)
Zanele Muholi (29 Apr – 18 Oct 2020, Tate Modern)
Exhibition organised by Tate Modern in collaboration with the Maison Européenne de la Photographie, Paris, Gropius Bau, Berlin and Bildmuseet at Umeå University
Lynette Yiadom-Boakye (19 May – 31 Aug 2020, Tate Britain)
Touring to the Guggenheim Museum, Bilbao
Haegue Yang (22 May – 6 Sept 2020, Tate St Ives)
Magdalena Abakanowicz (11 Jun – 13 Sep 2020, Tate Modern)
Exhibition organised by Tate Modern in collaboration with Fondation Toms Pauli, Lausanne
Tate Britain Commission: Heather Phillipson (16 Jun – 18 Oct 2020, Tate Britain)
Becoming Britain: Photography 1945-79 (30 Jun – 27 Sep 2020, Tate Britain)
ARTIST ROOMS: Phyllida Barlow (Jul 2020 – Jun 2021, Tate Modern)
Liverpool Biennial (11 Jul – 25 Oct 2020, Tate Liverpool)
Petrit Halilaj (25 Sep 2020 – 3 Jan 2021, Tate St Ives)
Turner Prize (30 Sep 2020 – 3 Jan 2021, Tate Britain)
Supported by BNP Paribas
Bruce Nauman (6 Oct 2020 – 17 Jan 2021, Tate Modern)
Presented in The Eyal Ofer Galleries. Exhibition organised by Tate Modern and Stedelijk Museum, Amsterdam in collaboration with Los Angeles County Museum of Art
The Hyundai Commission (6 Oct 2020 – 5 Apr 2021, Tate Modern)
In partnership with Hyundai Motor
The EY Exhibition: Rodin (21 Oct 2020 – 21 Feb 2021, Tate Modern)
Part of The EY Tate Arts Partnership. Exhibition organised by Tate Modern and Musée Rodin, Paris
Turner and the Modern World (28 Oct 2020 – 7 Mar 2021, Tate Britain)
Touring to the Museum of Fine Arts, Boston
Maria Bartuszová (11 Nov 2020 – 18 Apr 2021, Tate Modern)
Exhibition organised by Tate Modern in collaboration with Belvedere 21, Vienna
Aliza Nisenbaum (27 Nov 2020 – 7 Mar 2021, Tate Liverpool)
Categories
Tags