During a prolific career span of more than 3 decades Martin Parr has lived through a move from analogue to digital, while his work has documented Britain and what it means to be British. Now more than ever his recurring theme of 'Britishness' resonates, in particular with the looming advent of Brexit and all the uncertainty associated with it.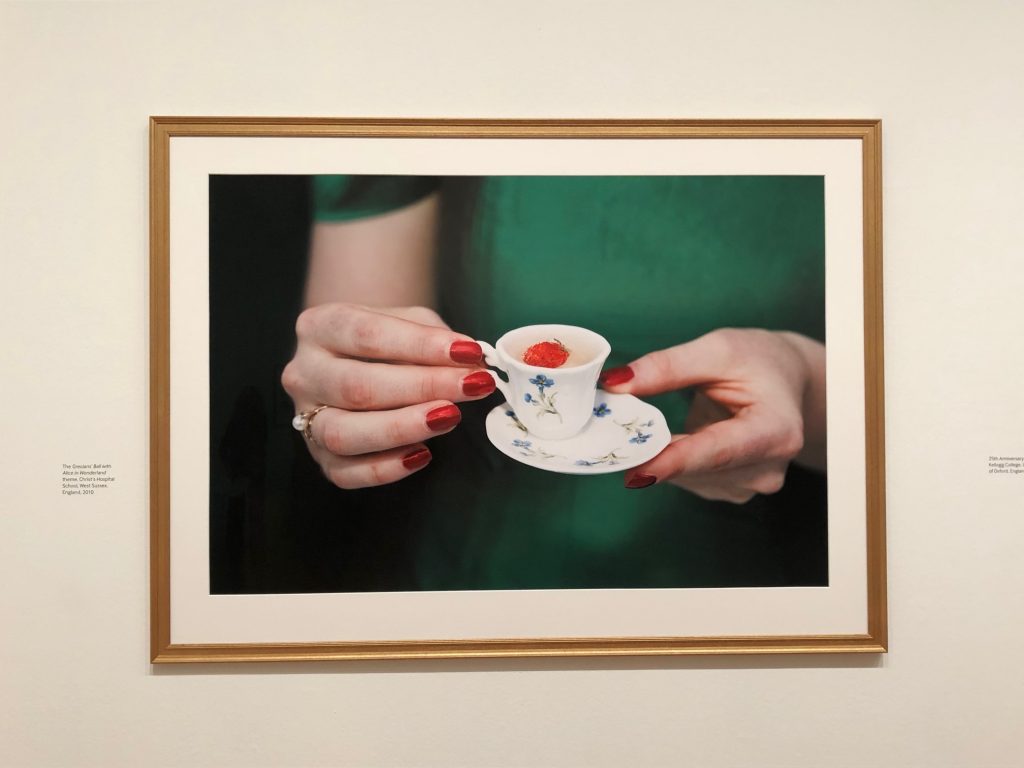 As the clock ticks ominously towards 29 March when Britain is set to leave the EU – with or without a deal – Martin Parr's 30 year observation of British society through the lens of his camera presents us with a snapshot of our national identity, and an insight into the many different cultures, cults and ceremonies that colour the lives of the lower, middle and upper echelons of society. Through Parr's eyes, it is clear that whatever our position in society, race or culture, we are all performing rituals and maintaining traditions, whether it's the curious Royal tradition of 'Swan Upping' on the River Thames, ballroom dancing in Margate, getting tipsy at the Races in Ascot, or dancing at a Sikh wedding in Cardiff.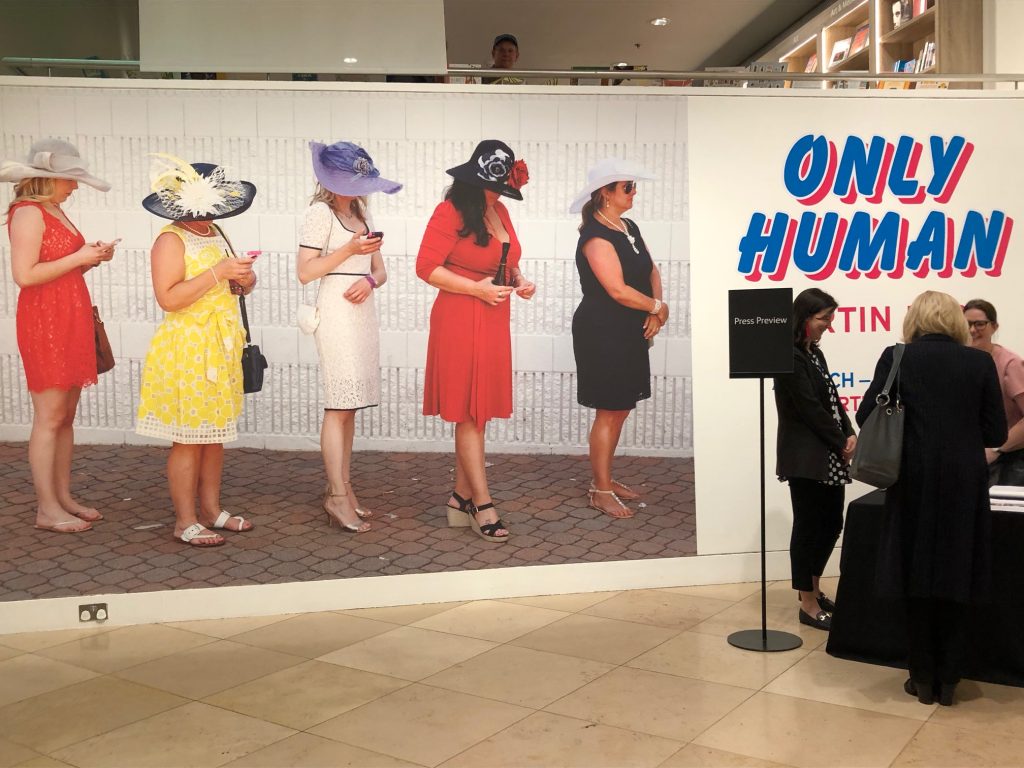 Martin Parr studied photography in Manchester in 1970 and joined the prestigious Magnum Photos in 1994, winning many prestigious awards including the 2008 Royal Photographic Society Centenary Award. His unwavering commitment over the past 30 years to capturing the eccentricities of Britons from all walks of life has earned him a reputation as the quintessential chronicler of 'Britishness'.
Parr's saturated palette and sometimes unconventional perspective could be interpreted as light-hearted and whimsical, yet this survey show at the NPG demonstrates a commitment to his craft and an insightful eye that reveals him as an anthropological voyeur.
The National Portrait Gallery 'Only Human' is themed in rooms with titles such as 'Celebrity', 'Dance', 'The Establishment' and 'Brexit'. In a suitably irreverent touch, on the wall of the gallery as you exit the 'Brexit' room, is an arrow pointing left with the word 'Leave', and one pointing right saying 'Remain', although whatever happens everyone will have to leave the gallery at some point.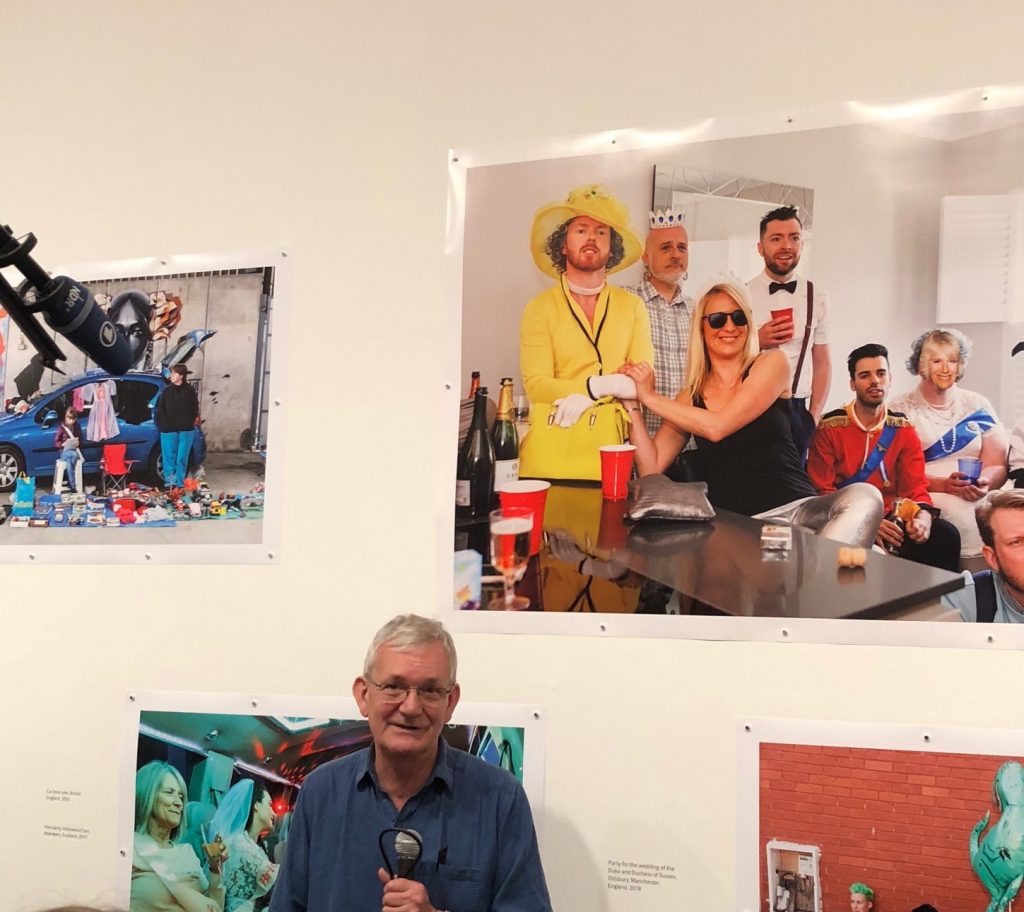 During the packed press view Parr explained to the eager reporters in the 'Brexit' room: "I'm a classic 'Remoaner'. It's difficult to be positive about Brexit. Because it was the time of Brexit, I decided to go to places I knew were heavily pro-Brexit like Lincolnshire and Cornwall."
Yet he didn't do the obvious thing and document the Brexit marches, instead choosing to create metaphorical portraits referring to Brexit and the growing divide it is carving between different regions of the country. Parr has managed to capture the spirit of the nation in the lead up to doomsday with everyday scenes subtly referring to Brexit, such as an elderly lady walking down a high street past a giant photograph of croissants in a Sainsbury's window, and a scene of holidaymakers on a Cornish beach with a red flag in the sand warning that 'something is afoot'. Parr said of the images: "My job is to create entertainment, but there is something darker going on."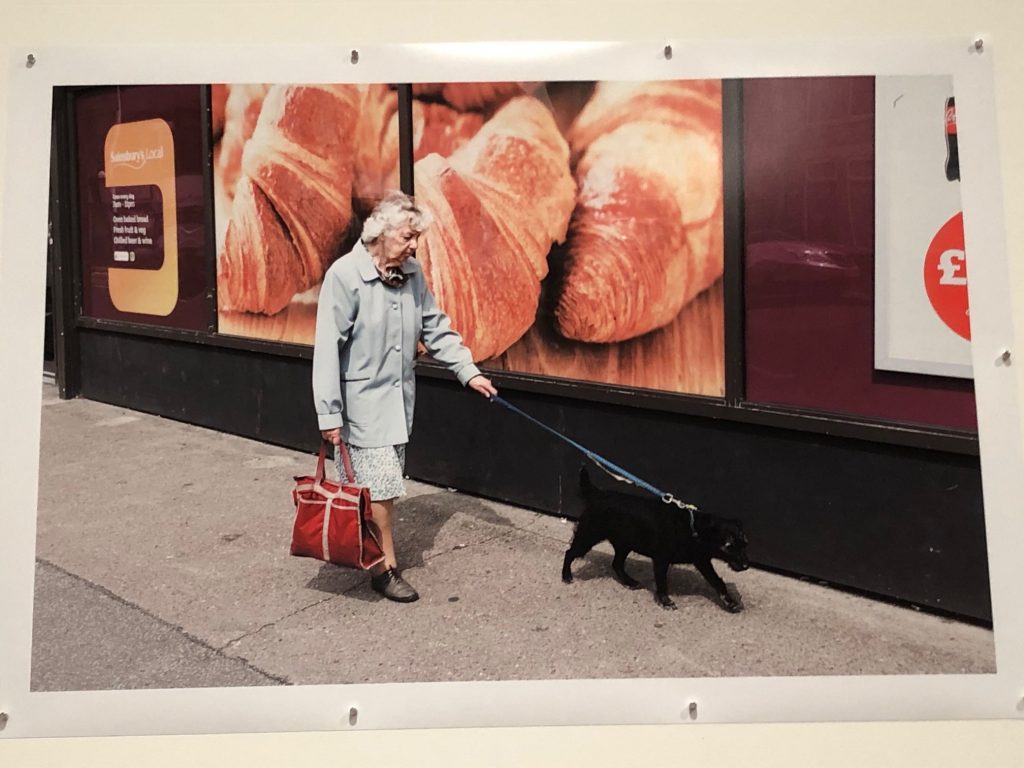 A pop up Café positioned within the exhibition is a witty intervention playing on the traditional British 'Caff' and serving the kind of fare you might find at the end of the Pier in Brighton or in the East End of London: Tea, Battenberg cake and Beer (a Martin Parr 'Only Human' beer at that).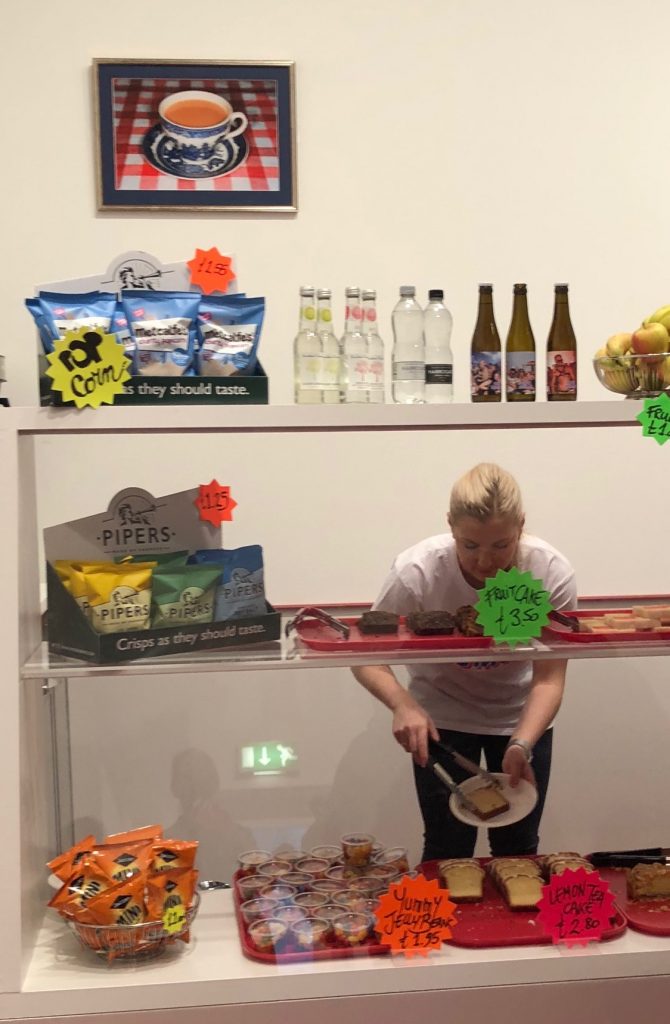 This extensive exhibition features familiar photographs capturing the idiosyncrasies of British society, as well as many works never before exhibited in public. These include many of the portraits in a room dedicated to iconic personalities from British entertainment, fashion, art and film; Vivienne Westwood, Mike Leigh, Zandra Rhodes, Paul Smith, Grayson Perry, Tracey Emin, Cara Delevingne, the characters from 'Little Britain' and the Aardman Animations team. Parr divulged that most of the sitters were commissions, apart from Mike Leigh whose films he admires so he approached him and asked if he could take his portrait.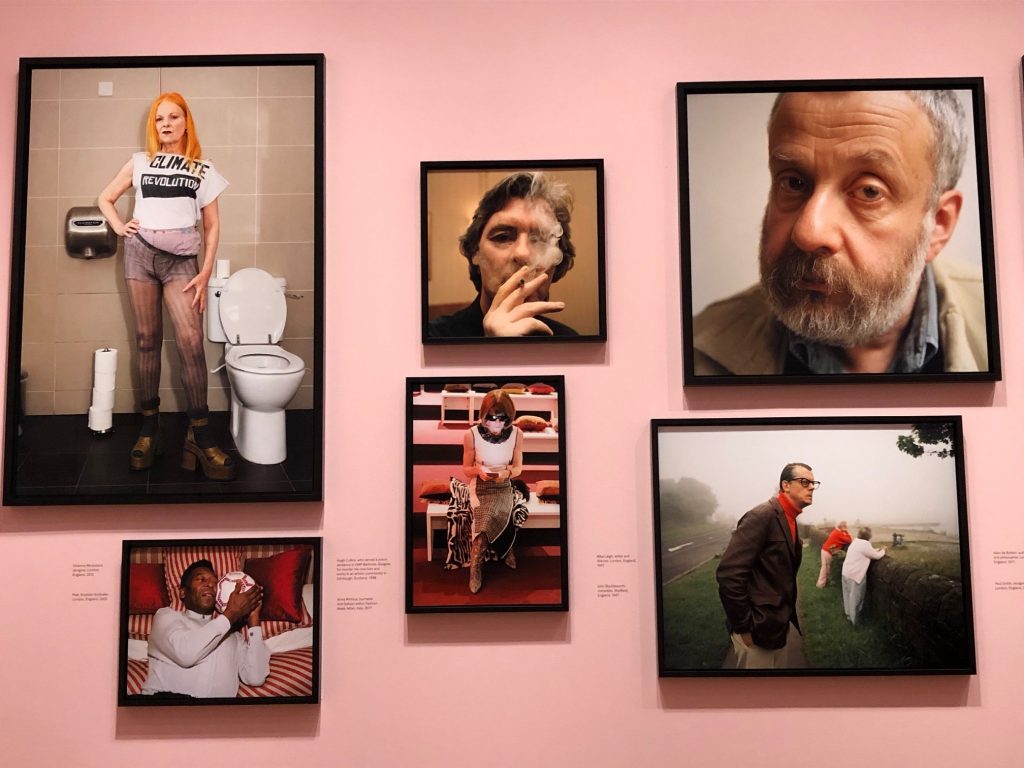 Martin Parr's photos of British holidaymakers by the seaside made his name early on in his career, but he has also spent years documenting the behaviour of the upper classes. 'The Establishment' section features photographs of public school boys at Harrow, The Queen, David Cameron, and Oxford and Cambridge Universities. Parr commented: "I tried to get into Eton but they wouldn't let me in."
A jewel in the exhibition is the 'Dance' room, with a huge spinning disco ball hanging from the ceiling and illuminating a selection of brilliant photos exploring our love of dance. Here all types of dance and groups of people are celebrated, united through a love of dance and music. From scantily clad Gay Pride revelers in Manchester to a sedate ballroom in Margate, a joyful dance-floor at a Sikh Wedding in Wales, and a collapsed partygoer at a Cambridge ball, the ecstasy of dance and humanity and its ability to unite rather than divide is visible here.
Philip Prodger, Curator of the exhibition said: "When he gets his teeth into a subject like dance, the results are extraordinary. This is something he's been doing for 40 years."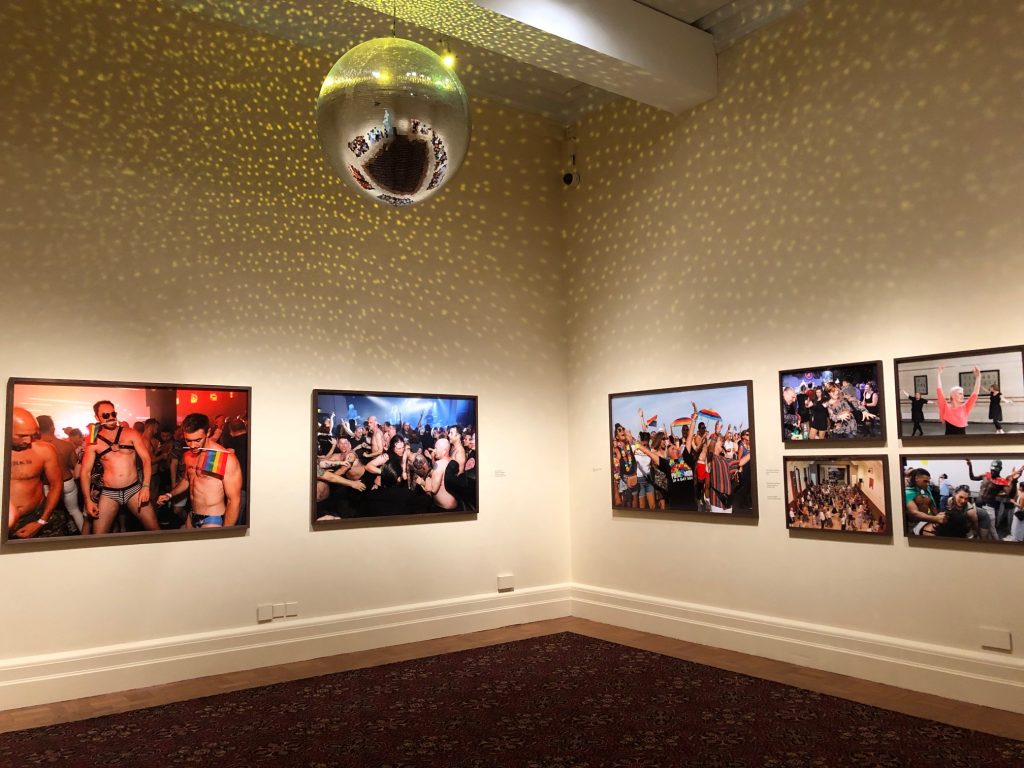 Martin Parr: Only Human is at the National Portrait Gallery until 27 May, 2019
https://www.npg.org.uk
Categories
Tags