Emma Fineman solo show, REALMS OF THE (UN) REAL, to open at PUBLIC Gallery, 6th March. The exhibition explores the many facets of our ontological space, imagining them within an absence of temporal constraints.

Emma Fineman in her studio
If, as Heidegger claimed, our authentic Being is (and can only be) a Being-towards-death, then our existence cannot but be hunted. The almost nostalgic lack of a sense of time in Fineman's canvases leaves way for a much more tragic landscape.

It Brings Back The Lost As Though Never Gone…, 2019
The physical, remembered, eternal, dream-like or fetishistic time she explores seems filled with agony. The expansive horizontal triptych in the centre of the gallery clearly shows this. The central part of It Brings Back The Lost As Though Never Gone… depicts a somehow idyllic countryside. Extensive green and yellow fields spring all over. The sky is pinkish, and the sun is shining. Yet, it looks as it is about to explode. The pink rays penetrate into the depths of the blue, serene atmosphere, taming it. A black, ghostly rabbit/executioner makes its sudden appearance into the romantic wheat-field. Van Gogh's Wheatfield With Crowds comes to mind, yet here the spectral presence is carried even further. On both sides of the triptych, the frantic repetition of rapidly sketched flowers, enshrine the landscape in an additional anguish. Their black background, furthermore, already points to an afterlife. What the work seem to bring back is a repressed fear.
All other Fineman's creations hang scattered on either side of the triptych. They reveal intimate windows into several zones of the artist's mind. Her reoccurring dreams, fetishised desires and vast imagined psychological spaces abound. The figures, for the most part self-portraits, are rendered as dwindling visages, neither present nor absent. Fineman's fantastical settings create he perfect environment for her alter/egos, placed at the intersection of existence.
In Red Boots the, seemingly, woman sitting on a chair in the midst of a scarcely furnished room is surrounded by white curtains. Their holed texture resembles a spider web, threatening to imprison the figure any moment. The faded, pastel colour of the walls, the light brown floor contrast sharply with the vivid yellow of a window, looking nowhere. The red boots of the female also generate a stark juxtaposition with the rest of the environment. Her eyes, empty, surreal, posit the figure more as a semi-dead presence that a real person.
Fineman's works explore methods to fracture and reconfigure pictorial space. By doing so, she manages to unfold and digest the dense compression and spacialisation of time. In our contemporary culture, we are inundated with visual information. We are no longer able to understand and process experience. All is mixed up in an atmosphere where time and space lost their anchorage to reality. Our sense of time and perspective, is haphazard, if not indeed skewed.
The Surrealistic link with Fineman seems quite immediate to me. Strange creatures haunt all of her canvases. The lack of real time and space obviously recall dreams/nightmares environments. Shadow Play appears to be drawing from René Magritte's Not to Be Reproduced. Both present an absurd mirror, an interdite image, an impossible being. Yet, the black shadow posed in front of Fineman's character, makes it more disturbing.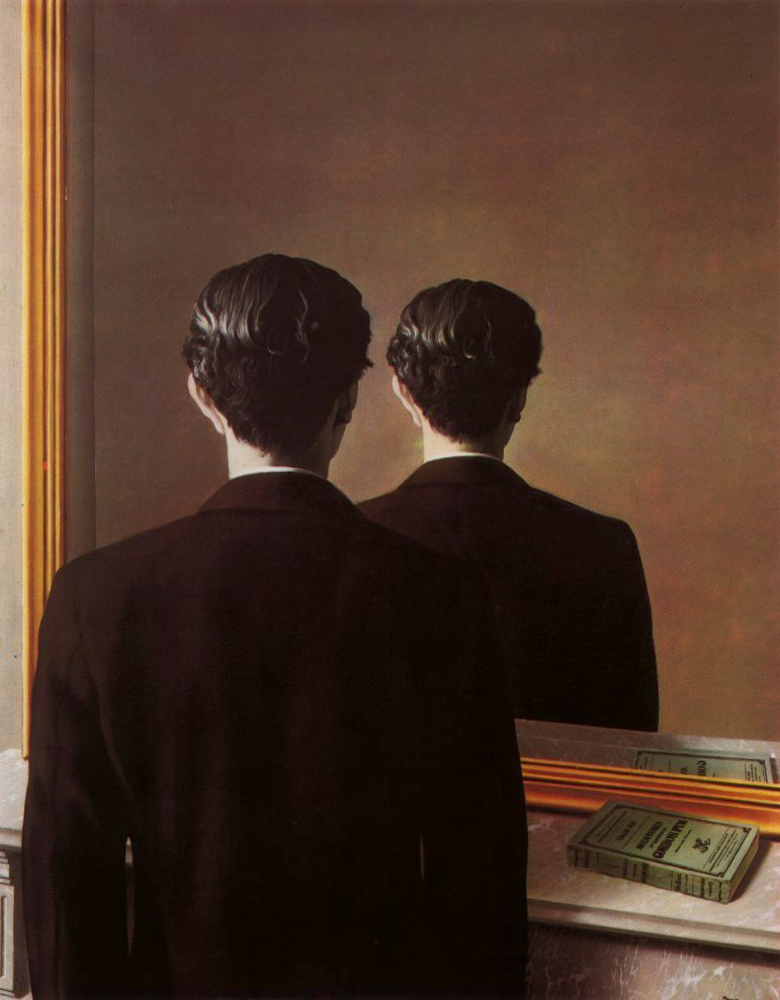 René Magritte, Not to Be Reproduced (La Reproduction Interdite), 1937
Fineman's works contemplate the possibilities of figurative painting to both extend and compress descriptive time within this framework.
The exhibition's title alludes to The Story of the Vivian Girls, in What Is Known as the Realms of the Unreal, of the Glandeco-Angelinian War Storm, Caused by the Child Slave Rebellion. This multi-volume fantasy manuscript and illustrations was produced over several decades by the reclusive artist Henry Darger (1892-1973). Like Darger, Fineman's sources lay deep in her memory and in that unknowable region of the psyche where yearning, aspiration and an expressive impulse reside. However, Fineman's paintings go beyond pure fantasy. Instead, they depict such realms where our traditional conceptions of what is real and unreal blur. This eternal, surreal, mind-spaces mirror our increasingly distorted experience of contemporary life.
Fineman's paintings offer us a space to contemplate and to reflect. As said, disturbing elements interfere in all her works. If at first they wight ward off any enduring engagement with Fineman's art, they in the last instance capture our mind more than anything else. Her pictures get stuck in our mind.
Her internal desires are played out in a series of expressive and gestural marks that sit somewhere between drawing and painting; somewhere between the quick note to jot down an idea, and a more prolonged meditation on the parts of daily life that for some unknowable reason affix themselves to back of one's mind and kick about with an unnerving permanence.
Emma Fineman, Realms Of The (Un) Real PUBLIC GALLERY, 6th March – 30th March
Categories
Tags
Related Posts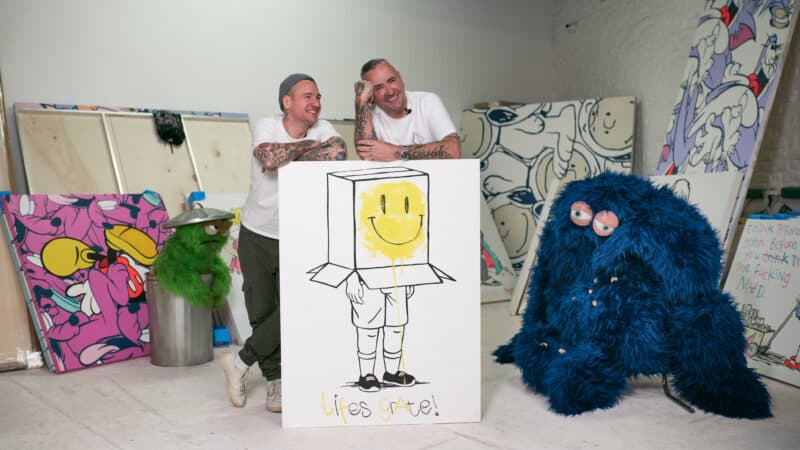 DJ Fat Tony & Opake collaborate on new exhibition- The Cookie Monster attends a meeting for overeaters; Eeyore and Pooh […]
Trending Articles