Today, Los Angeles-based artist Edgar Arceneaux launches a Kickstarter campaign in support of his newest theater work, Boney Manilli.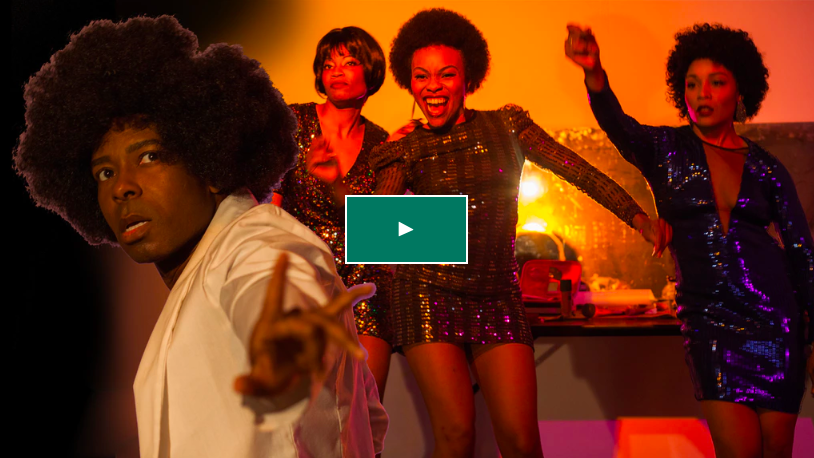 Image courtesy of Edgar Arceneaux. Photographed by Aydinaneth Ortiz.
This hallucinatory mash-up takes the shape of a church revival, discotheque, burial ceremony, and a puppet show loosely centered around the '90s pop group, Milli Vanilli. In Arceneaux's Boney Manilli, the audience is invited on a journey from the tombs of pop infamy to the redemption of an infamous lip-syncer to explore the consequences of entertainment and how it animates our contemporary political moment. In this world of unexpected connections and conflicts, we traverse 83 years of history and fantasy, encountering a German record producer with a desire to be born in a black body, silver-voiced singers performing live music on stage, a dancer from Aruba, and a life-sized marionnette, swinging across time and space by the force of the maniacal Russian monk, Rasputin. This fantastical retelling of Milli Vanilli's legacy reevaluates them as martyrs, exposing the pop music industry's mechanized abuse and disposal of black bodies.
Infamous for being publicly outed for lip syncing their music and unceremoniously stripped of their GRAMMY® Awards, Milli Vanilli's Rob Pilatus and partner Fab Morvan quickly went from international sex symbols to objects of ridicule, their long braids and brown bodies becoming singular embodiments of fraud in a corrupt music industry. Unable to cope with the shame, Pilatus died of a tragic drug overdose in 1998. Obscured from public view was Frank Farian, the German music producer who created and publicly exposed Milli Vanilli, for lip syncing.
Developed during Arceneaux's long-term artist residency at the Ford Theatres, Boney Manilli will receive a public showing during the Ford's 2019 season. Boney Manilli will also be in residence at the Lagos Theatre Festival in Lagos, Nigeria (March 2019). Additional presentation include Big Car Collaborative in Indianapolis, IN in Spring 2020, more to be announced. In addition, Arceneaux hopes to tour all three aspects of the project – live performance, exhibition, and film – within the U.S. Rust Belt, a region of the country that was a major part of disco's underground subculture and internationally across Africa, Europe, the Caribbean, Latin America and Asia.
Arceneaux will engage with the Kickstarter community to help realize his ambitious project, with contributions earning patrons a variety of rewards from tickets to the rehearsals and final show to studio visits with Edgar and a suite of limited edition artworks. "With your support," says Arceneaux, "we will not only be able to realize the project, we will also be able to pay artist fees to our amazingly talented team members for their creative investment, time and tremendous commitment to our project. We need materials to build costumes, massive backdrops to build rooms of numerous environments, video projectors, camera and props that bring our story to life."
Boney Manilli (the play) is a non-profit production.
About The Artist
EDGAR ARCENEAUX (b. 1972, Los Angeles) is an artist working in the media of drawing, sculpture, and performance, whose works often explore connections between historical events and present-day truths. He played a seminal role in the creation of the Watts House Project, a redevelopment initiative to remodel a series of houses around the Watts Towers, serving as director from 1999 to 2012. Arceneaux's second theatrical work, Boney Manilli is a thematic follow up to his 2015 piece, Until, Until, Until. It investigates the 1981 performance of Broadway legend Ben Vereen in which Vereen performed in blackface on live national television as part of Ronald Reagan's inaugural celebration. His work has been featured at the Hammer Museum, Los Angeles; the Whitney Biennial, Whitney Museum of American Art, New York; the Studio Museum in Harlem, New York; Performa 15, New York; and the MIT List Visual Arts Center, Cambridge, Massachusetts, among other venues. He lives and works in Pasadena, California.
About Mark Westall