Artists: Alex Tennigkeit, Bettina Sellman, Chris Gilvan-Cartwright, Corinne von Lebusa, Eva Schwab, Heike Kelter, Isabelle Dutoit, Jessie Makinson, Justine Otto, Minyoung Choi, Nancy Delouis, Raphael Barratt, Rene Gonzalez, Rosa Loy, Rose Wylie, Tuesday Riddell and Zohar Fraiman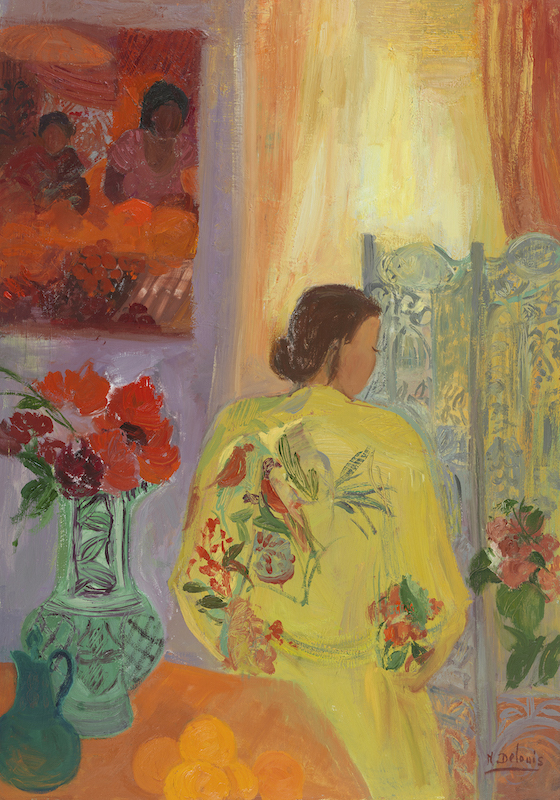 Nancy Delouis Le Kimono Jaune
Messums Wiltshire first exhibition of 2019 is PAINT: THE SEEN, THE UNSEEN AND THE IMAGINED featuring works by emerging and established artists that showcases contemporary European painting and highlights a borderless narrative that explores figuration, spirituality, mystery, intuition and folklore.
Bringing together artists who were born in places as diverse as Israel, Canada, South Korea, Germany and the UK – but who all live and work in Western Europe the exhibition will look at painters that are on the same fundamental mission: using the base matter of their pigments it is their imaginative process that translates it in to the gold of artistic vision.
Ranging in age from the octogenarian Rose Wylie to 24-year old Raphael Barratt, a young painter who has recently emerged from the Royal Drawing School the focus will be on Germany and female painters from the *Malerinnen NetzWerk (MNW) based in Berlin and Leipzig.
From Rosa Loy, whose paintings play with different levels of time and reality, generating versions of her self which are not limited to the biographical, to Chris Gilvan-Cartwright whose works are inspired by pietas and medieval religious paintings, each artist creates a world in which ancient narratives are re-imagined for the 21st Century.
Memory and landscape both play a role in these artists' work, visible in both the paintings of Minyoung Choi, whose oils on linen and canvas express her own memories of camping in the forests around Seoul where she grew up, to Nancy Delouis whose nostalgic paintings conjure up the sun and brilliant colours of her French hometown of Limoges. René Gonzalez's scenes are inspired by magical kingdoms, including that of the Fonthill Estate on which the Messums Wiltshire is situated, and remind us how pleasurable indulging the imagination can be in a science-driven society, whilst Corinne von Lebusa's richly chromatic watercolours reflect the longings, desires and imaginings of their subjects.
Within the diverse artistic, historical, cultural, sociological and societal heritages of these artists, it is the imaginary that has become real, made alive by the physicality of the material they use.?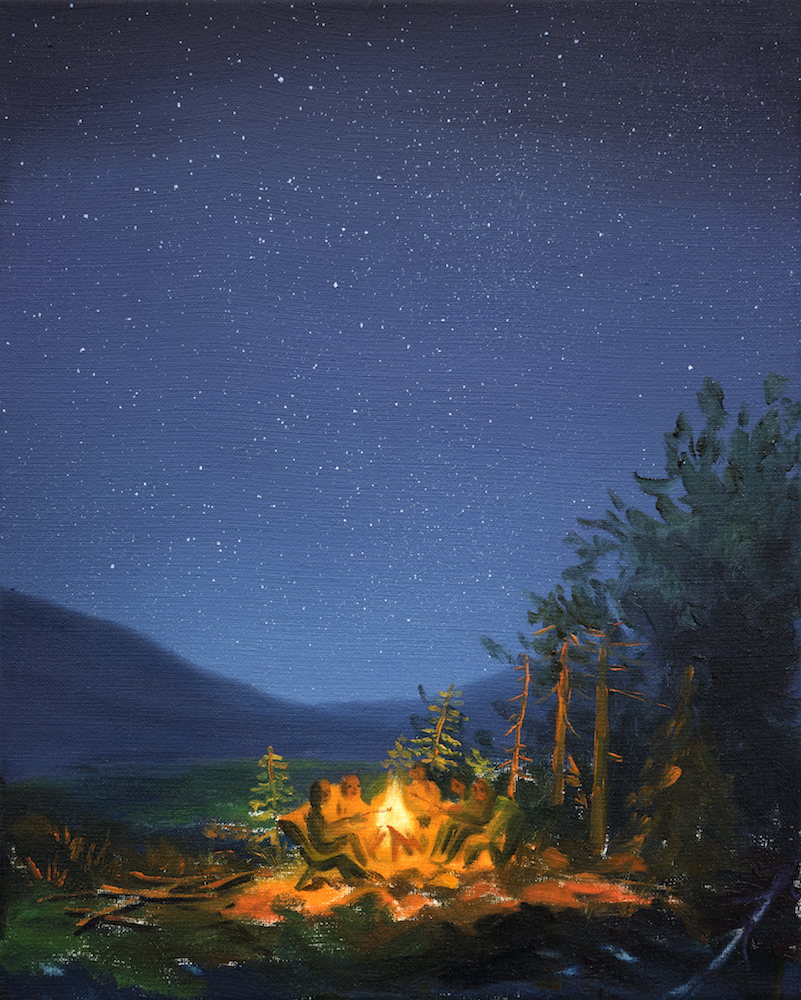 Minyoung Choi Campfire 50x40cm
PAINT: THE SEEN, THE UNSEEN AND THE IMAGINED? Contemporary European Painting
?2 February – 3 March 2019 ?Preview and Panel Discussion: Friday 1 February 2019
messumswiltshire.com
Friday 1 February, 6.30pm ?Panel Discussion: Chaired by The Times Art Critic Rachel Campbell Johnston with artists Heike Kelter, Raphael Barratt and Chris Gilvan-Cartwright, Friday 1 February 2019, 6.30pm
*The Malerinnen NetzWerk (MNW) was founded in 2015 and is a non-profit registered association of 28 female painters. The network is focused on personal exchange and serves as both a platform for dialogue and as support for female painters in the contemporary art world. The MNW has helped focus national and international public perception of the work of German women painters that frequently involves guest artists and curators from outside of the network.
?
About Messums Wiltshire:??
Messums Wiltshire is a leading multi-purpose arts centre, which opened in autumn 2016 after a two-year restoration project. Originally set inside the thirteenth-century tithe barn, we have since expanded into a restored nineteenth-century dairy, called the Long Gallery. In early 2018 we opened The Mess, our restaurant. Our aim is to offer a unique environment to experience and engage with the arts. We are situated in an area renowned internationally for its ancient art-making, beginning millennia ago with Stonehenge, Salisbury Cathedral and the Tisbury's Jurassic fossil coral which is found underneath the hills of the Fonthill estate – and argued by Dr K P Oakley to be evidence of the first signs of human aesthetic appreciation. At Messums Wiltshire we recognise the importance of the hand's skill in art: especially pertinent to a future in which the digital is expected to dominate.
Notable events to date include American artist Judy Pfaff's Roots Up exhibition, an experiential installation spanning the length of our 140ft barn; a reappraisal of painter and draughtsman Henry Lamb, founding member of the Camden town group; contemporary dance from the Russell Maliphant Company and The Alexander Whitley Dance Company as well as festivals on ceramics, wood, glass, and the spoken word. A full list of past and future exhibitions can be found on our website.
Messums Wiltshire is open to the public Wednesday – Saturday 10am-5pm and Sunday 10am-4pm. We are open to schools on Monday and Tuesday. If you are travelling as a large group please contact the gallery in advance, to ensure the best possible experience. Our Friends program has run since our start and invites its members to take an active engagement in the activities in the barn as well as in the wider art world.
For all press related requests email: hannah.hooks@messumswiltshire.com
Messums Wiltshire?Place Farm, Court Street, Tisbury, Salisbury, Wiltshire SP3 6LW
Categories
Tags