PUBLIC Gallery's upcoming exhibition will mark the debut of the Italian artist Matteo Cordero.
The solo exhibition will show the trajectory of Cordero's work, especially the influence the Neo-Expressionists of the late 1970s and 1980s. Among others, the Italian Transavanguardia movement is particularly felt.
From the '60s the art world has seen a 'dematerialisation' of the work (as Lucy Lippard eloquently explained) and a move away from the traditional act of painting (think Abstract Expressionism…Pollock, and all that followed). Cordero, conversely, aims to return to the 'old-fashioned', somehow despised, act of painting; one that elicits emotion and meaning through the intensity of process, image and narrative.
Cordero's debut has been initiated by Yinka Shonibare whom, last year at the MBE (RA), selected a large portrait by Cordero to be displayed in the Royal Academy of Arts Summer Exhibition.
In the new series of paintings presented for the PUBLIC gallery's show, Cordero created haunted landscapes punctuated by everyday objects. These are simultaneously juxtaposed by strange-looking half-human, half-animal beings that are either hunters or hunted, victors or victims.
His aim was not to document reality, offering realistic and detailed landscapes. He sought, instead, to capture the essence of experience, the deepest soul of our environment. His paintings belong more to a crude Surrealism, or a frank and less poeticised Romanticism, than to the academic landscape genre.
Cordero's paintings refer to the elemental forces of the surrounding environment and the unearthly spirit that animates them. They are expressions but not literal renditions of the farmlands and hills around the Northern Italian comune Mondovì where he was born.
The final impression is a joyous one. Yet, the frank and voluntary childishness that pervades all of the works creates a certain feeling of the uncanny. Nostalgia for a lost past, or for the artist's distant roots and origins, is everywhere perceived. One of his boys is reaching for an impossible door, too big to fit in; while another is saying goodbye to his native landscape.
The uncanny was thought by Freud as 'nothing else than a hidden, familiar thing that has undergone repression and then emerged from it.' It is seen, therefore, as something that should better remain hidden and repressed, in order not to create a misbalance and a trauma in our psyche. Nevertheless, in Cordero, the uncanny neither transforms into dry sentimentalism nor is it feared and despised.
All of the figures, in fact, maintain their child-like aesthetic as a creative power. Bold, chunky lines delineate the boyish characters. Utterly non-proportional scale characterizes the various fragments in the painting, with huge, Disney-like and clownish hands counterpointed by smaller heads. The thick and heavy contours also find their visual precedent in Picasso. The surreal colours and proportions, made up in the artist's imaginary world, call to mind a Cezanne, or a Matisse (although without its dreamy, pastel palette).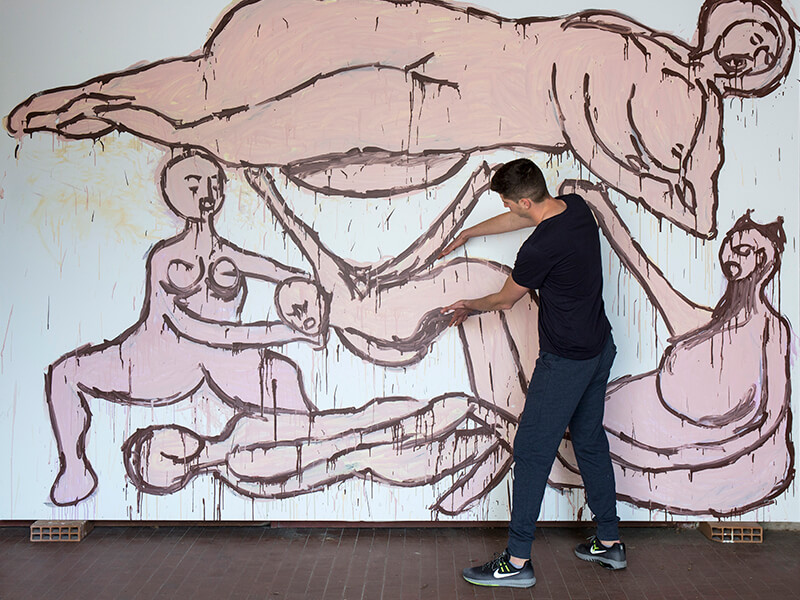 Matteo Cordero, 16th January – 2nd February
PUBLIC Gallery 
Categories
Tags