Frustrated by the infertile Cambridge art scene, three Cambridge School of Art graduates conjoined to form the collective 'Motion Sickness'. In a regal city famed for the achievements of old white men, the collective aimed to forge their own playground.

'The Poo Slug Elephant bastard', Arabella Hilfilker
Formed by Denise Kehoe, Eleanor Breeze and Arabella Hilfiker, Motion Sickness is a collaborative examination of their position as products of millennial ephemera. Motion sickness, by definition, is caused by a disparity between perceptual movement and sense of movement. This disorientation is mirrored by Kehoe, Breeze and Hilfiker's status in life in contrast to where society dictates they should be. Thus, the collective aim to explore and satirise society's view of 'millennialhood'. The ethos of the group is to be unabashed versions of themselves. They vow to defy sleekness and be human in the age of unreachable expectation.

'How to Stalk your Gallerist', Eleanor Breeze, video (stills), 2018
For their self-titled debut exhibition, Motion Sickness welcome you to the adult party, where the entry fee
is £600 per calendar month plus bills, and you can cry if you want to. Entering through a cardboard castle
in the sky, visitors will be swiftly brought back to earth by a gallery populated with Bears of Bad News, a
binge-watching millennial and the severed head of an ex-boyfriend. Using mediums as disparate as textiles, video, painting, terracotta, and paper mache, the exhibition addresses the intersections and overlaps of each artist's biographical experience. It is a feverish response to the prolonged adolescence of Generation Y, and the cyclical realities of ghosting, bingeing and unstable employment. When sharing, posting and tagging define their generation, what do they have to brag about really? And how can they live up to the social media filter they apply to their zero-contract, house sharing, low-income lives?
Kieran Healy from STOCK Gallery says:
'STOCK Gallery is a new project space focused on showcasing artists and collectives who are not so much here and now, but a little more here and how?? It gives artists the opportunity to try out and exhibit new work and ideas that will further their practices. Motion Sickness are a new collective, who through an idiosyncratic blend of sculpture, painting, video and drawing create narratives that are uniquely irreverent and completely mundane, marking them as a tour de force of Generation Y. This makes STOCK and Motion Sickness a stellar combo.'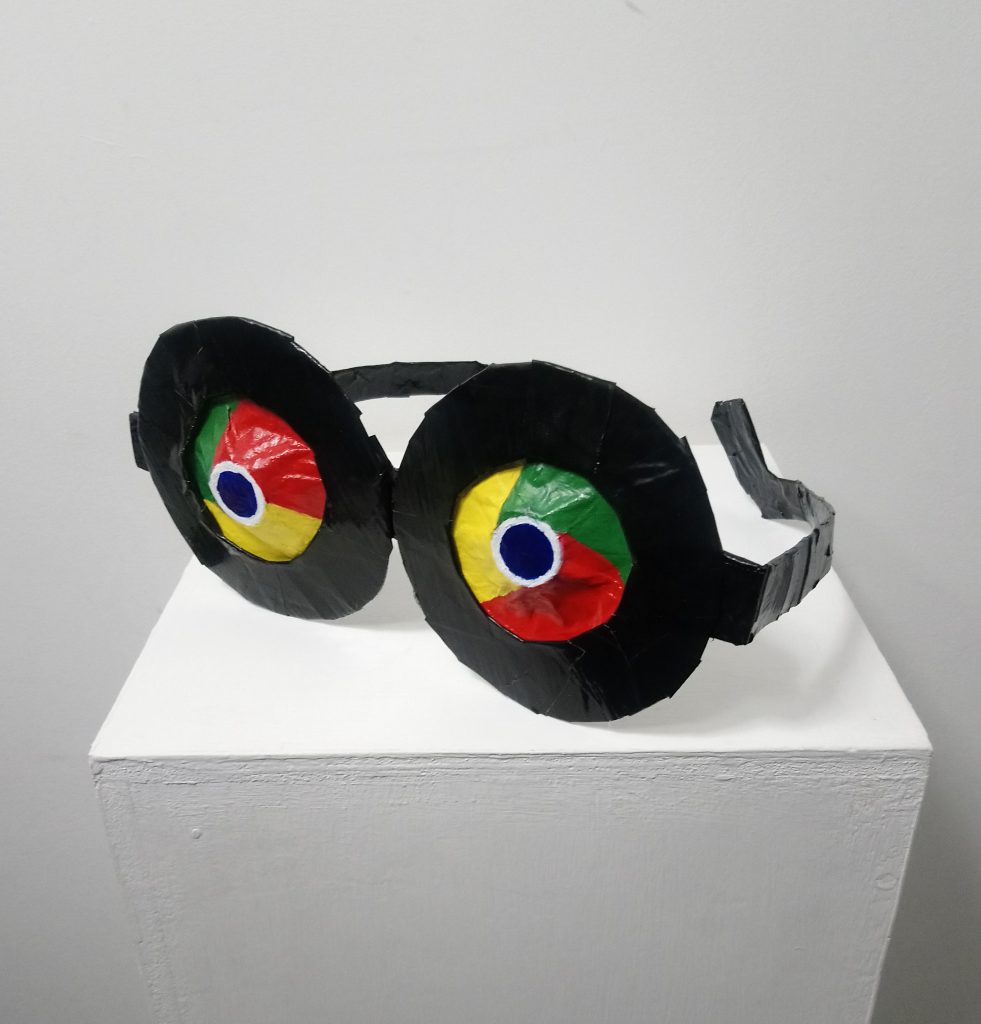 'Go-ogle', Denise Kehoe, paper mache, card, tape, 2018

'Intellectual Realism', Arabella Hilfiker, oil paint, pencil, linocut on paper, 110 x 80 cm, 2017
Motion Sickness will run from Saturday 12th January until Friday 1st February 2019 and is free to attend.
STOCK Gallery Thu 12th Jan – Fri 1st Feb 2019 (Opening preview Fri 11 Jan) Address: 1030
Stockport Road, Manchester, M19 3WX @stockgallerymcr
About The Artists
Arabella Hilfiker Selected exhibitions: Pilotenkueche 36th round (leipzig, Germany) Masters:Relief Prints (Bankside Gallery, London) Absence and Presence: Al-Muttanabi Street Starts Here (touring exhibition, UK, USA, Australia, and Europe), Woolwich Contemporary Print Fair 2018, 2017 (London), Print International (Mansers in Shrewsbury) Selected residencies: Artist in residence at Frans Masereel Centrum, Kasterlee, Belgium Awards: Sanguine Studio Prize, Mark Wood Art and Design Scholarship
@arabella.hilfiker
Eleanor Breeze Selected exhibitions: Bloomberg New Contemporaries (Baltic 39, Newcastle; Block 336, London), Marmite Prize for Painting V (Block 336, London; Highlanes Gallery, Ireland), Emergency 2017 (Aspex Gallery,Portsmouth), Bloc Projects Members Show 2018 (Bloc Projects, Sheffield)
@eleanor.breeze
Denise Kehoe Selected exhibitions: Neu/Now artists Elia NXT (Estonia), The Term Painting.. (KT Contemporary, Dublin), This is Conceptual (Solo:Cork city), Mondays and Thursdays are Burnable Rubbish (Solo: Tokyo, Japan), Yabai (Solo show and residency: Hokkaido, Japan), Blockchain (residency and symposium: Winchester School of Art) Awards: Art Trail graduate award, CIT Presidents award, CIT purchase prize, Shortlisted: Winter, Snow the City residency: Hokkaido Japan
@denisekehoe1
Categories
Tags