One of the most famous of all twentieth-century sculptures, Salvador Dalí's Lobster Telephone (1938) has been acquired by the National Galleries of Scotland and is set to go on display this week at the Scottish National Gallery of Modern Art.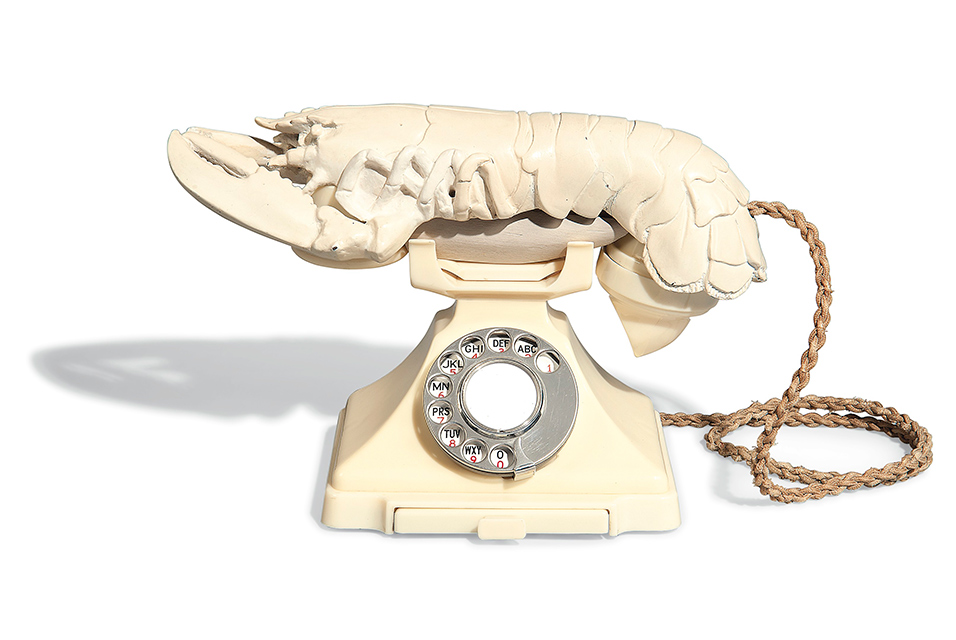 This iconic sculpture is one of the most instantly recognisable masterpieces of Surrealism, the art movement that emerged in Paris in the 1920s, which explored the world of dreams and the subconscious mind. It consists of an ordinary, working telephone, upon which rests a plaster lobster, specially made to fit directly over the receiver.
Lobster Telephone was made in 1938 for Edward James (1907-1984), Dalí's main patron in the 1930s. Eleven of the plaster lobster receivers were made to fit telephones at James's house in Wimpole Street, central London and at his country house, Monkton, in West Sussex. Four of the lobsters were painted red, and seven were painted white. The Lobster Telephones are now almost all in museum collections around the world: the Tate in London has a red version on a black telephone.
This white version remained with the Edward James Foundation, in West Sussex. It was recently sold at auction and would have left Britain, but in view of its artistic and historical importance, it was subject to an export license deferral. Issued on behalf of the Secretary of State, this allows UK museums the chance to match the auction price. Thanks to the Henry and Sula Walton Fund, which was established to help the National Galleries acquire major works of modern art, and a grant from Art Fund, the work was saved and goes on show at the Scottish National Gallery of Modern Art in Edinburgh for the first time today.
The National Galleries of Scotland has one of the world's greatest collections of Surrealist art, including major paintings by René Magritte, Joan Miró, Salvador Dalí, Paul Delvaux, Toyen, Yves Tanguy, Max Ernst, Leonora Carrington and others, and sculptures by Alberto Giacometti. However, until now there has been no major Object Sculpture in the collection: they were quickly assembled for exhibition at the time, and were often simply discarded – so they are rare.
Speaking of the acquisition, Simon Groom, Director of Modern and Contemporary Art at the National Galleries of Scotland said:
"This major acquisition cements our position as one of the world's greatest collections of Surrealist art. Object sculptures – where the artist takes an existing, manufactured object and transforms it with a slight addition or alteration – were popular among the Surrealists, but are now incredibly rare. They turned convention upside-down, saying that anything could be art, and that art and life were not separate. Dalí created something incredibly rich, imaginative and funny with the most economical of means. Before this acquisition we had nothing of this kind. This type of work had a huge impact on later artists, including Andy Warhol, Jeff Koons and Damien Hirst. We're immensely grateful to the Walton Fund and the Art Fund for their help in acquiring the work: both funds also helped enormously with the purchase of Leonora Carrington's Portrait of Max Ernst, c.1939, in the summer. It has been an amazing year for the growth of our Surrealist collection."
Categories
Tags