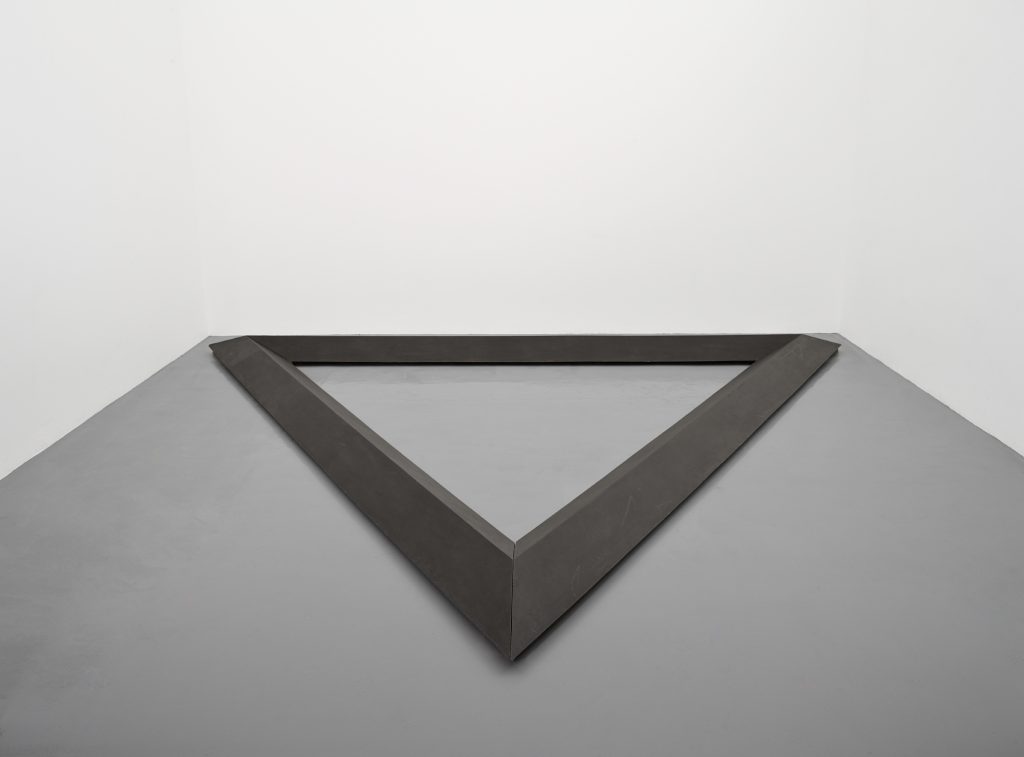 Bruce Nauman Triangle, 1977-1986 Cast iron27 x 500 x 433 cm (10 5/8 x 196 7/8 x 170 1/2 in.)
Metal is a group exhibition of sculptures in metal produced between 1968 and 1990. The exhibition comprises works created by some of the most prominent and innovative artists of the twentieth century, pioneers of the Minimalist and Arte Povera movements. The exhibition links together artists working in industrial materials such as aluminium, iron, and steel, who challenge the viewer's relationship to space through various methods of intervention, proposing unexpected ways of seeing and interacting.
Richard Serra's T with Two (1986), barricades one corner of the exhibition space by the most minimal means possible – two rolled plates of steel stacked to resemble a capital T from one perspective; from above, or inside the corner, however, the T-shape forms a new triangular enclosure. Elsewhere, Bruce Nauman's Triangle (1977-1980) constructs from cast iron a three-point boundary on the floor that at once locks out and barricades in the viewer to the area it sculpts from the gallery space. Nauman explains, 'I find triangles really uncomfortable,disconcerting kinds of spaces…there is no comfortable space to stay inside them or outside them'.
In Michelangelo Pistoletto's seminal early work, Rittratto sigg. Lerre (1987) polished stainless steel becomes a mirror populated by figures painted to human-scale. The viewer sees themselves in relation to the reflection and the scale of the mirrored surface, allowing them to enter the work conceptually and literally. Similarly interactive, Carl Andre's 18 Aluminum Row (1968) lays flat on the gallery floor,encouraging the viewer to directly experience the work by walking on its raw metal surface. Andre's approach to the industrial materials used in his artwork is highly physical, both for artist and audience.
Giovanni Anselmo's Cielo accorciato (Shortened Sky), (1969-1970) belongs to a group of works that address the limits of representation as put forward by established art practices, aiming to demonstrate the ways in which infinity can be conceived by the viewer, although not materially quantified.Likewise, Luciano Fabro's late Computer series conveys a sense of great lightness, despite being made with heavy materials such as iron, steel, uprights for metal shelving, brass and aluminium chains. Computer Forbice (1990) comprises a simple steel armature through which painted plastic tubing is threaded to create a geometric effect of two interwoven triangles. Suspension and movement are key themes throughout Fabro's practice, never more succinctly exacted than in this work in which the conceptual notions of weight and balance are materialised.
CARL ANDRE, GIOVANNI ANSELMO, LUCIANO FABRO, BRUCE NAUMAN, MICHELANGELO PISTOLETTO, RICHARD SERRA
METAL 17th January – 23rd February 2019 SIMON LEE GALLERY, LONDON simonleegallery.com/
Categories
Tags