Richard Saltoun Gallery's first solo exhibition with Ulay focuses on the artist's remarkable photography and his long-standing commitment to exploring and expanding the medium. Starting with Ulay's early works in Polaroid from the 1970s, the exhibition spans to include photographs and films of some of his most important performances and performative photography. The exhibition has been curated by Birte Kleemann.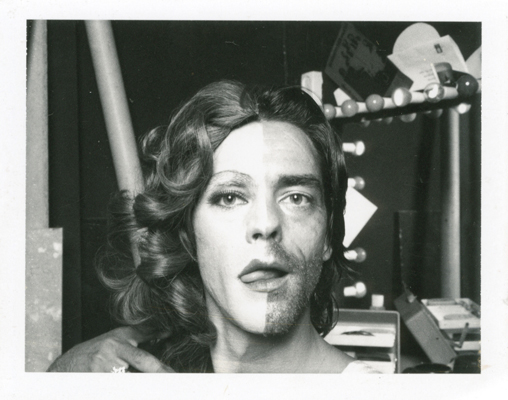 sHe- 1974- Courtesy of Ulay
Ulay is an unclassifiable artist whose trajectory amounts to a radically and historically unique oeuvre operating at the intersection of photography and the conceptually-oriented approaches of Performance and Body art. In the early 1970s, after training as a photographer, Ulay worked extensively as a consultant for Polaroid, which inspired him to start experimenting with the analogue camera and the instant photography it provided. Taking hundreds of self-portraits, each manipulated in a myriad of ways, Ulay developed an approach that was novel in both method and subject matter, using the camera as a tool to investigate and modify identity whilst exploring socially constructed notions of gender. By presenting himself in works like S'he (from the series Renais sense, 1973–74) as an 'incoherent' gendered being – half man, half woman – Ulay questioned not only his own sexual identity but also the hybrid, fluid nature of sexuality.
After exhausting the search for self-identity, Ulay embraced a photographic approach where he identified through others, depicting those deemed on the 'outside' of the mainstream of society. In Irritation – There is a Criminal Touch to Art (1976), Ulay takes on the role of artist as social provocateur, using his work to comment on both the plight of the Turkish community in Germany, as well as the institutionalisation of art. Whilst accompanying his long-time collaborator Marina Abramovic to Berlin, and weighed down by the city's history, Ulay stole the 19th-century painting The Poor Poet by Carl Spitzweg, an artist and painting admired by Hitler, from the Neue Nationalgalerie. Escaping the museum's guards, Ulay drove to Kreuzberg, a then-segregated community of Turkish immigrants, and after informing the museum of his plan, installed the work in the living room of a Turkish family. Included in the exhibition at Richard Saltoun Gallery are photographs of the action, shown alongside a film describing the event.
Richard Saltoun Gallery 11 January – 23 February 2019 41 Dover St, Mayfair, London W1S 4NS, UK
Private view: Thursday, 10 January, 6–8pm
Categories
Tags